Hide My Ass (HMA) has been one of the top providers in the VPN industry for a long time. They just increased the value of their service by dropping their prices, making them more than competitive with other VPN companies. They have a huge network of servers to select from, with 1100+ servers in 290+ locations and over 9500 IP addresses. This is a UK-based provider that offers 20 GBps of speed and servers ideal for streaming and P2P connections. HMA has applications for desktop, mobile and other devices including free extensions.
Hide My Ass has been in business since 2005 and has rapidly evolved to be the most popular VPN service for personal VPN users as judged by both their user community and their Alexa.com ranking.
Pricing & Plans
HMA offers competitive pricing which also depends on the number of connections you want and the duration of your plan. You can pay for the service using credit cards, debit cards, PayPal, Bitcoin, WebMoney or via a wire transfer.

There is a business VPN option for those who require more connections or other accommodations. You can contact HMA directly to discuss customized plans for your business.
Free Trial/ Money-back Guarantee
New users can try HMA for free for 7 days. Aside from that, all HMA plans come with a 30-day money back guarantee.
Privacy & Anonymity
HMA makes security simpler with their military grade encryption. On Windows and Android, they implement their encryption with the OpenVPN protocol in Galois Counter Mode (AES-256-GCM), with 4096-bit RSA keys for handshakes, authenticated with SHA256. They also have fully encrypted servers – they use unbreakable 256-bit encryption to protect your data from hackers, governments, and even themselves.
Their server security doesn't just protect your data: it also protects the integrity of your connection, protecting you from DDoS attacks that would try to slow you down.
Provider Logging Policy
HMA collects minimal data, including the time you logged in, the amount of data you transmitted, the IP you connected from and the IP of the VPN server you selected.
From their privacy policy:
"We DO NOT store details of, or monitor, the websites you connect to or any of the data sent over our network, when using our VPN service."
HMA has been audited by VerSprite and is certified as a no-log VPN.
Torrent Policy
Torrents are allowed on HMA servers. Be aware that HMA is subject to UK law. If you're torrenting, you may want to connect to a server in a privacy-friendly location such as the Netherlands.
Customer Support
HMA has a knowledge base and a ticketing system on their site. They also have a live chat option that you can use to get support if you need it fast.
Product Testing
The HMA client is easy to use and, at the same time, suitable for power users. It has a host of different options, all of which are easily accessible via a tabbed interface.
Hide My Ass comes with clients for Windows, Mac, Linux and mobile operating systems. You can also configure your router to connect via their service. The available clients include:
HMA Windows Client – .exe file (easy install) provides a visual interface.
HMA Mac Client – .dmg file (easy install) provides visual interface.
HMA Linux Client – There is an experimental GUI client for Linux available. There is also a command line version.
HMA iPhone – Supported with easy built-in configuration. Works with tablets and smartphones.
HMA Android App—the Android app offers a lot of convenience for users. It allows you to switch countries and IPs, just like the desktop client. It comes free with the service and can be downloaded from the Google Play store.
HMA Router – DD-WRT routers are supported.
The client offers many great features. It's set up so that you can use any of the following features without any technical knowledge at all, but power users will find it very versatile:
Schedule IP Changes: This allows you to switch to a random IP at set intervals. The software simply keeps track of how long you've been online, and, after a user-selected time interval, it grabs another IP address from the available pool and assigns it to you.
IP Address History: You can keep track of which IP addresses you've used on a local log.
Use Secure IP Bind: This will only allow applications that you specify to connect to the Internet if you're connected to the VPN already. If you want a program to work only from behind a VPN, this is a great feature.
Safe Disconnect: This is a built-in feature that offers a lot of security. If programs that you specify are running and the VPN connection drops, the app will shut those applications down. This ensures that you're never running certain programs unencrypted.
Speed Guide: If you want to know where the fastest VPN available is, this will help you do it.
Load Balancing: This is a great feature. If you're looking for a server in a specific location, the app will let you know which one of them has the least connections. This can significantly increase your speed.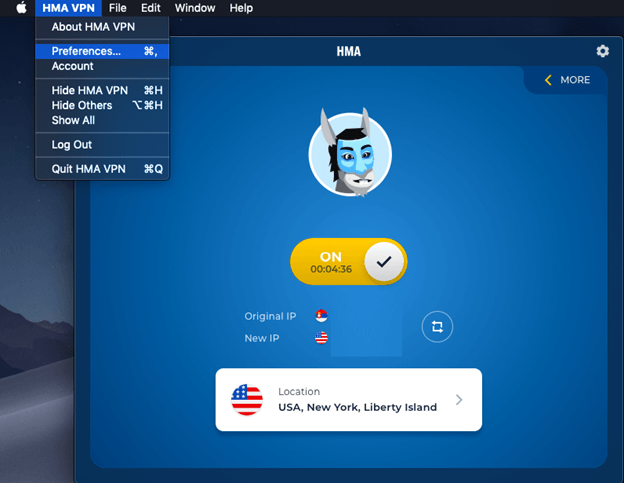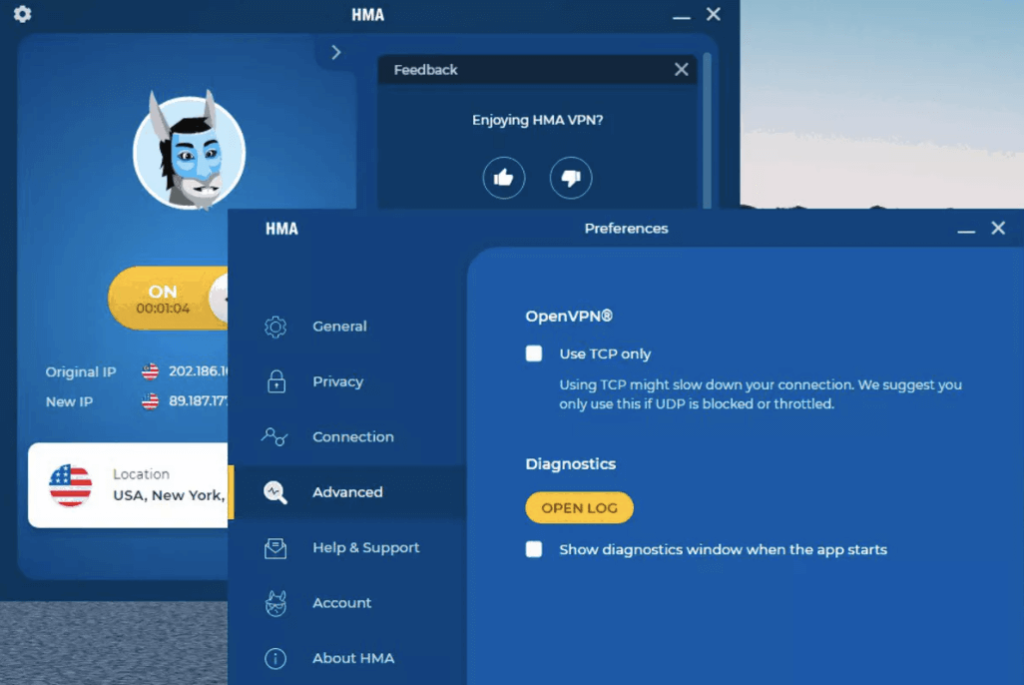 VPN Server Locations
HMA offers one of the best choices for private access with 1090+ servers in 290+ locations in over 200 countries. Their server speed is at 20bps
Countries Supported: 

Afghanistan

Aland Islands

Albania

Algeria

Andorra

Angola

Anguilla

Antigua And Barbuda

Argentina

Armenia

Aruba

Australia

Austria

Azerbaijan

Bahamas

Bahrain

Bangladesh

Barbados

Belarus

Belgium

Belize

Benin

Bermuda

Bhutan

Bolivia

Bosnia And Herzegovina

Botswana

Brazil

Virgin Islands, British

Brunei Darussalam

Bulgaria

Burkina Faso

Burundi

Cambodia

Cameroon

Canada

Cape Verde

Cayman Islands
Central African Republic

Chad

Chile

China
Christmas Island

Colombia

Comoros

Cook Islands

Costa Rica

Croatia

Cuba

Cyprus

Czech Republic

Denmark

Djibouti

Dominica

Dominican Republic

Ecuador

Egypt

El Salvador

Equatorial Guinea

Eritrea

Estonia

Ethiopia

Falkland Islands (Malvinas)

Faroe Islands

Fiji

Finland

France

Gabon

Gambia

Georgia

Germany

Ghana

Gibraltar

Greece

Greenland

Grenada
Guadeloupe

Guam

Guatemala

Guinea

Guinea-Bissau

Guyana
Haiti

Honduras

Hong Kong

Hungary

Iceland

India

Indonesia

Iraq

Ireland

Israel

Italy
Jamaica

Japan

Jordan

Kazakhstan

Kenya

Kiribati

Kuwait

Kyrgyzstan

Lao People's Democratic Republic

Latvia

Lebanon

Lesotho

Liberia

Libyan Arab Jamahiriya

Liechtenstein

Lithuania

Luxembourg
Macao

Macedonia

Madagascar

Malawi

Malaysia

Maldives

Mali

Malta

Mauritania

Mauritius

Mexico

Moldova

Monaco

Mongolia

Montenegro

Montserrat

Morocco
Mozambique

Myanmar

Namibia

Nauru

Nepal

Netherlands

New Caledonia

New Zealand

Nicaragua

Niger
Nigeria

Niue

Norfolk Island


Norway

Oman

Pakistan

Palau

Palestinian Territory, Occupied

Panama

Papua New Guinea

Paraguay

Peru

Philippines

Pitcairn

Poland

Portugal

Puerto Rico

Qatar

Romania

Russian Federation

Rwanda

Saint Helena

Saint Kitts And Nevis

Saint Lucia
Saint Pierre And Miquelon

Saint Vincent And Grenadines
Samoa

San Marino

Sao Tome And Principe

Saudi Arabia

Senegal

Serbia

Seychelles

Sierra Leone

Singapore

Slovakia

Slovenia

Solomon Islands

Somalia

South Africa

Korea

Spain

Sri Lanka

Sudan

Suriname
Svalbard And Jan Mayen

Sweden

Switzerland

Syrian Arab Republic

Taiwan

Tajikistan

Tanzania

Thailand

Togo

Tokelau

Tonga

Trinidad And Tobago

Tunisia

Turkey

Turkmenistan

Turks And Caicos Islands

Tuvalu

Uganda

Ukraine

United Arab Emirates

United Kingdom

United States

Uruguay

Uzbekistan

Vanuatu

Holy See (Vatican City State)

Venezuela

Viet Nam

Yemen

Zambia

Zimbabwe
Speed Test
The speed reduction when connected to HMA's server was barely noticeable; less than 2Mbps. Ping was only 2ms longer with the VPN hooked up. Upload speeds were reduced by less than 1Mbps. This is a very fast service.
IPCheck and DNSLeak Test
The IP addresses given by the HMA client while connected to their servers was accurate. DNS did not leak with Windows configured to get the DNS server address automatically.
Feature Summary
PPTP, L2TP, OpenVPN
Hide My Phone mobile privacy app
Free Web Proxy
IP Port Proxies
Anonymous Email
Anonymous Referrer
Browser Extensions
Router support
Business VPN
Supports Windows, Mac, Linux, iOS, Android and DD-WRT routers
No logging
Smart Kill Switch
Split Tunneling
IP Shuffle
Advanced Leak Protection
Additional Bonus Features
HMA has free tools available:
Web Proxy – enables you to access blocked websites and appear anonymous at the same time. It does this by hiding your IP address (which is essentially your online identity) and providing you with a different one by routing your web activity through different servers and IP addresses.
IP Checker – a lot of websites can learn about you using your IP address. The HMA IP Checker tool will help you see what they know.
WebRTC Test – check your WebRTC isn't revealing your actual IP address.
We Liked
Huge server network
Very fast speeds
Excellent client
Very attractive pricing
Constantly developing features and adding servers
Useful and well-designed website
Kill switch; on the HMA client
Areas for Improvement
HMA really has little to improve upon. They've consistently been an industry leader and continue to expand their network. They do have to log some data, due to being located in the UK, but they keep it to a minimum. If this is an issue for you, you may want to select a provider located in a nation with friendlier privacy laws.
Conclusion
HMA is one of the top VPN services available. Their client is incredibly easy to use and, at the same time, won't make power users feel like they're limited in any way. They boast compatibility with all the major desktop and mobile operating systems and support routers, as well.