HideMan is a fairly new VPN provider located in the United Kingdom. The company states that its goal is to provide easy to use VPN services for everyday users. The company offers a few IP addresses to its users and supports a very small number of countries.
Pricing & Plans
HideMan offers several different pricing plans, priced in US dollars. They are as follows:

For technical reasons PrivateVPN feature is only available as a part of recurrent subscription. You may disable the subscription any time in your account settings.
Payment methods include credit cards, PayPal and Bitcoin.
Free Trial/ Money-back Guarantee
HideMan offers a free VPN service but is limited in terms of bandwidth and speed. You also won't be able to change IP on the fly when using the free service.
Bandwidth – limited to 2GB/month
Speed – May be limited to 512Kbit/s
The free plan also does not support the OpenVPN, IPsec and Proxy protocol.
This free mode only allows 7 hours of free access for new users plus an hour each day.
Privacy & Anonymity
All of HideMan's VPN servers use 256-bit AES encryption. The authorization procedure is protected by RSA-2048 or DH-2048 (IPSEC) encryption.
Provider Logging Policy
HideMan does not save access logs, in case of users with paid access.
In case of free mode, HideMan saves user transfer logs for 14 days from the date of access on a dedicated server located in an offshore zone. All the information is encrypted through RSA2048. Transfer logs shall be used solely in case of claims related to the following occurrences:
computer networks hacking;
use of others payment information ( carding );
distribution of child pornography, spam;
threat to human life and health;
In all other cases, user manipulation shall be deleted after 14 days.
Torrent Policy
Users can download torrents without penalties or restrictions. Access .onion and .i2p resources without additional configuration.
Customer Support
HideMan has multiple references on their website where you can get information regarding their service from the FAQ section to manuals available. If you have unanswered questions, you can seek help from their forum section.
You can also reach them through their contact page or through the following:
Product Testing
While HideMan works decently well on their server countries, it is important to note that this provider has a very limited list of countries available. Currently, they only have two countries in their system and might not be sufficient enough for a lot of users. That being said, it seems like the number of servers they have and the countries their servers are in seem to be constantly changing so make sure you check our review or the HideMan site for updates.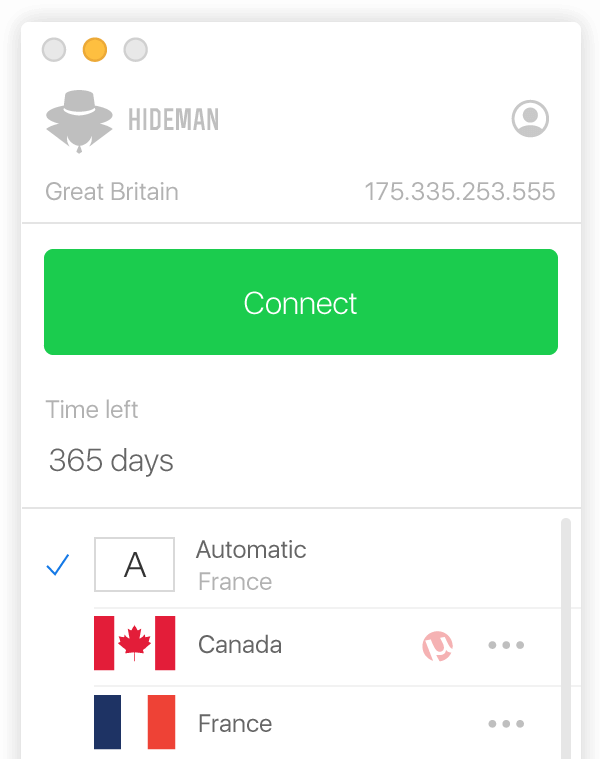 VPN Server Locations
On the main page of their website, HideMan states that they have 20 countries available, but on other pages of their site it shows that they are available in only 2 countries.
Countries Supported: 

Finland

Germany
Speed Test
HideMan may have only two countries supported but their performance in terms of speed is decent enough. Definitely, their speeds are not the best in the industry, but their service performs fairly well. Please note, however, that the free mode they offer has limited speed and bandwidth.
IPCheck and DNSLeak Test
HideMan passed IP check and DNS leak tests, as well as WebRTC leaks. However, we encountered concerns from some users on forums that HideMan is sending data to specific IP addresses which makes us question the consistency of how they unleak IPs and DNS.
Feature Summary
Easy to use – download, install and connect
Option for free mode
Multiple plans: Mobile, Ultimate, Private VPN
Platforms and Devices supported: MacOs, Windows, Android, iOS, Chrome
Simultaneous use of a single account on 4 devices
Download torrents without penalties or restrictions
Limited number of countries
Bitcoin accepted
We Liked
We appreciate that despite their limited number of servers, the speed of HideMan is still decent. We like that HideMan has a free mode option despite it being limited in bandwidth and speed.
Areas for Improvement
There are several points of HideMan's service which they could improve to be able to compete a lot better with other more well-known providers:
Pricing – could be cheaper for the limited servers they have
Free mode – could do better in terms of speed and bandwidth; plus improvements on other limitations – change IP on the fly; protocols
Available countries and servers – very limited
Conclusion
HideMan has a lot of work to do to prove itself as a VPN service compared to more established VPN providers. While the one per day for free is a great idea for getting people familiar with their service and for getting people familiar with using VPN services in general, HideMan does charge comparatively high prices when held up against some of the other options out there. The OpenVPN protocol, of course, is as secure as VPN gets at present but other, more proven providers offer the same service for less money.