HideMan is a fairly new VPN provider located in the United Kingdom. The company states that its goal is to provide easy to use VPN services for everyday users. The company offers quite a few IP addresses to its users and supports a large number of countries.
Speed Test
A speed test will be conducted on HideMan very soon.
Pricing Plans
HideMan offers several different pricing plans, priced in US dollars. They are as follows: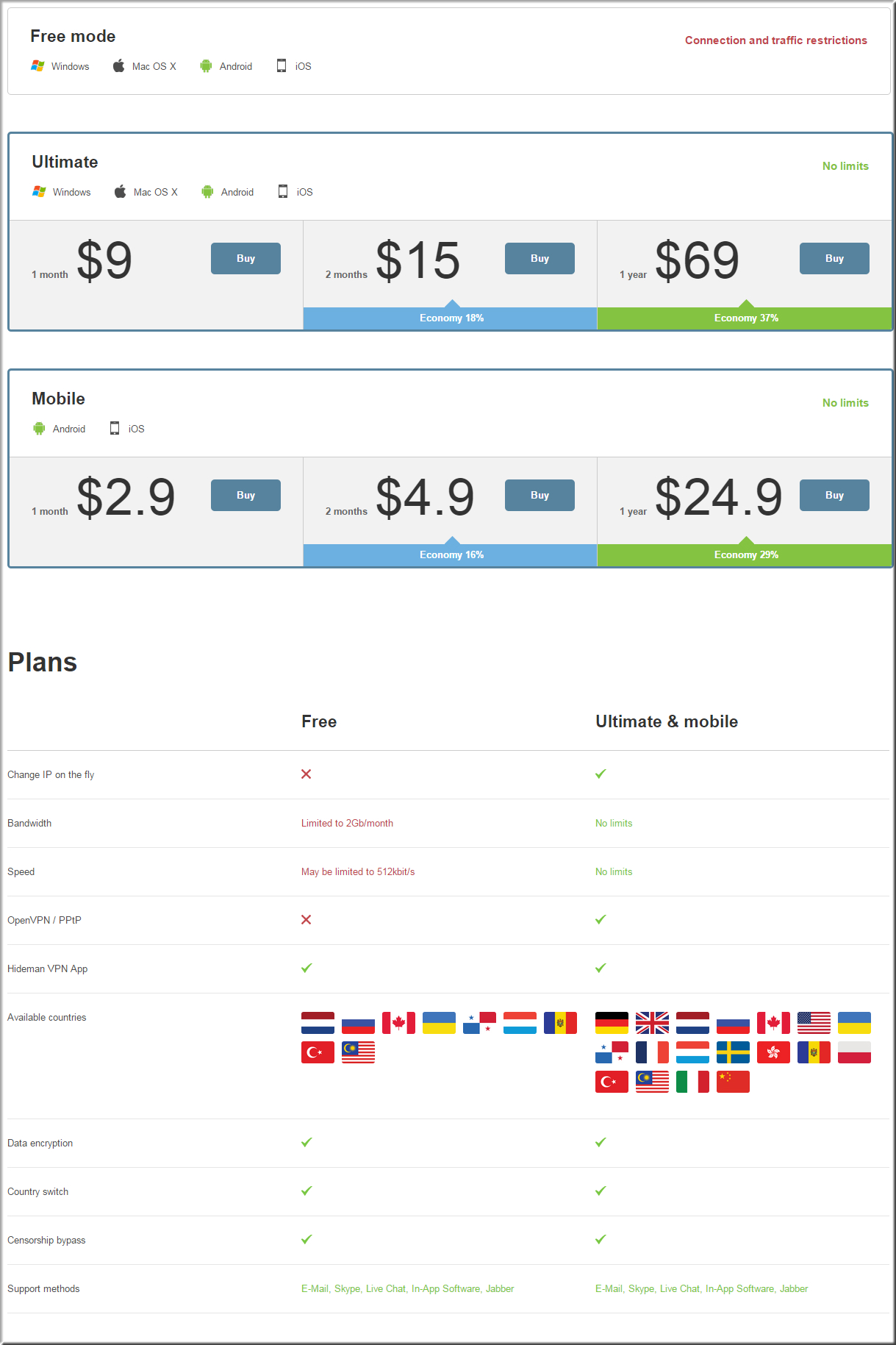 Payment Methods
HideMan accepts a variety of payment methods, including:
CashU
Credit Card
Google Checkout
LibertyReserve
PayPal
SMS
Yandex
Free Trial / Money Back Guarantee
You can use the HideMan service free for 4 hours every week to get an idea of how it works.
Coupons / Discount / Special Offers
No discounts are available from HideMan at present.
Countries Supported
HideMan has servers located in the following nations:

Austria

Canada

France

Germany

Hong Kong

Italy

Luxembourg

Malaysia

Moldova

Netherlands

Panama

Poland

Russian Federation

Singapore

Sweden

Switzerland

Turkey

Ukraine

United Kingdom

United States
VPN Protocols Supported
HideMan supports the OpenVPN protocol exclusively.
Number of IP Addresses
There are over 30 IP addresses available through this provider.
VPN Clients Information
HideMan offers a client that only functions with the Windows operating system.
Common Error Messages
None reported. Any errors may be e-mailed to support@hideman.com or reported to hideman.help over Skype.
Logging and Privacy Policy
HideMan does keep logs. Logs are retained for a period of one month so that the company can prevent fraud on its network, including hacking and carding.
Legal Use / Torrent Policy
HideMan only allows torrents to be used on its servers located in Panama, Russia and the Ukraine.
HideMan vs. the Competition
HideMan is a fairly new service and, compared to many others, is a bit more expensive. Being located in the United Kingdom, it does not have the jurisdictional layering that makes some VPN services more private in nature. The company also keeps logs for one month, as opposed to many other services that don't keep any logs of user activity at all.
HideMan Conclusion
HideMan has not been around that long, only since 2011, so it does have a lot to work to do proving itself as a VPN service compared to more established VPN providers. While the two hours per week for free is a great idea for getting people familiar with their service and for getting people familiar with using VPN services in general, HideMan does charge comparatively high prices when held up against some of the other options out there. The OpenVPN protocol, of course, is as secure as VPN gets at present but other, more proven providers offer the same service for less money.