Hotspot Shield is provided by Aura, a US-based company. They offer free and paid options including a family package. The free option is supported by ads, so it's not actually free, since you're being pitched to in lieu of paying an upfront subscription cost. The free plan is decent enough but is limited in device connections, virtual locations, connection speed and data limits, among others. You could get more benefits when you purchase a paid plan.
Pricing & Plans
The paid version of Hotspot Shield is called the "Premium" version, and it allows you to use the service without being hassled by advertisements.
The Premium packages also allow you to hook up to servers in a broader selection of nations than the free version, to get customer support and to get malware protection included as part of the package.
Pricing details are as follow:

There are certain differences with the premium and the premium family plans. For full details of all packages, see below:
| | | | |
| --- | --- | --- | --- |
| Features | Free | Premium | Premium Family |
| Member Accounts | 1 | 1 | 5 |
| Device Connections | 1 | 5 | 25 (5 per member) |
| Virtual Locations | 1 | 115+ | 115+ |
| Connection Speed | Up to 2 Mbps | Up to 1 Gbps | Up to 1 Gbps |
| Data Limits | 500MB per day | Unlimited | Unlimited |
| Streaming Mode | No | Optimized for streaming | Optimized for streaming |
| Customer Support | Support Center Only | Yes | Yes |
| Smart VPN | False | True | True |
| Kill Switch | False | True | True |
Free Trial/ Money-back Guarantee
Hotspot Shield has a free VPN option but is limited in features, as mentioned. You can also try their premium accounts, risk-free, for 45-days.
Hotspot Shield also offers a free 7-day free trial for their premium plan.
Privacy & Anonymity
Because Hotspot Shield's free version does serve up advertising, it's obvious that third parties are involved, and their privacy policy states as much. Other than that, they claim that they don't log information. The Hotspot Shield website is not particularly useful in determining their exact stance on user privacy. They do respond to DMCA requests and will cancel your account if you get one so, clearly, they do know who was downloading what on their servers.
Provider Logging Policy
The information they collect when they use their services include the following:
Usage Information – how you interact with their services, such as how often you use their services, how much bandwidth you use, and when and for how long you use their services.
Device Information – the device you use to access their services, including the browsers and Aura apps you use. For example, they may collect device identifiers, browser types, device types and settings, operating system versions, mobile, wireless, and other network information and application version numbers.
Diagnostic Information – the nature of the requests that you make to their servers such as what is being requested, information about the device and app used to make the request, timestamps, and referring URLs.
Location Information – unless otherwise expressly stated, they do not collect your location information based on your device's GPS or other device sensor data. However, we may collect your approximate location by calculating an imprecise latitude and longitude based on your IP address to provide you with better service
Hotspot Shield do not log any information that associates your identity with your VPN browsing activity. They do not maintain any records that show what you were browsing or accessing through a VPN connection.
Torrent Policy
Torrents are allowed, but the company will warn you and eventually terminate your service if you get DMCA complaints.
On the face of it, this provider might have a good privacy and torrent policy, but it doesn't really have the levels of privacy that torrent users will want overall. There are better options out there for P2P.
Customer Support
To get 24/7 customer support, you would need to have a premium account with Hotspot Shield. The free option support is limited.
The Hotspot Shield website also has a comprehensive knowledge base that contains tutorials on how to get started with their service depending on the platform you're using, payment & subscription questions, accounts & devices and troubleshooting issues.
They also have a live chat option and a support center where you can submit a request.
Product Testing
The Hotspot Shield client is very easy to use, but it's not particularly agile where letting you configure your settings is concerned. You won't find options for setting a different protocol or encryption strength, but it uses OpenVPN at 256-bit, which isn't bad.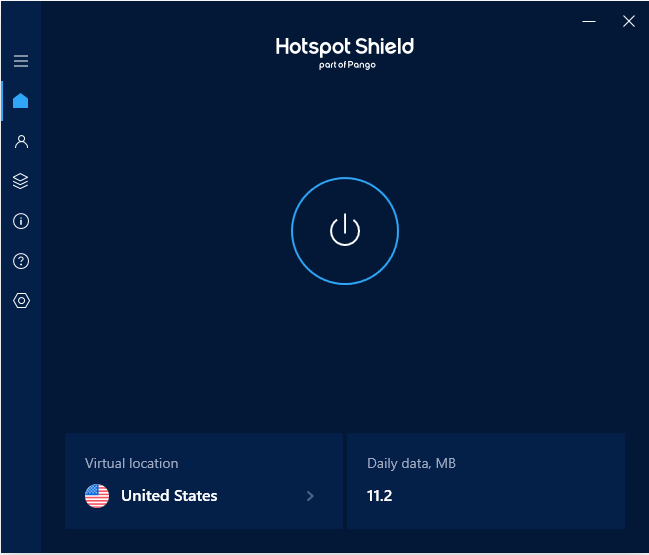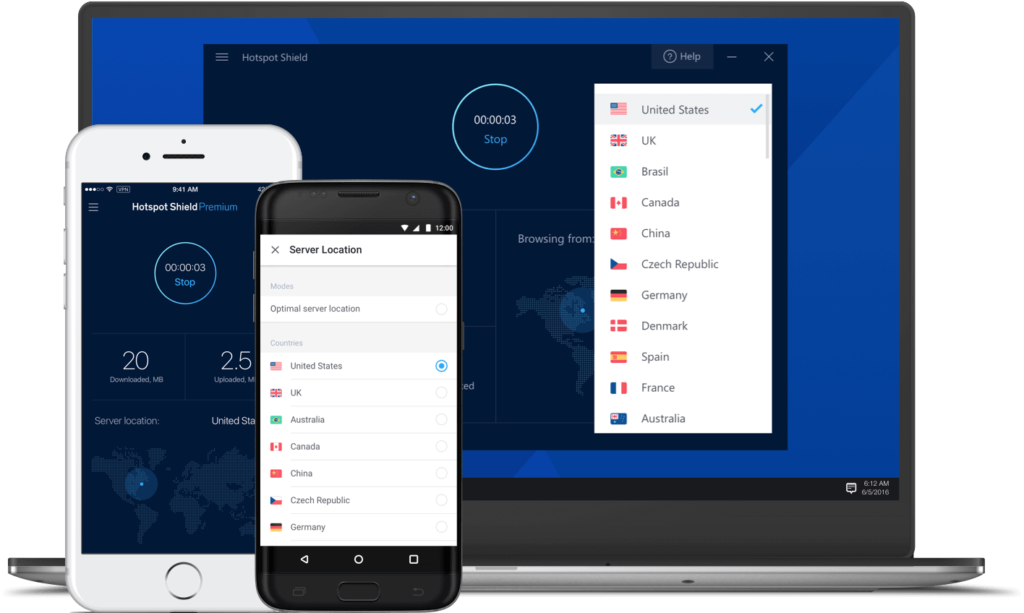 Hotspot shield works with Windows, Mac, Android and iOS devices. There are apps available for both mobile operating systems, so you don't have to configure your smartphone or tablet manually. The client has an area where you can selectively use protection, with options that include the major streaming sites. Beyond that, control is limited.
The client is certainly simple enough, however, that non-techie types will find their way around without any difficulty.
VPN Server Locations
Hotspot Shield has 1800+ servers in over 80 countries including 35+ cities around the world.
Countries Supported:

Albania

Algeria

Andorra

Argentina

Armenia

Australia

Austria

Azerbaijan

Bahamas

Bangladesh

Belarus

Belgium

Belize

Bhutan

Bosnia And Herzegovina

Brazil

Brunei Darussalam

Bulgaria

Cambodia

Canada

Chile

China

Colombia

Costa Rica

Croatia

Cyprus

Czech Republic

Denmark

Ecuador

Egypt

Estonia

Finland

France

Georgia

Germany

Greece

Guatemala

Hong Kong

Hungary

Iceland

India

Indonesia

Ireland

Isle Of Man

Israel

Italy

Japan

Jersey

Kazakhstan

Kenya

Kyrgyzstan

Lao People's Democratic Republic

Latvia

Liechtenstein

Lithuania

Luxembourg

Macedonia

Malaysia

Malta

Mexico

Moldova

Monaco

Mongolia

Montenegro

Myanmar

Nepal

Netherlands

New Zealand

Norway

Pakistan

Panama

Peru

Philippines

Poland

Portugal

Romania

Russian Federation

Serbia

Singapore

Slovakia

Slovenia

South Africa

Korea

Spain

Sri Lanka

Sweden

Switzerland

Taiwan

Thailand

Turkey

Ukraine

United Arab Emirates

United Kingdom

United States

Uruguay

Uzbekistan

Venezuela

Viet Nam
Speed Test
In this regard, Hotspot Shield did very well. It brought our speed down from approximately 38Mbps to just over 20 Mbps on a US server. Ping time was short, and it made the connection quickly.
IPCheck and DNSLeak Test
Our IP address was successfully hidden, but DNS did leak with Hotspot Shield turned on. You might want to configure your DNS settings manually with this provider.
Feature Summary
Military grade encryption
1800+ servers in 80+ countries
OpenVPN, IPsec VPN protocol
Patented Hydra protocol
Unlimited Bandwidth
45-day money-back guarantee
Link to up to 5 devices (for premium plans)
Works on multiple platforms
Free Option (limited features)
Easy to use
Additional Bonus Features
Hotspot Shield features Hydra VPN protocol which is verified by experts as one of the fastest and most secure in the market.
The premium plans also include malware and virus protection and an automatic spam call blocking.
We Liked
This service has a very user-friendly client, which will likely be very enticing to some users. The options are very easy to set.
Areas for Improvement
The privacy policy raises some questions especially with regards to P2P activities and the ads that come with the free option. This makes it hard to recommend this provider for anything other than casual use, particularly since they serve up advertisements.
The client could offer more protocol options and better feedback on your connection, as well. Exiting it proved difficult, and our browser was immediately directed to the company's homepage when we did, which was a nuisance.
Conclusion
If you're not very technically adept and want a free service, Hotspot Shield does have something to offer here. If you want a solid privacy policy and to surf with real confidence that your privacy is protected, you'll likely want to look at any of our preferred providers. Saying that there's no logging but suspending people for DMCA complaints doesn't really add up.
To enjoy the full features of Hotspot Shield and enjoy use of this product on several devices, we recommend subscribing to their premium plans. The premium plans would be a far better option as compared to their free option. You can test out their premium service for 7 days to know if Hotspot Shield is the right VPN provider for you.