Identity Cloaker started up in 2008 as an encrypted proxy service using SSH tunneling. They have since expanded their service to include L2TP and OpenVPN protocols. They boast a very flexible policy in terms of the number of connections you're allowed and an impressive number of servers.
Pricing and Plans
Identity Cloaker prices their service based on the length of your subscription. There is a 30GB per month limit on data transfers.
10-day Trial: $5.88
30-day Subscription: $15.33
Three-month subscription: $35.43
Six-month subscription: $59.08
One-year subscription: $94.55
A standout feature of this provider is their account structure. Your subscription is regarded as a per-user license. If you happen to have ten different devices in different locations, you and your family members that share the same household only need one subscription. This is a huge addition of value to the service.
Free Trial/Money Back Guarantee
The 10-day trial is a very inexpensive option. You can also try a demo version of their service, which offers restricted use of the product; not all sites will be available. There is no time restriction on how long you can evaluate the software.
Privacy and Anonymity
IdentityCloaker is located in the Czech Republic, so they're not subject to US law. They have a non-disclosure policy in regards to your data.
Provider Logging Policy
"Non-Disclosure and Business Secret: It is strictly prohibited to disclose any IP address used by the Service proxy and / or VPN (Virtual Private Network) server to anyone who is not directly employed or contracted by the Service provider and who is not a current Service subscriber. Users cannot publish on the Internet or make otherwise publicly available any screenshot or other material where any of the Service IP address is clearly visible, with the exception of the DEMO version of the product. Any user found to breach this agreement may have their account terminated by the service provider immediately. You agree not to share your Service account information with any other person, with the exception of any family member sharing the same household."
Torrent Policy
Torrents and other P2P protocols are allowed on this service, excepting servers located in the US, UK and France. The transfer of copyrighted materials is not allowed.
Customer Support
Support is available around the clock from the provider's website or via email.
Product Testing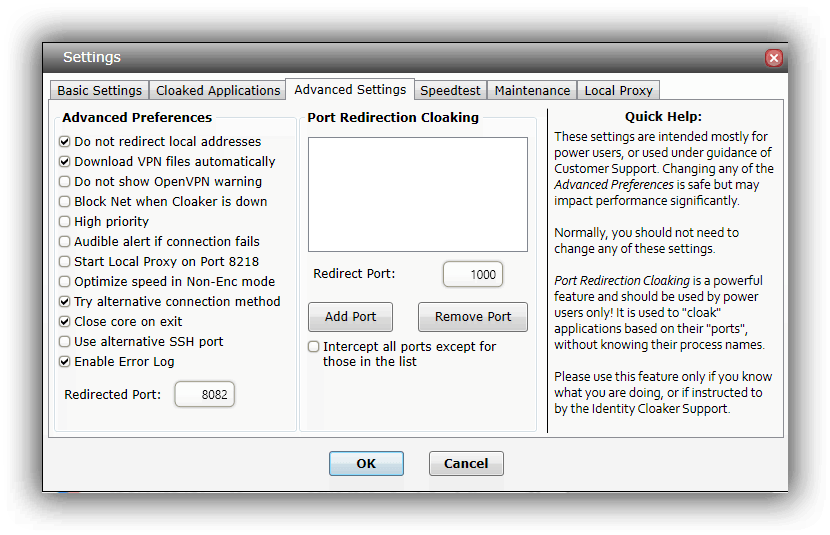 There are two different versions of the Identity Cloaker client. The Portable version doesn't require installation to operate. The newest version of their software doesn't require you to change the proxy settings in your web browser and allows you to select which applications are routed over the secure connection. They have mobile, Windows and Mac versions of their software. In testing, the software was very easy to use, requiring little in the way of a learning curve.
VPN Server Locations
Identity Cloaker has more than 30 servers across 16 countries.
Countries Supported

Australia

Canada

Czech Republic

France

Germany

Ireland

Italy

Netherlands

Norway

Poland

Portugal

Russian Federation

Spain

Sweden

Switzerland

United Kingdom

United States
Speed Test
Speeds over IP Cloaker's service were very impressive. Over a 50Mbps/5Mbps connection from Albuquerque to Washington DC via a server located in Phoenix, AZ, there was less than a 7Mbps reduction in download speed compared to the baseline test. Upload speeds, for all practical purposes, were nearly unaffected.
IP Check and DNSLeak
With a Windows PC configured to obtain a DNS server address automatically, the ID Cloaker client did not leak. The IP address matched the one given by the server.
Feature Summary
L2TP and OpenVPN options Portable client option More than 31 servers around the world Windows, Mac, iOS, Android and Linux compatibility
What We Liked
Very fast speeds
Portable client option
Generous bandwidth limit
Areas for Improvement
The demo client did not do this service justice. If you want to test it, the 10-day trial is a better option, by far.
Conclusion
Identity Cloaker is a good service with fast speeds and a simple client. It does have a bandwidth limitation, but it's a very generous one and shouldn't cause problems for anyone but the most active downloaders. As a tip, don't bother with the demo version. The paid trial will give you a much more accurate idea of what this service offers, and it's worth checking out if you want something easy and effective to protect your privacy.