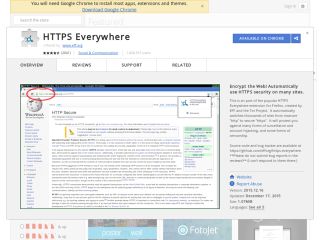 While we obviously like VPNs around here, there are other ways to protect your privacy. One of the most popular right now is HTTPS, which more and more sites have been implementing as a way to protect their visitors.
HTTPS encrypts data.  That used to make it too demanding for most sites to implement. Today's technology, however, makes it possible for most any site to use this encryption technology.
Media outlets, free speech advocates and others have encouraged sites to begin using HTTPS. While many sites have, a good number of them also default to unsecured, HTTP connections. With the HTTPS Everywhere extension for your browser, you can change that and surf the web more securely.
Is It As Good as a VPN?
First things first: Is HTTPS as good as a VPN? No.
VPNs protect all network traffic going from or coming to your computer with encryption. They also hide your IP address. HTTPS doesn't offer that comprehensive of a privacy solution. Someone trying to eavesdrop on your VPN-secured connection couldn't tell where you were surfing, what kinds of downloading you were doing or anything else. Conversely, HTTPS merely protects you against having someone see what you're reading or accessing–or posting–on a website. They can still tell what website you're on, but nothing beyond that.
Running a VPN is still the best privacy solution out there, but HTTPS is a great enhancement, particularly when you have the VPN off. Since not all sites will give you the HTTPS version of their pages by default, downloading the HTTPS Everywhere extension is highly advisable.
What the Extension Does
HTTPS Everywhere comes from the folks at The Tor Project and the Electronic Frontier Foundation (EFF), so we can wholeheartedly give it our endorsement.
The extension is available for Firefox, Android, Chrome and Opera. After you install the extension, your browser will always request the HTTPS version of any site you visit.
While many sites offer an HTTPS version, a good number of them will default to the HTTP version. Some pages also include unsecured HTTP content on their HTTPS pages, which constitutes a security hole.
The HTTPs Everywhere extension makes sure that your browser requests the HTTPS version of every site you visit.
HTTPS is not a perfect privacy protection, but it's a significant improvement over visiting unsecured web pages.
You can download the extension from the EFF for the devices listed. It'll only take a second to download, doesn't require any technical know-how to install and it will offer you better privacy protection. Do yourself a favor and use HTTPS Everywhere. If you want even better privacy, look into a VPN.