Founded in 2012 in the USA, IPVanish has quickly become one of the top industry brands by offering high speed servers, easy to use quality software and full anonymity. IPVanish runs their own network, all tier 1, and offers quality VPN software with VPN servers and their corresponding IP addresses throughout the whole world. Finally, they have a good privacy policy and bitcoin as a payment option.
Pricing & Plans
IPVanish has simplified their plans by offering monthly and yearly plans for VPN and VPN + Backup packages. The VPN + Backup package includes more features.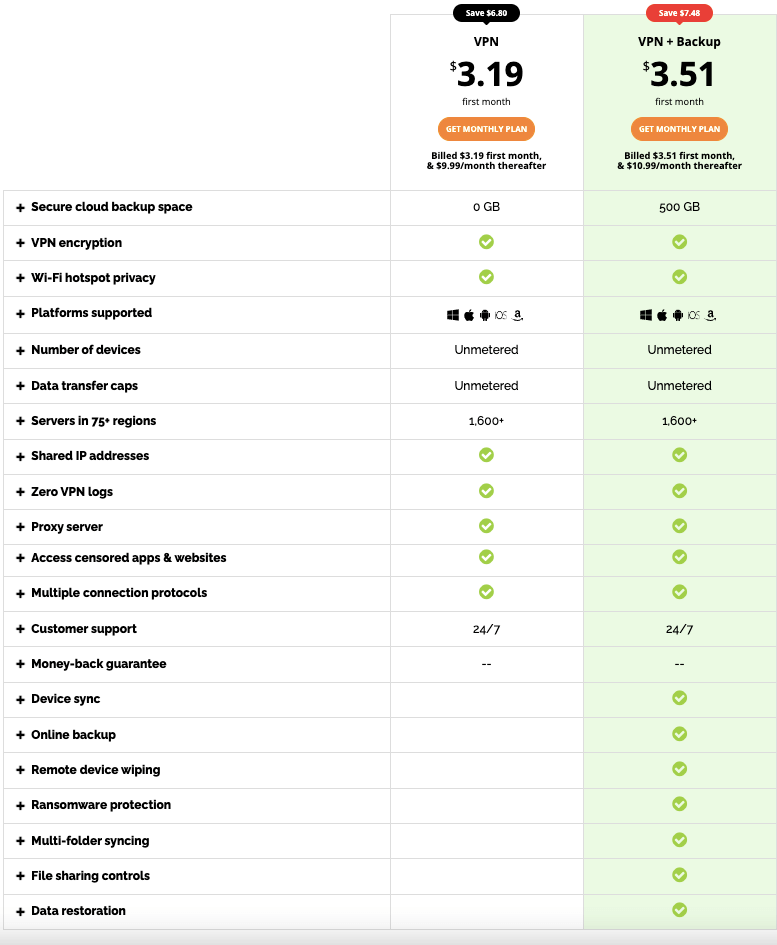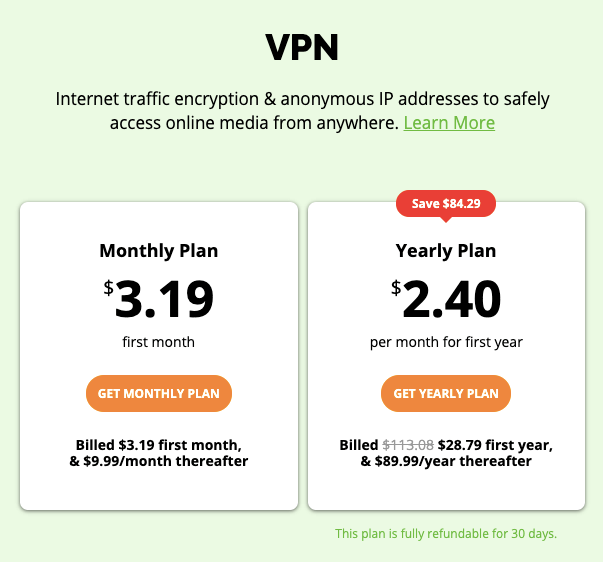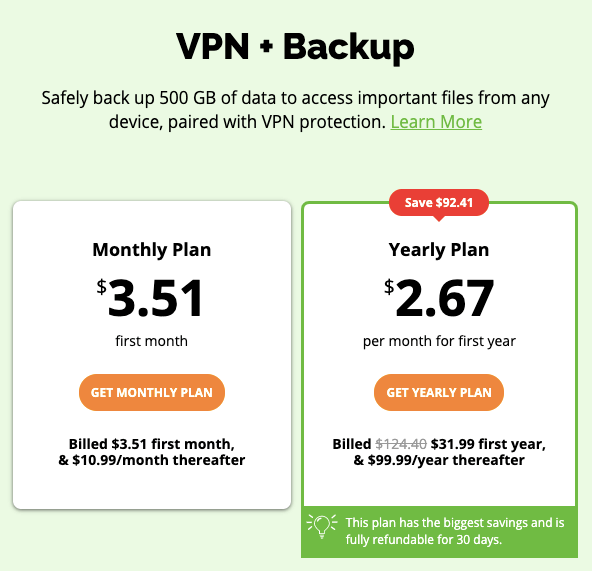 Like all other VPN providers you can get a discount if you sign up for a long term. you can pay for IPVanish via Bitcoin, Paypal and all major credit cards.
Free Trial/ Money-back Guarantee
Yearly plans are eligible to receive a full refund if cancellation is submitted within 30 days of purchase.
Privacy & Anonymity
IPVanish has a strict zero log policy to give users full anonymity. They do not collect or log any traffic or use of its VPN. They also operate 100% of their network, which means you are not at risk with your traffic being handled by any third parties. This is a big advantage if you're concerned about online privacy. It also means faster and more reliable connections since IPVanish does not rely on leased servers. In addition, to no user logs you can pay for IPVanish with Bitcoin further improving anonymity.
Provider Logging Policy
Their logging policy states:
"The information we collect through our Services is used for the following general purposes:
Process. To create your account, collect payment for our Services, verify your identity when you log into the Service, and administer accounts;
Troubleshoot. To understand the source and cause of app crashes, and to develop & improve our Services;
As previously outlined IPVanish does not collect or log any traffic of its Services. We closely review any requests we receive for customer information by a third party. We cannot provide information that we do not have, and we do not provide information that we do have unless we are legally required to. We may also compile some statistical information related to app crashes."
Torrent Policy
IPVanish makes no restrictions on P2p and on the use of the Bittorrent Protocol. Their official policy is as long as it is legal you can use IPVanish however you want. As a practical suggestion, if you use IPVanish to download torrents then download from a country outside of where you are physically located. For example, download from the Netherlands if you are physically located in the USA.
Customer Support
IPVanish software normally works very well as they have been continually releasing updates for a variety of platforms since 2012. One such recent VPN client in 2015 allowed IPVanish users the ability to submit tickets directly via their IPVanish VPN client. This is perhaps the quickest way to get customer support. Also, in addition to contacting IPVanish via their built-in client, there is also a wealth of information available via their VPN setup page and a support forum. Finally last but not least you can directly contact IPVanish customer support via email or via the live chat option on their website.
Product Testing
You can connect to the server you want and there are lots of choices per IPVanish's map. You can also filter VPN Servers however you want. By default, the servers with faster ping times are returned. Check your IP address and / or change your IP address every few minutes.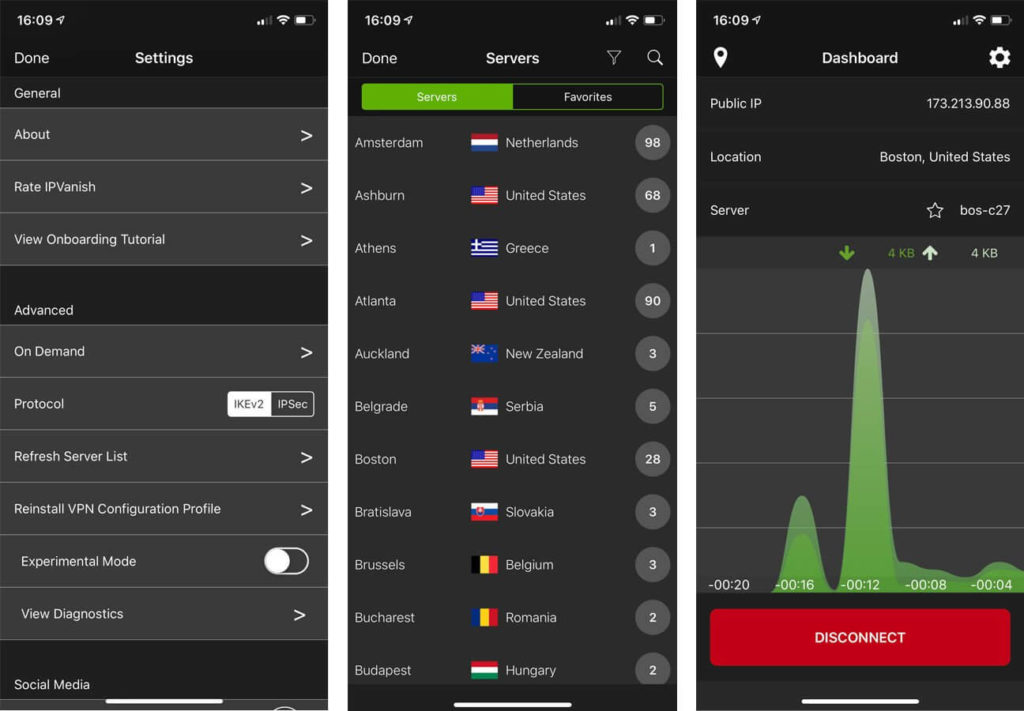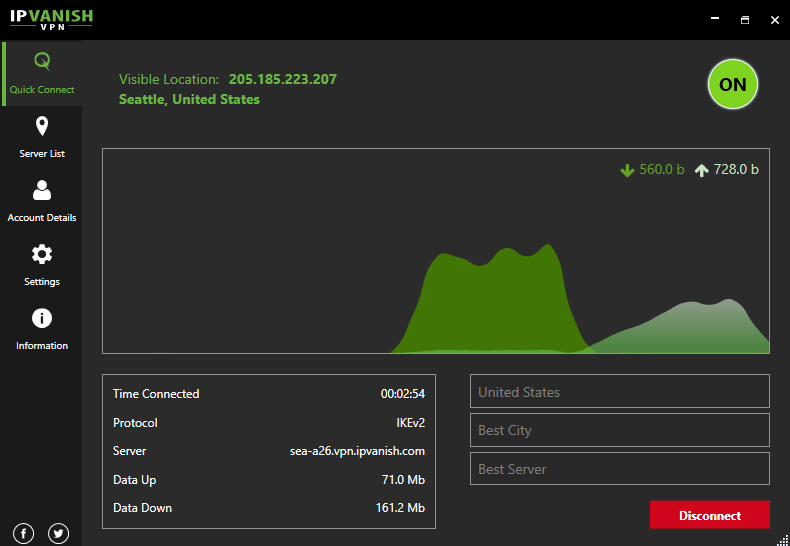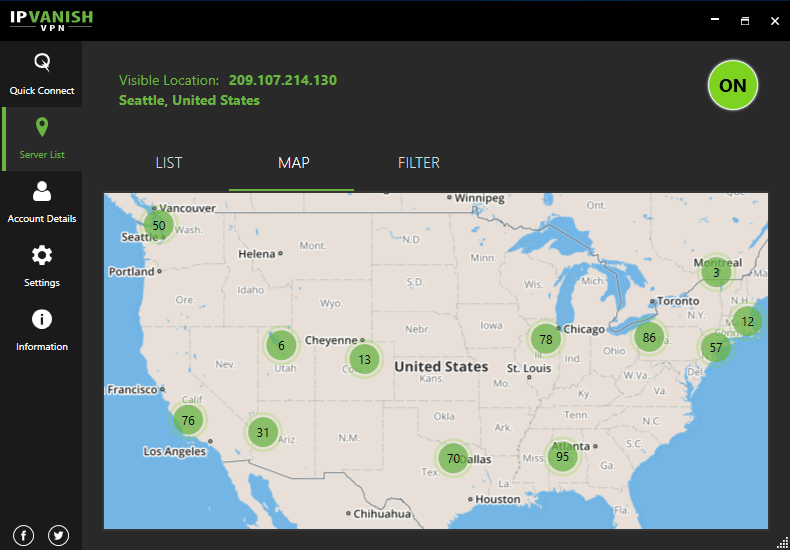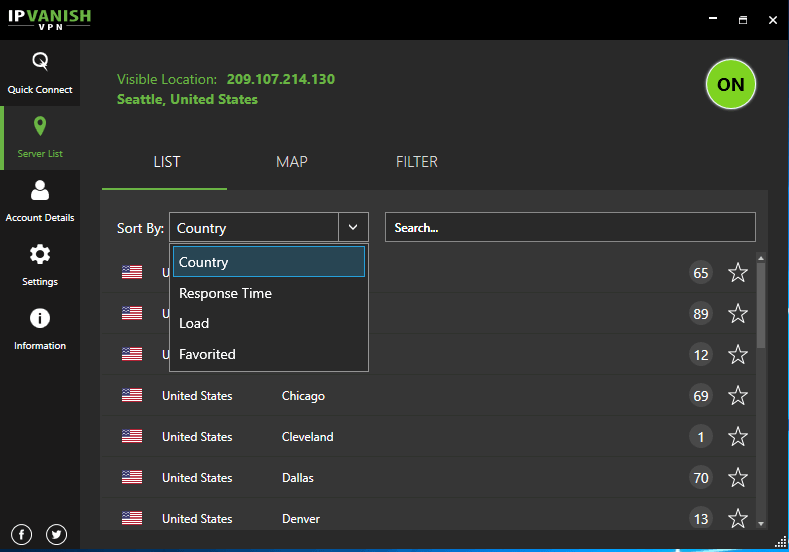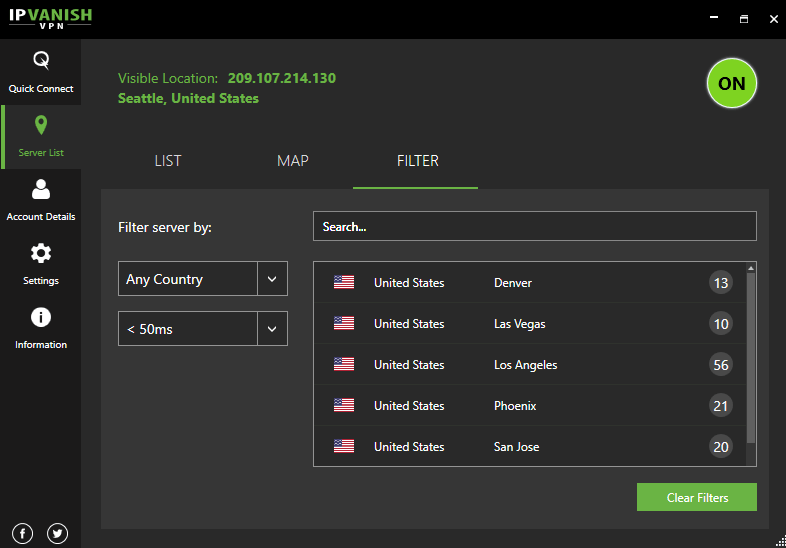 IPVanish allows you to choose between OpenVPN UDP, OpenVPN TCP, IKEv2, L2TP, and PPTP as the active protocol you want to use when connecting. Other than the protocol, you can enable leak protection and kill switch should your connection to the VPN server be broken. You can also configure the general settings based on how you want IPVanish to start up.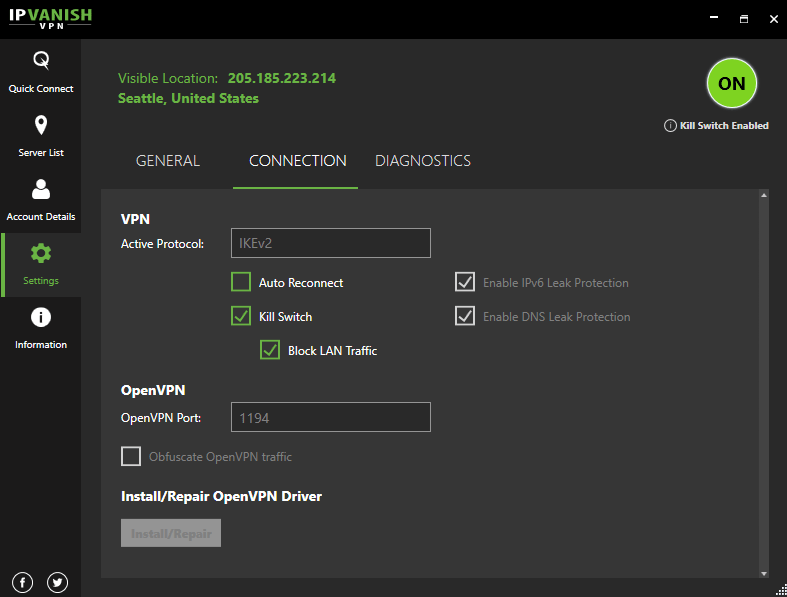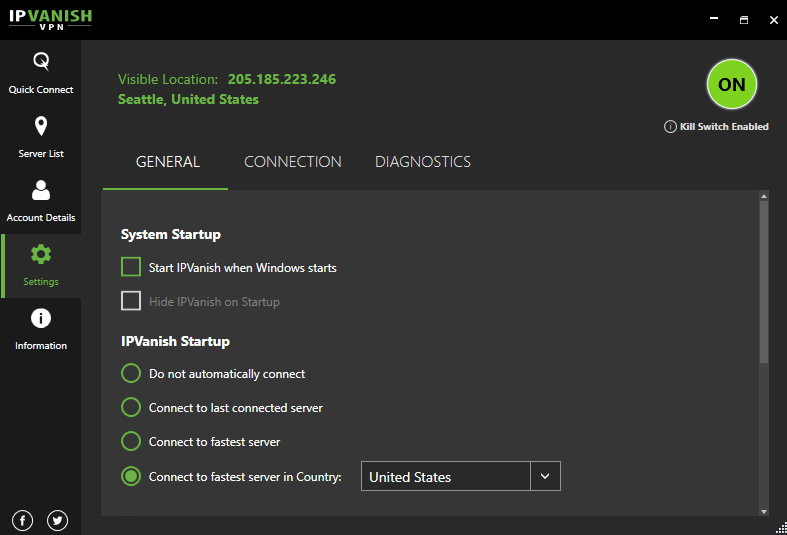 VPN Server Locations
IPVanish has over 40,000 IP addresses, 1600+ servers in over 75 locations, and they are considered as one of the fastest top tier VPN services in the market today.
Countries Supported:

Albania

Argentina

Australia

Austria

Belgium

Brazil

Bulgaria

Canada

Chile

Colombia

Costa Rica

Croatia

Czech Republic

Denmark

Estonia

Finland

France

Germany

Greece

Hungary

Iceland

India

Ireland

Israel

Italy

Japan

Latvia

Luxembourg

Malaysia

Mexico

Moldova

Netherlands
Nigeria

Norway

Peru

Poland

Portugal

Romania

Serbia

Singapore

Slovenia

South Africa

Korea

Spain

Sweden

Switzerland

Taiwan

Ukraine

United Arab Emirates

United Kingdom

United States
Speed Test
IPVanish tested well in terms of speed. Comparing our baseline test with the connection we had with the VPN service, there are minimal changes with the download and upload speed. However, depending on your location and your particular network situation, your speed results will vary. Ultimately, the best way to test your VPN connection speed is to take advantage of IPVanish's 30-day money back guarantee.


IPCheck and DNSLeak Test
Use one of IPVanish's VPN clients and you will not have any DNS leaks. Also check your IP address with the IPVanish app.
Feature Summary
Servers in 75+ countries & 40,000+ IP addresses
Unlimited Usage (unlimited bandwidth)
Gigabit port connection speeds
Privacy: No user data or activity logs stored
Privacy: Bitcoin Payments Possible
Torrents allowed
Multiple simultaneous device connections
Windows, Mac, Linux Clients in good order
iOS and Android Apps available
24×7 support
Large choice of payment methods
30-day money back guarantee
Additional Bonus Features
DNS Leak Protection
IPv6 Leak Protection
Kill Switch
We Liked
Fast and Worldwide Network
Anonymous/Zero-log policy
Easy to use mobile apps/clients – works on all devices
Excellent Price
Areas for Improvement
While IPVanish can be used for streaming sites, it does not block some popular one including Amazon Prime Video and iPlayer. And while it tested well for speed, it can sometimes be inconsistent, but of course that also depends on your locations and your particular network situation.
Conclusion
IPVanish is one of the top VPN brands for good reason. They have a large and stable network of VPN servers throughout the world and are considered one of the fastest and most reliable in the VPN industry today. IPVanish also has an excellent software, is easy to use, has good features and highly configurable settings. Take advantage of their yearly discounts and their 30-day money-back guarantee.