Founded in 2012 in the USA, IPVanish, has quickly become one of the top industry brands by offering high speed servers, easy to use quality software and full anonymity.  IPVanish runs their own network, all tier-1, and offers quality VPN software with VPN servers and their corresponding IP addresses throughout the whole world. Finally, they have a good privacy policy and bitcoin as a payment option.

Pricing & Plans
IPVanish  has a seven-day money back guarantee. In addition you can pay for IPVanish via Bitcoin, Paypal and all major credit cards.


Like all other VPN providers you can get a discount if you signup for a long term.  Above is the breakdown. Less than $7 / month if you choose the annual service plan.
Free Trial / Money Back Guarantee
IPVanish offers a seven-day no-obligation money back guarantee on their services. If you're not happy, you have that window in which to cancel your service without getting billed.
Privacy & Anonymity
IPVanish has a strict zero log policy to give users full anonymity. They do not collect or log any traffic or use of its VPN. They also operate 100% of their network, which means you are not at risk with your traffic being handled by any third parties. This is a big advantage if you're concerned about online privacy. It also means faster and more reliable connections since IPVanish does not rely on leased servers. In addition, to no user logs you can pay for IPVanish with Bitcoin further improving anonymity.

Torrent Policy
IPVanish makes no restrictions on P2p and on the use of the Bittorrent Protocol. Their official policy is as long as it is legal you can use IPVanish however you want.   As a practical suggestion, if you use IPVanish to download torrents then download from a country outside of where you are physically located. For example download from the Netherlands if you are physically located in the USA.
Customer Support
IPVanish software normally works very well as they have been continually releasing updates for a variety of platforms since 2012.  One such recent VPN client in 2015 allowed IPVanish users the ability to submit tickets directly via their IPVanish VPN client. This is perhaps the quickest way to get customer support.   Also in addition to contacting IPVanish via their built in client, there is also a wealth of information available via their VPN setup page and a support forum.  Finally last but not least you can directly contact IPVanish customer support via email.

IPVanish Software Testing 1 2 3
Windows Client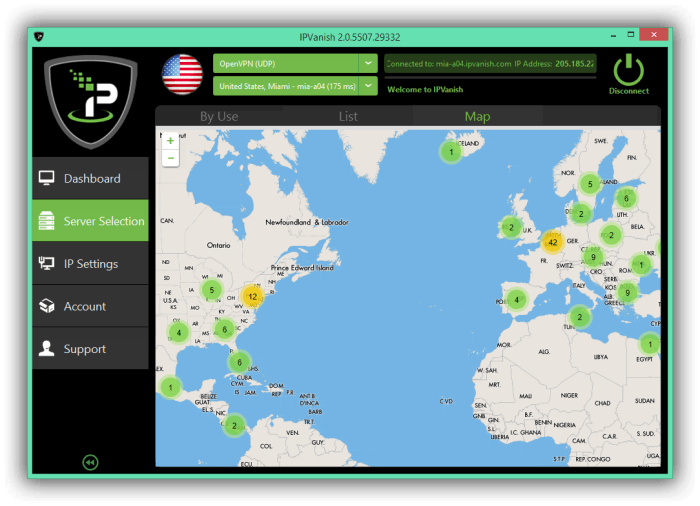 Connect to the server you want – Lots of choices per IPVanish's map.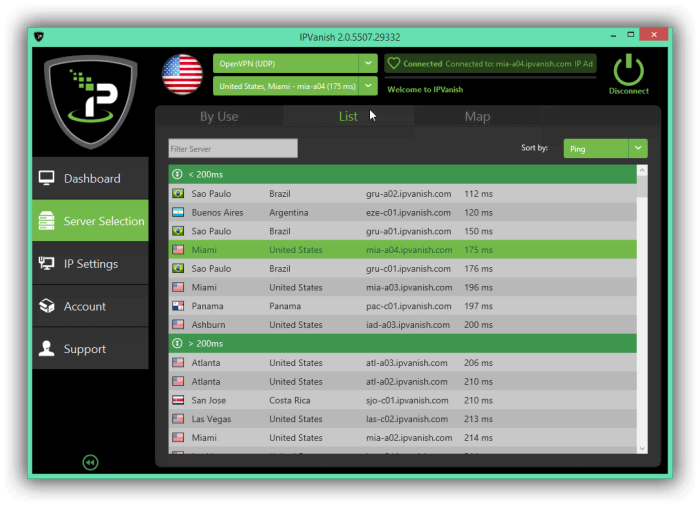 Filter VPN Servers however you want.  By default the servers with faster ping times are returned.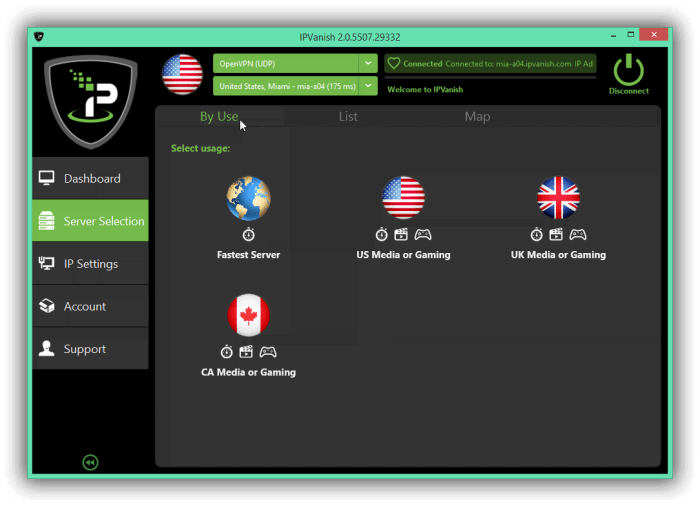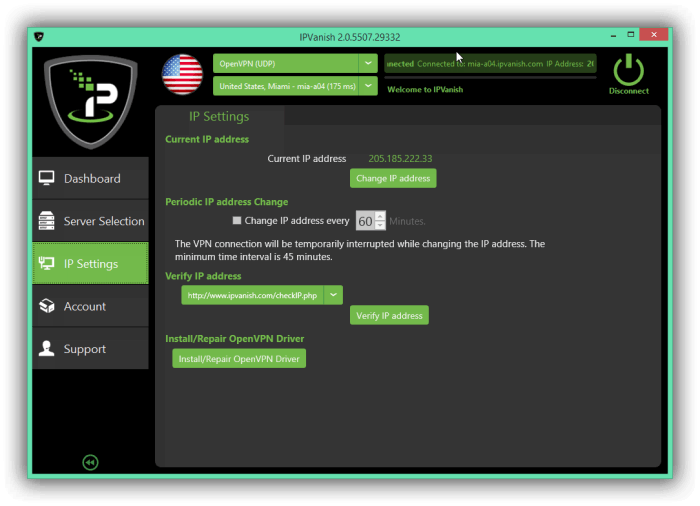 Check your IP address and / or change your IP address every few minutes.

MacOS X Client
Android Client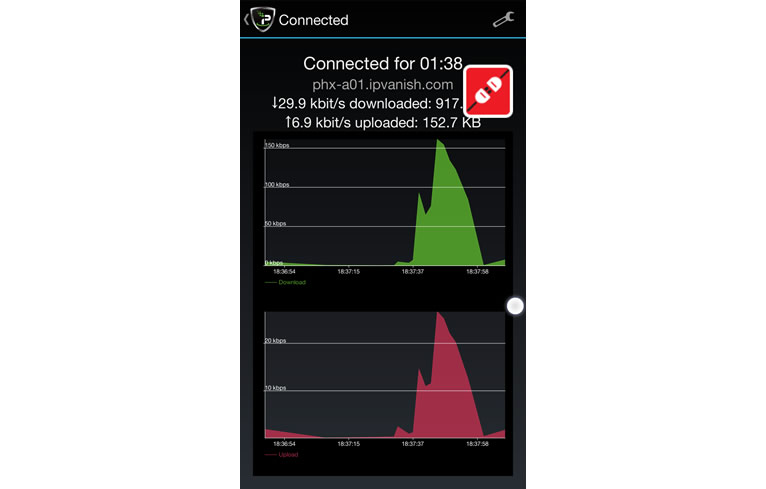 iPhone Client
IPVanish Speed Test
On the left hand side, we have the baseline speed – a 10 Mb/s download and 600 Kb/s upload rate located in the southern Chile.
On the right hand, we have an OpenVPN connection to Herndon, VA. Notice the slow ping times that reflect the originating server actually is located far away. The upload speeds are actually faster via the VPN connection and although the download speed is slower than the baseline, 3.86 Mb/s actually represents a very fast connection speed considering we are on the other side of the world.
Depending on your location and your particular network situation, your speed results will vary. Ultimately, the best way to test your VPN connection speed is to take advantage of IPVanish's seven-day money back guarantee.
IP Check and DNS Leak Test
Use one of IPVanish's VPN clients and you will not have any DNS leaks.  Also check your IP address with the IPVanish app.
Feature Summary
Servers in 65+ countries & 25,000+ IP addresses
Unlimited Usage (unlimited bandwidth)
Gigabit port connection speeds
Privacy: No user data or activity logs stored
Privacy: Bitcoin Payments Possible
Torrents allowed
Up to 2 simultaneous device connections
Windows, Mac, Linux Clients in good order
iOS and Android Apps available
24×7 support
Large choice of payment methods(Notice: Bitcoin)
7-day moneyback guarantee
Countries Supported

Albania

Argentina

Belgium

Brazil

Bulgaria

Canada

Costa Rica

Croatia

Czech Republic

Denmark

Egypt

Estonia

Finland

France

Germany

Greece

Hong Kong

Hungary

Iceland

India

Indonesia

Italy

Japan

Kazakhstan

Latvia

Lithuania

Luxembourg

Malaysia

Malta

Mexico

Moldova

Netherlands

New Zealand

Norway

Poland

Portugal

Romania

Russian Federation

Saudi Arabia

Serbia

Singapore

Slovakia

Slovenia

Korea

Spain

Sweden

Switzerland

Thailand

Tunisia

Turkey

Ukraine

United Kingdom

United States
What we liked
Fast and Worldwide Network
Anonymous/Zero-log policy
Easy to use mobile apps/clients – works on all devices
Excellent Price
What could be improved
VPN Kill Switch could make IPVanish more secure
Conclusion
IPVanish is one of the top VPN brands for good reason: Excellent software, large and stable network of VPN server throughout the world. Take advantage of their yearly discounts and free trial offers.