iWasel VPN service gives you the advantage of browsing the internet anonymously and totally secured. The connection between your computer and our servers is encrypted, and highly secured, hackers and data sniffers will not have any chances of reaching your device due to your encrypted connection and new Ip address you get when you are connected to our service. However, iWasel is a relatively unknown VPN provider. The company seems most interested in the Arabic market for VPN services, which is substantial. They support many of the protocols that are likely banned in many of the home nations of their customers, which will be useful to those located in other parts of the world.
Pricing & Plans
iWasel offers pricing plans that are competitive with many other providers. All plans come with unlimited bandwidth and access to all their servers

iWasel accepts several different payment methods for their service including credit cards, PayPal, 2CO, CashU, Western Union and BlueSnap.
Discounts are given for signing up for longer terms of service. For three months of service, the discount is 10 percent, for six months the discount is 15 percent and for one year of service, the discount is 25 percent.
Free Trial/ Money-back Guarantee
iWasel does not offer any free trial or any money-back guarantee. However, the client can be downloaded for free and, after you install it, you will be able to try out the program for a total of 10 minutes per day.
Privacy & Anonymity
According to their website, iWasel has a no-logging policy. However, their privacy policy does not provide enough details except that it states that "Any personal information received will only be used to fill your order. We will not sell or redistribute your information to anyone The information you provide upon registration or payment will not be declared to any third party until you violate the Terms of Use or break the law according to dutch laws, or international laws."
Torrent Policy
While it is not clearly stated on their website if they allow torrenting, they do not specify any restrictions on the use of their service. According to several sources iWasel allows torrenting.
Customer Support
iWasel has live technical chat support on their website. They can also be reached via email at support@iwasel.com or through a feedback form on their site. Their email support, however, takes several days before responding.
Product Testing
iWasel has an easy to use interface. However, it is very basic and may not be well-suited for intermediate and advanced users who are looking for more features and more ways to personalize their VPN experience.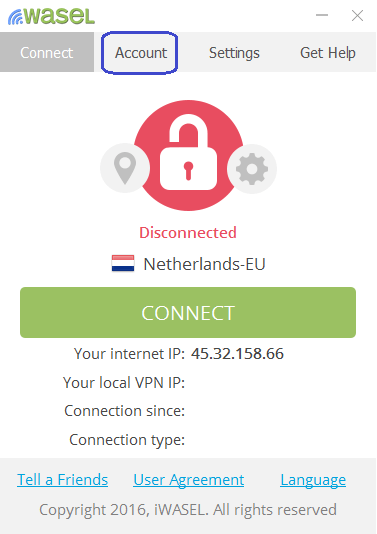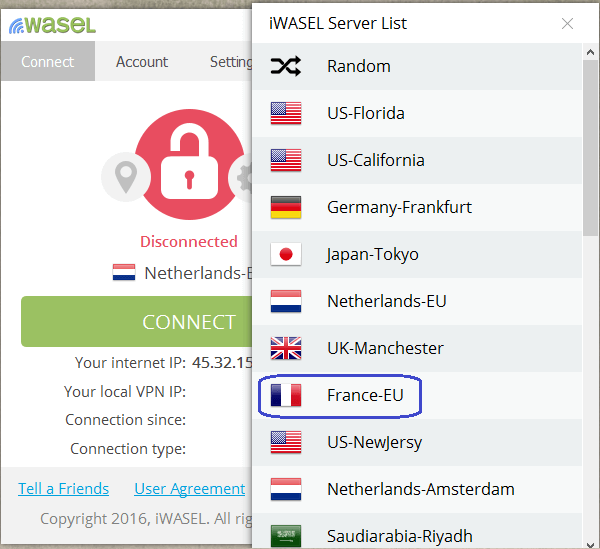 VPN Server Locations
With a network of express speed VPN servers in USA, Australia, Japan, Germany, France, Ukraine, Netherlands and UK and reliable VPN protocols (OpenVPN/ SSH, TCP or UDP), allows the user to bypass Internet censorship and unblock any website or service without compromising their anonymity or speed unlike web proxy services.
When compared to other more well-known VPN providers, iWasel has a very limited number of servers across a small number of countries.
Countries Supported:

Australia

Canada

China

France

Germany

Italy

Japan

Netherlands

Oman

Syrian Arab Republic

Ukraine

United Kingdom

United States
Speed Test
IPCheck and DNSLeak Test
iWasel tested well upon our IPCheck and resolved to the exact IP address that was shown on the client. With regards to DNS Leaks, your DNS may be at risk since iWasel does not offer any DNS leak protection.
Feature Summary
Fast servers worldwide
Multiple protocols
Multiple platform support – Windows, Mac, iOS, Android, Linux
2 Concurrent VPN connections per account
No logs
Automatically reconnects
Runs at system startup
Unlimited bandwidth
Access to all servers
Additional Bonus Features
iWasel is a very basic VPN service and does not offer any additional bonus features. This service may best suit beginner VPN users.
We Liked
Easy installation
Wifi/ HotSpot Protection
Compatibility with hand devices and cellphones
Multiple payment options
Areas for Improvement
iWasel has a lot of aspects they can improve on. When compared to other top VPN providers, iWasel has a limited number of servers across a small number of countries. They could do even better by having more servers in a lot more countries.
The iWasel can also use some updating since it seems to have not been updated for quite some time now. They could provide more detailed information on their service, features and no-logging policy.
Conclusion
iWasel is relatively unknown compared to many of the bigger names on the market. They do, however, have a client that is easy to use and they offer versatile options for payment, which should appeal to some users. They seem very heavily concentrated on getting the market from Arabic speaking countries.
iWasel does offer some nice features. The unlimited bandwidth on their plans is competitive with a lot of other providers out there. The client is also easy enough to use that most people should have no real difficulty setting up their VPN service. However their pricing is a little bit higher than some other providers.
The OpenVPN protocol provides excellent privacy enhancement and cannot be blocked by filtering out traffic over certain ports, making it useful for nations with national firewalls. The PPTP option is not adequate for people who have serious reasons to protect their privacy against spying eyes.