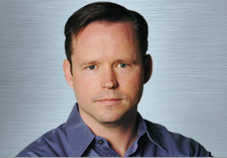 Brian Krebs is something of a legend among hackers. He's not one of their number and, as a recent article in the New York Times reveals, he's certainly not up to anything illegal. His expertise is actually in journalism and his work largely involves learning about the most active and dangerous cybercriminals in Eastern Europe and Russia. After being hacked himself, he became interested in the seedy underbelly of the Internet and, since delving deep into it, has become one of the world's leading security experts.
A Hack You'll Remember
In November and December of 2013, many shoppers who made credit card purchases had their numbers stolen by hackers. If you got a notice about your card being compromised and were issued a replacement—and didn't suffer a dime's worth of damage—you have, in part, Krebs to thank for that. Despite the fact that large companies oftentimes try to cover up such breaches, Krebs publishes what he finds out in his investigations at Krebs on Security, a blog where he shares the results of his investigations with the world.
Krebs doesn't just issue warnings. Take a look at his blog and you'll see some excellent reporting on cybersecurity issues. If you want to make sure you know about potential threats before they manifest, it's a good place to look.

A Big Target

According to the NYT article, Krebs has been the target of hackers seeking revenge, and a resource for hackers who want to take down their rivals. When he's gained their enmity, they've done everything from ship heroin to his house to report murders at his house, resulting in visits from SWAT teams.
They've also stolen his identity, made donations to his PayPal account with stolen accounts and more. Nonetheless, he keeps at it, day after day, documenting the worst the Internet has to offer and sometimes getting information about other hackers, making him a target of criminal organizations that are really quite dangerous.
The Right Side of the Line
If you're using a VPN service, don't expect the company to protect you if you're engaging in the type of activity that Krebs documents. Internet crime is crime, plain and simple, and companies will not protect the identities of people who engage in it. While VPN companies sometimes help people in repressive nations get to the free Internet through government firewalls, don't expect that kind of service if you're doing something genuinely illegal or hacking systems to which you're not approved for access.