LimeVPN is headquartered in Hong Kong and has been in business since 2011. The jurisdiction is good for privacy and the company has certainly been in business for a long while. In testing, however, we had enough trouble with their network and their support that we cannot recommend this service.
Pricing and Plans
LimeVPN gives a discount for signing up for longer terms of service. Their packages come in two varieties: Basic and Pro. The basic package is comparable to what most other providers offer and allows two simultaneous connections. The Pro package offers dedicated nodes, IPs, 1GB of dedicated bandwidth and more than twenty connections.
The monthly pricing is as follows:
You can pay with credit cards, PayPal, Amazon gift cards and Bitcoin.
Free Trial / Money Back Guarantee
There's no free trial with this service, but they do offer a seven-day money back guarantee.
Privacy & Anonymity
LimeVPN advertises no logging all over their site. Take a look at their logging policy, however, and you'll find that they do log the time, date and location where you made a connection, the amount of time for which you were connected and the bandwidth you used while connected. They do not, according to their policy, log the sites you visit or what you download, however.
Torrent Policy
LimeVPN allows torrenting on specific servers.
Customer Support
This was an area where LimeVPN did not come through. After having trouble connecting to their network, we contacted support via live chat to get a solution. We were told over and over to connect using SoftEther—that didn't work, either—despite the company offering PPTP, L2TP and OpenVPN. We wanted to connect via one of those latter protocols, as SoftEther isn't usable on all platforms. The issue was never resolved, the error logs sent via chat never addressed and the questions asked were never answered.
Product Testing
LimeVPN allows you to connect via PPTP, L2TP or OpenVPN using their own client. You can download the open-source SoftEther client to use that protocol. None of these options worked on their network.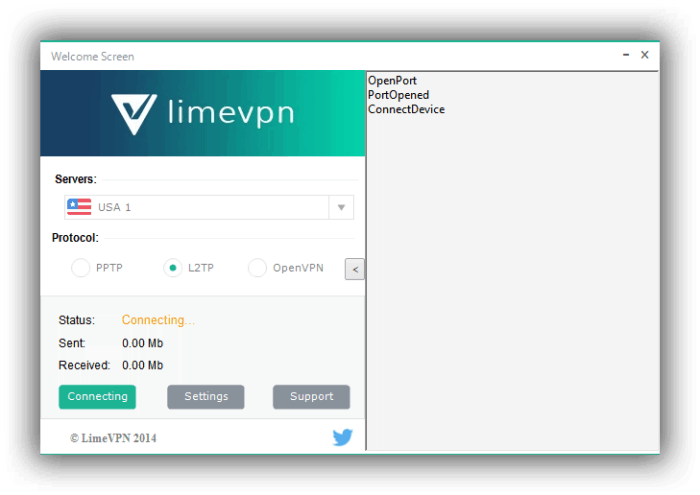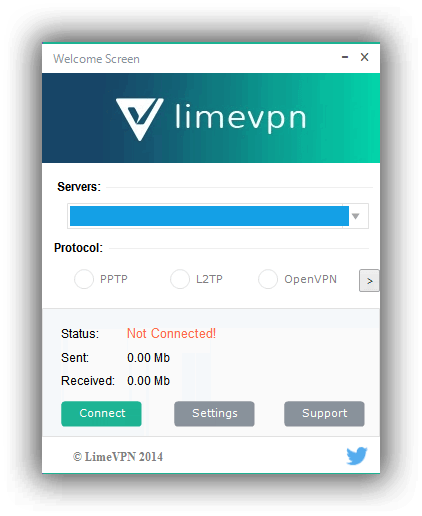 Windows, Mac OSX, Android, IPhone, etc.
LimeVPN has instructions for connecting desktop and mobile operating systems on their site, including Mac, Android, iPhone, Linux and more.
Speed Test
We never did manage to get onto a server, so we can't offer a speed test for this provider.
IPCheck and DNS Leak
See above.
Feature Summary
PPTP, L2TP, OpenVPN, SoftEther
Multiple connections
Torrenting allowed
No logging (see above)
Custom client
Countries Supported

Australia

France

Japan

Netherlands

Russian Federation

Singapore

United Kingdom

United States
We Liked
Accepts Bitcoin
Allows P2P
SoftEther Option
Areas for Improvement
The customer service from LimeVPN was abysmal. Despite being right there via live chat, support may as well have not been available at all. This provider advertises that they take twenty-four hours to set up an account. They said ours was activated, but that didn't seem to be the case.
Conclusion
There are better options out there. This provider did not offer a reliable service and, when asked to address an issue, gave nothing but the same advice, "use SoftEther," over and over, which didn't work. Any one of our preferred providers will get your account ready to go in less than twenty-four minutes, much less twenty-four hours.