Despite their name, NordVPN is located in Panama, not Scandinavia. There are some real advantages that come with VPN services headquartered in Latin America for those who are particularly concerned about privacy and logging. This service happily allows you to use P2P and doesn't log. It's a very well developed service with competitive
pricing.
Pricing and Plans
This company is among the many that price according to your length of service. The pricing is as follows:
Simple: $8 per month
Standard: $30 for six months
One Year: $48.00 per year
You can pay with PayPal, credit cards and Bitcoin.
Free Trial / Money Back Guarantee
NordVPN has a money back guarantee that's good for thirty days after buying your service. Better yet, go with their three-day free trial. You'll have to write to NordVPN support to get your free trial. Note that Bitcoin payments cannot be refunded.
Privacy & Anonymity
NordVPN does not log your traffic. They're located in a jurisdiction that's generally favored for its privacy, so this is a good choice in service providers if your main concern is security.
Torrent Policy
Torrents are allowed on this service.
Customer Support
We got a chance to test NordVPN's chat-based support due to a login issue and they were fantastic. This company is highly recommended in terms of support, at least going by our experience with them. You'll find the usual email contact form and other support options at NordVPN's site, as well.
Product Testing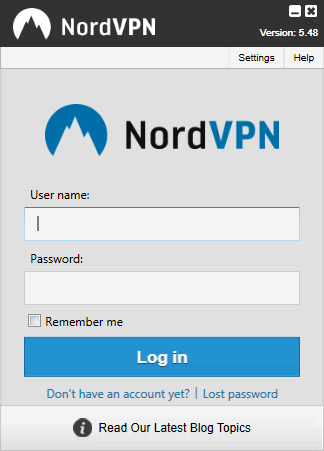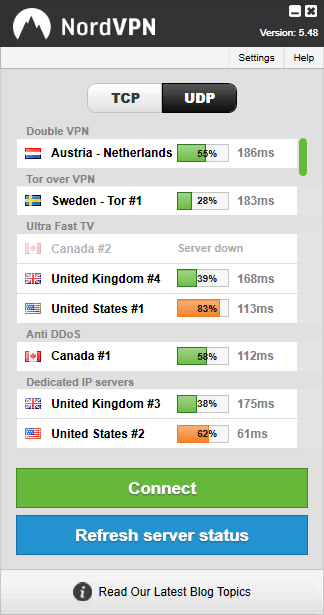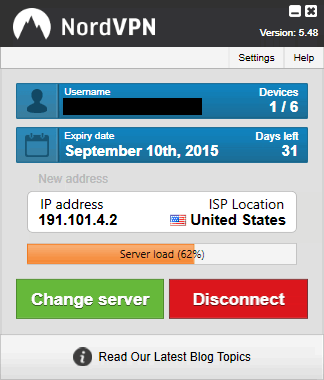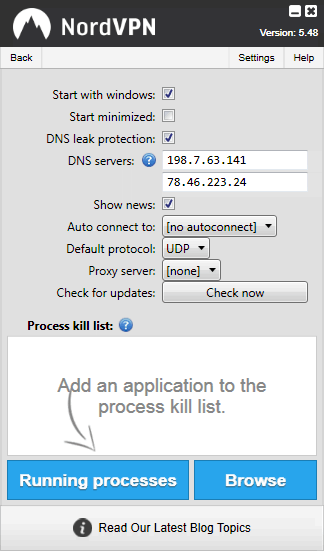 NordVPN has the type of client that will make people who like a well-designed interface very happy. It only allows you to connect via OpenVPN, but the TCP/UDP switch is easy to find and you can add applications to a kill list for extra security.
Windows, Mac OSX, Android, IPhone, etc.
This provider has apps for Windows, Mac, iOS and one on the way for Android as of the time this review was written.
Speed Test

NordVPN Baseline Speedtest
NordVPN Speedtest
NordVPN isn't the fastest VPN service we've tested, but they're certainly fast enough to be competitive and, in fact, a lot better than many other providers. We tested on a US server and were able to get over 25Mbps, starting from a connection that was closer to 40Mbps. Not bad at all.
IPCheck and DNSLeak
Using the client for Windows 8, NordVPN hid both our IP and DNS server addresses without issue.
Feature Summary
OpenVPN, L2TP, PPTP
Windows, Mac, Linux, routers, mobile, RaspberryPi
Secure chat tools
Proxies
Countries Supported

Australia

Austria

Brazil

Canada

Chile

France

Germany

Hong Kong

Iceland

Isle Of Man

Israel

Italy

Japan

Liechtenstein

Lithuania

Netherlands

New Zealand

Norway

Poland

Romania

Russian Federation

Singapore

South Africa

Spain

Sweden

Switzerland

United Kingdom

United States
We Liked
This company has a great policy where privacy is concerned, a large network, good speed, a great client and responsive customer service. There isn't much not to like here.
Areas for Improvement
Adding an L2TP option right from the client would be nice.
Conclusion
NordVPN is popular and for good reason. They know how to handle privacy and they have a great network. Their pricing is competitive but not stellar. Their client is great, however, and they seem to be a company that's doing things right in just about every regard we tested.