PC Privacy Shield is not a VPN service but, rather, is a software product that's designed to scan your computer for common security vulnerabilities. Use PC Privacy Shield Business Edition to check your business computers for privacy risks and concerns, potentially exposed information and data that can be exploited by others!
This product is designed by Shield Apps, a white-label software maker that focuses on security applications. How does their product stack up? Here's what we found.
Pricing & Plans
PC Privacy Shield's Business Edition is for Small and Medium Businesses. The premium package costs $7.49 per month and is suitable for personal, freelance, startups, SMEs, Agencies and Enterprises.
Free Trial/ Money-back Guarantee
The software is not free, but a limited trial version is available. It works on all modern Windows versions and it can be installed quickly and easily. There are no advanced settings to be made along the way and you don't have to install any additional tools or services. Also, the hardware requirements are quite modest.
Customer Support
24/7 support, manuals, tutorials, and video-guides are available with PC Privacy Shield
Product Testing
There aren't any surprises here. The software loads on Windows via a standard installer.
Once you've installed the software, it's in trial mode. You register the software by purchasing a code in-app. Once you're registered, you can use the deep scan feature, which isn't available in the trial version.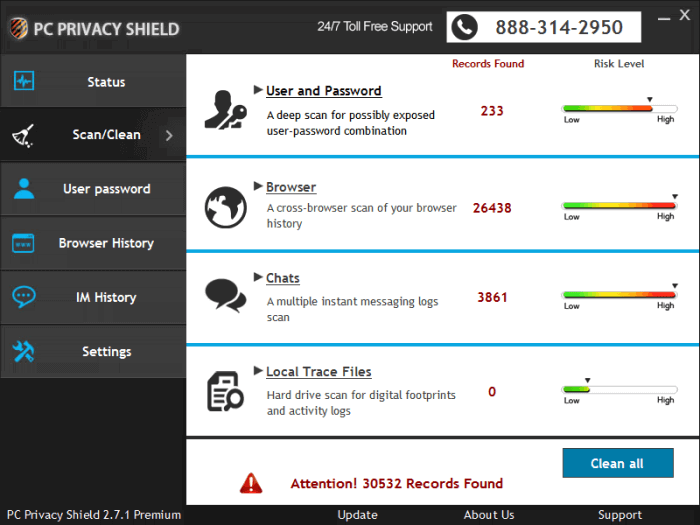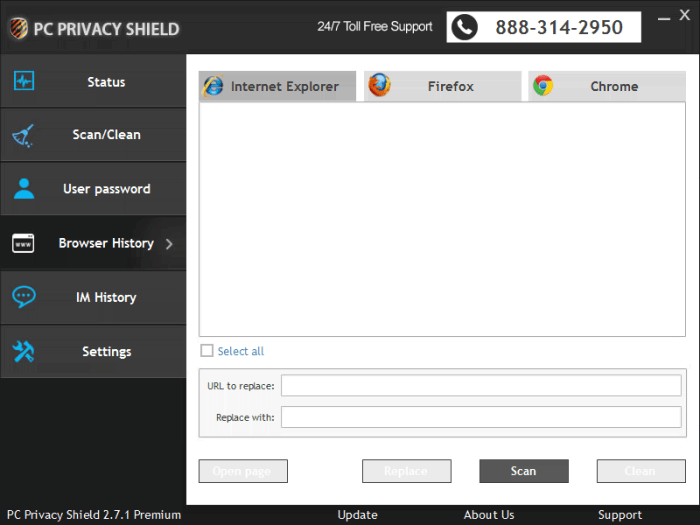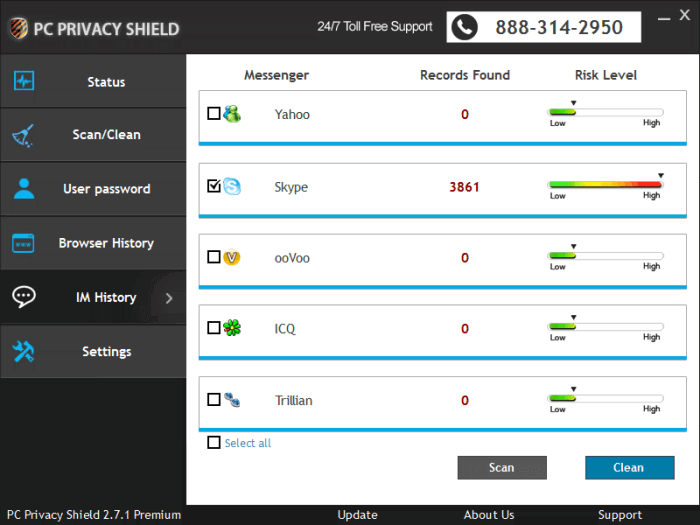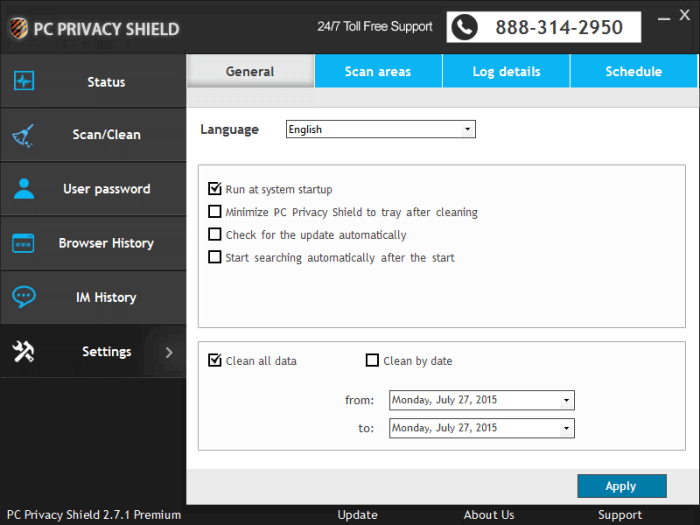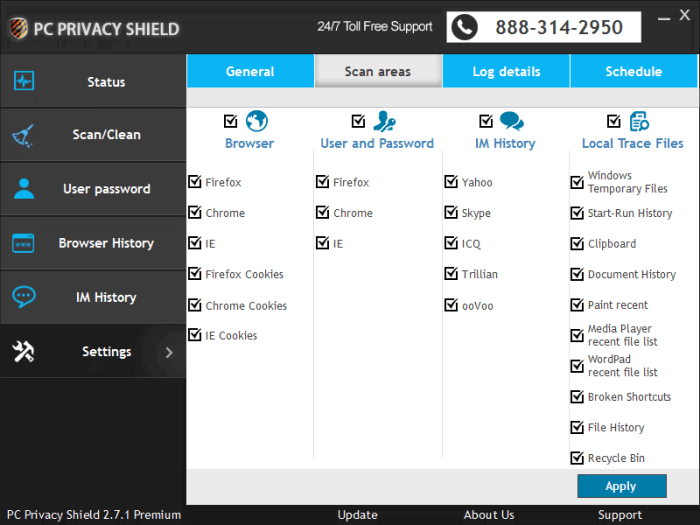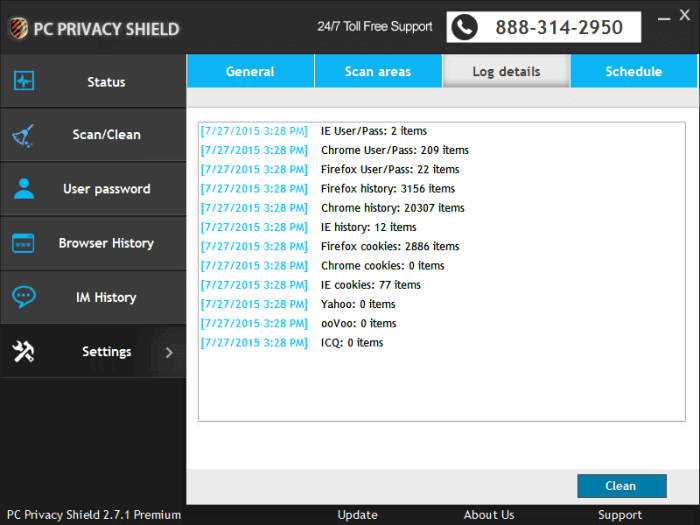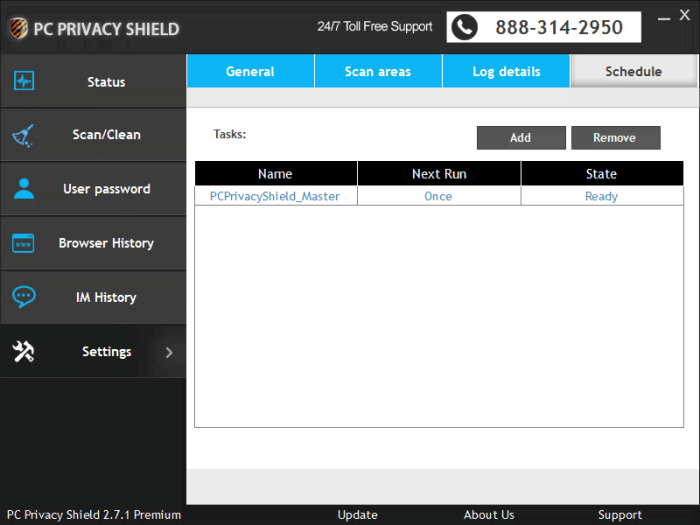 Without even running the program's deep scanning feature, it claimed to find more than 30,000 security issues on the test PC. If this sounds a bit like scareware, it's because it is a lot like scareware.
Most of the security issues found were chat logs and browser history, either of which can be easily eliminated manually.
In addition to that, note that the "User Password" screen is not shown among the screenshots. This is because, after installing the software, it displayed the username/password combinations it found on the test PC without any protection.
Feature Summary
Protect Your Business from Data Theft & Information Abuse!
Delete your Digital Footprint.
Guard against internet fraud.
Protect your business' information.
Prevent data leaks.
Multi-user capability
Used in tandem with Antivirus and Anti-Ransomware
Supported platform: Windows
Additional Bonus Features
Other features include:
Supports Opera, Chrome, Firefox, Safari, IE
Cleans IM chat records
Allows custom configuration of cleaning
Eliminates online tracking by marketers, etc.
Cleans computer file history
If you're confused about any of these options, the program has a toll-free support line placed prominently on the app's homescreen.
We Liked
A particularly useful feature is PC Privacy Shield's sandbox functionality. You can add one or more applications to a list and protect them with a password if you want to. When running applications from this sandbox, you won't have to worry about leftover information as it will be deleted automatically.
The software can identify any sensitive information left behind by browsers and chat applications. It can scan everything in one go and it lets you delete all traces with a single click.
Areas for Improvement
The trial version doesn't actually delete anything, which makes a relevant evaluation impossible.
Conclusion
The security-hardening features this program offers really don't amount to much, and can be obtained from better products, some of them free.
You can use incognito or private windows on your browser to eliminate your history. You can use Tor to completely eliminate browser records and avoid tracking. You can use a VPN to prevent anyone from being able to get at any of your data traffic.
Notably, none of those programs will display your passwords on your screen for anyone to see.
Overall, while the company seems legit and PC Privacy Shield doesn't seem to be rogue security software, it behaves an awful lot like it.