Popcorn Time is an interesting program that allows you to stream media off of bit torrents. That means that you don't have to wait for a download to complete before viewing. The program is particularly notable for having an incredibly easy interface to navigate.
Popcorn Time has been compared to subscription video services and, in fact, those who have those services will find the interface to be very familiar. This makes it easy enough to use that it's bound to attract a lot of viewers and multiple sources give very high download figures for this program. There are several different forks on GitHub, as well, and people seem to be developing it regularly.
The program may initially seem to have more going for it than XBMC, but developments for XBMC have increased its functionality to the point where it is similar to what Popcorn Time offers with more features on top of it.
What Does Popcorn Time Offer?
There are versions of Popcorn Time for Mac, Windows and mobile devices. The interface is really the standout feature here, with graphics for the various videos available over the service, sorting by genre and format and no need for the users to find a source for anything they're interested in watching. It's about as easy as it can be where getting the files you want is concerned.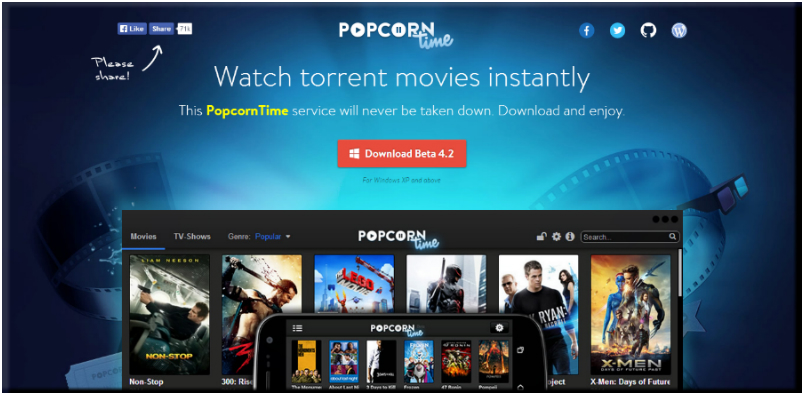 That ease of use may belie a problem with this program, however, that some developers have tried to address, but perhaps not as adequately as needed.
Privacy
This is a program that you will absolutely want to use with a VPN and only with a VPN. There are versions of this program that have a VPN built into them, from Kebrum, but it did not work in our testing. We cannot, therefore, recommend to our readers that they rely upon it for protection.
Any one of our preferred providers offer VPN services that will provide privacy protection and that have been tested already and verified as working properly. They will not only provide protection when you're using Popcorn Time, but will provide protection for any network traffic and any programs that are associated with your computer.
Popcorn time is certainly interesting and worth checking out. Make sure, however, that you have a real VPN fired up before you start using it so that you can be assured that your privacy is being protected.
Source Links:
• Popcorn Time Website — http://www.time4popcorn.eu/ (search Google)
• XBMC Forum — http://forum.xbmc.org/showthread.php?tid=174736
• Popcorn Time forks on GitHub — https://github.com/search?q=popcorn+time&ref=cmdform