PrivateTunnel is headquartered in California. This service is a bit different than most providers in that they offer pricing based on the amount of data that you use. This has some advantages, particularly for users who might not really need much transfer and who want to avoid a fixed monthly subscription cost.
Pricing and Plans
PrivateTunnel has a metered service. The transfer you purchase never expires and you can use the connection with an unlimited number of devices. The pricing is as follows:
Free: Up to 500MB
$12: 50GB
$20: 100GB
$50: 500GB
You can pay for your subscription with PayPal, credit cards and bank transfers.
Free Trial / Money Back Guarantee
You can transfer up to 500MB over PrivateTunnel before you have to pay for the service. It's a pay-as-you-go subscription, so you don't have to purchase anything to start off. They do offer refunds under certain circumstances.
Privacy & Anonymity
PrivateTunnel says they do not monitor your browsing activity but, obviously, this is a metered service, so they do have to keep track of how much data transfer you use. They say they will not share this information with third parties unless legally compelled to do so. Of course, that means the information does exist and that it is accessible.
Torrent Policy
There are no restrictions on torrenting over PrivateTunnel.
Customer Support
Customer support is available from an FAQ. You can contact support via email, as well. Their client has a support tab built into it, making it easy enough to contact the company if you have issues.
Product Testing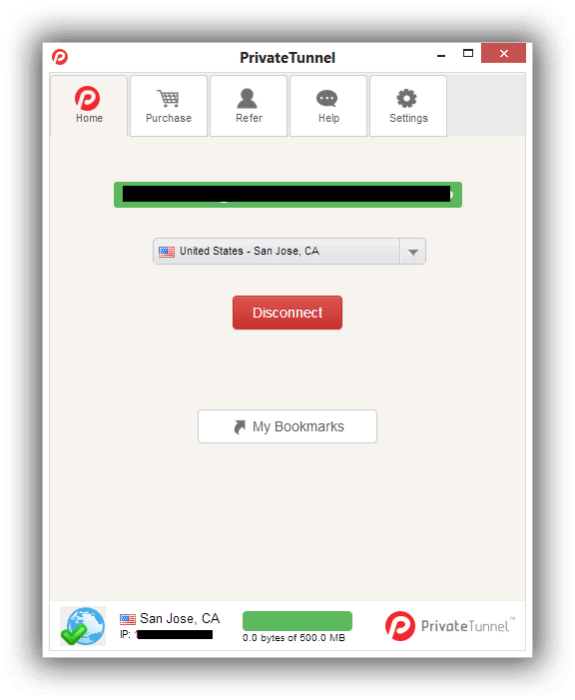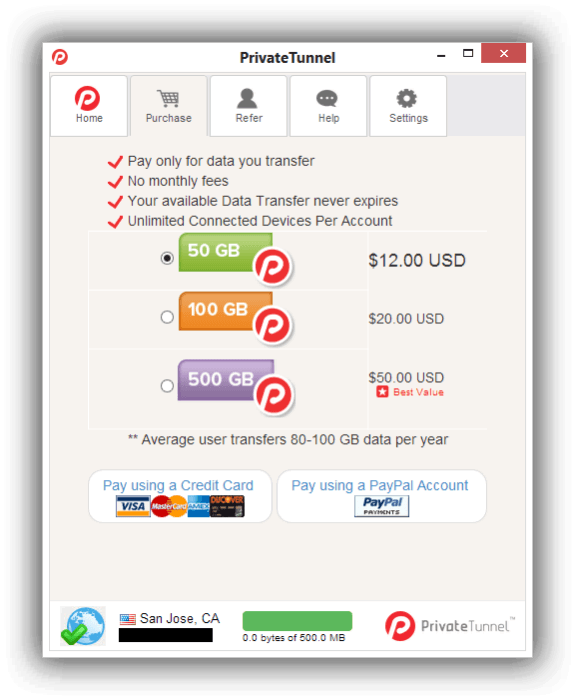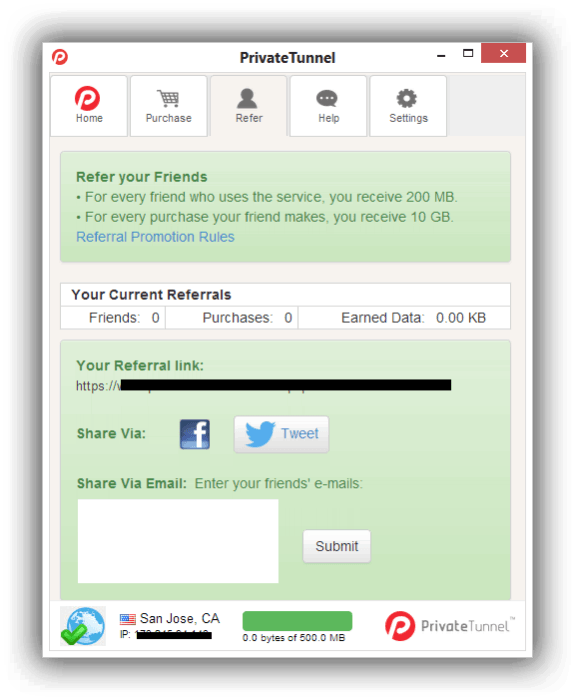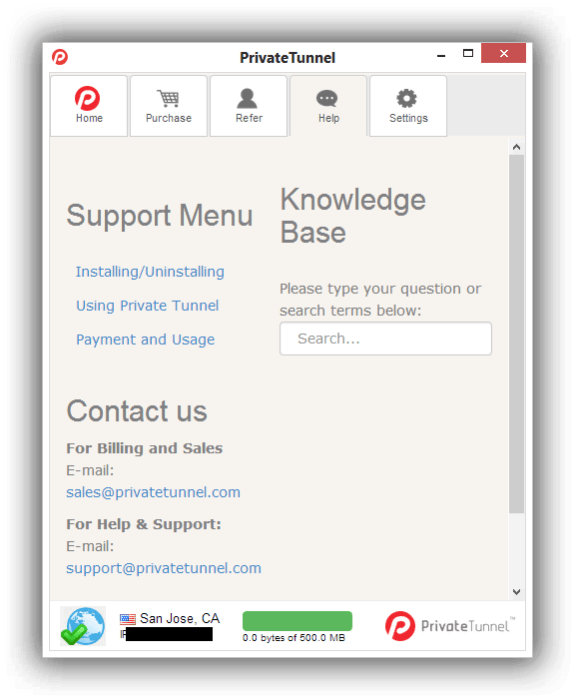 PrivateTunnel has a user-friendly client. They only support OpenVPN, so there's very little to configure here. The settings menu is very basic. If you need to purchase more data transfer, you can do so right from the client.
Windows, Mac OSX, Android, IPhone, etc.
PrivateTunnel is compatible with Mac OSX, Android and iOS devices. They have apps for all three systems
Speed Test

PrivateTunnel Baseline Speedtest

PrivateTunnel VPN Speedtest
PrivateTunnel tested very well for speed. The network barely slowed down our connection at all, taking it from 46Mbps to 38Mbps. Connecting to a server was very fast, as well.
IPCheck and DNSLeak
PrivateTunnel concealed both our IP and our DNS server addresses without any additional configuration.
Feature Summary
OpenVPN
Metered accounts
Purchased data transfer never expires
Custom client
Countries Supported

Canada

India

Indonesia

Malaysia

Netherlands

Sweden

Switzerland

Thailand

United Kingdom

United States
We Liked
No subscription
Easy to set up
In-app purchase for more transfer
No expiration
Wide compatibility
Areas for Improvement
The logging policy is not ideal but, with a metered account, some logging is necessary. Adding more protocols would be an improvement, as well.
Conclusion
PrivateTunnel, because they do keep logs, is not ideal for P2P. For non-P2P use, however, it is a nice option. The metered account structure offers value for people who don't want to pay for an unlimited subscription month after month. If you're travelling for business or pleasure, having a service like this could be advantageous. It's limited, but those limitations won't be of great concern to every user out there.