NOTE: This VPN service is no longer active. The review below is kept for historical purposes and for the benefit of online communities.
Introduction
Privatoria offers far more than a VPN solution. While this review concentrates on the VPN, the company sells a variety of other privacy-related services, which are detailed below. They're headquartered in the Czech Republic and have been in business since 2013.
Pricing and Plans
For what they offer, Privatoria is surprisingly inexpensive. All of their plans come with access to OpenVPN, SoftEther and L2TP VPN connections. They include unlimited transfer and bandwidth. The pricing is as follows:
One month for $3.90
Six months for $17.40
Twelve months for $22.80
You can pay for the service using credit cards, PayPal, SMS and Bitcoin.
Free Trial / Money Back Guarantee
There's a bit of confusion here. When you sign up for a free trial, you'll see a countdown timer on the account dashboard that starts at over ten hours. You'll also get notices that your account will be blocked in two hours on the same screen, unless you top it off. The free trial, however, should be suitable for testing the service.
Privacy & Anonymity
Privatoria says that it doesn't keep logs on their site, but there's no specific information given beyond that. They are located in the Czech Republic. The Czech Republic has not adopted the EU data retention policies as of yet.
Torrent Policy
Torrenting is allowed on Privatoria, except on servers located in the US and Canada. They will suspend your account for torrenting on servers in those jurisdictions.
Customer Support
The support on Privatoria is limited to 9am-6pm CZ time, Monday through Friday. They have a live chat window, as well as some documentation on their site. All in all, this service is probably not suited for those with limited technical abilities.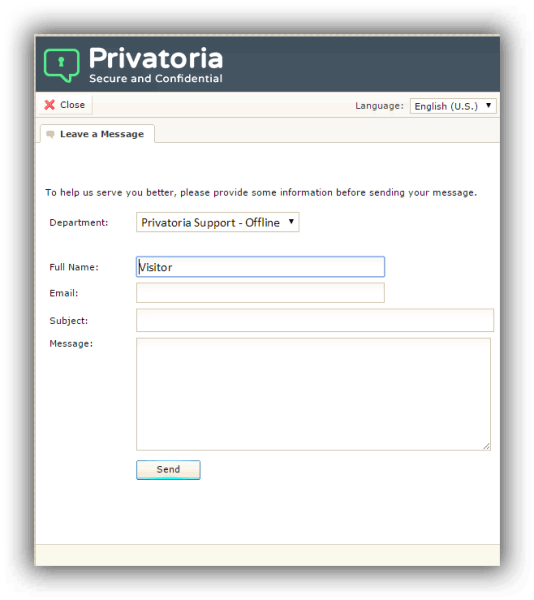 Product Testing
We only tested the VPN portion of Privatoria's services. They do not have their own client, so you'll have to configure your connection manually. They have guides to help you do so. Your configuration settings can be obtained from your customer control panel.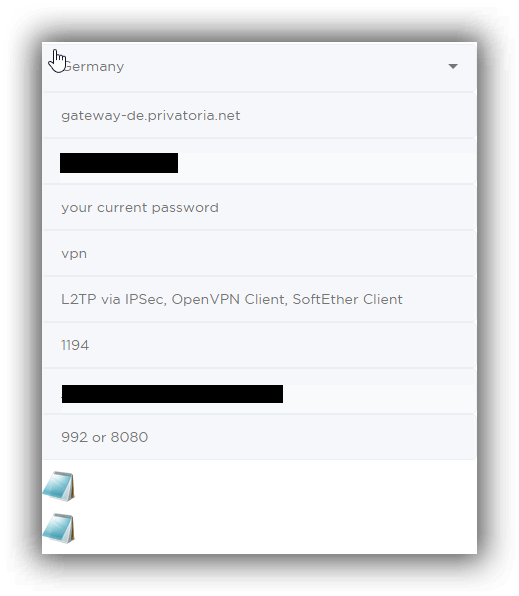 Windows, Mac OSX, Android, IPhone, etc.
Any OS that supports the VPN protocols offered by this provider should be compatible. Manual configuration will be required in all cases.
Speed Test
We tested the VPN service from Privatoria and it performed quite well. Testing on our 50Mpbs/5Mpbs connection, our speed was reduced, as is predictable with any VPN, but not to the point where it was notably slower than most other providers, and it was faster than quite a few, connecting us at over 21Mbps.


IPCheck and DNS Leak
Our IP address and DNS server addresses did not leak using this provider.
Feature Summary
There are several additional features available from this provider, they include:
Secure VPN for Tor
Anonymous proxies
Secure calling and chat
Anonymous email
Secure cloud storage
Secure DNS
Countries Supported

Australia

Brazil

Canada

Chile

Egypt

France

Germany

Hong Kong

Japan

Singapore

United Kingdom

United States
We Liked
The range of features that Privatoria offers is really quite impressive. The VPN+Tor product allows you to utilize the Tor network, with a VPN, on all of your network traffic. This expands Tor beyond the Tor browser itself.
Areas for Improvement
With so many different services, a custom client would be very useful and make using Privatoria a lot easier. The support is very limited in terms of availability, as well.
Conclusion
Privatoria is a sort of Swiss army knife of privacy services. The prices are very low for what they offer. Subscribers can't torrent on US and CA servers, but that's generally a bad idea, anyway. For those who are technically adept, Privatoria is very much worth considering. Those who aren't particularly savvy, however, might want to wait for the company to come up with their own client and more available support.