ProXPN is a global VPN that creates a secure, encrypted tunnel through which all of your online data passes back and forth. Any application that requires an internet connection works with proXPN – including your web browser, email client, and instant messaging program. Their pricing is competitive with other providers. The company is located in the Netherlands.
Pricing & Plans
ProXPN offers two account types, keeping everything simple.
The Basic plan is free. It is very limited, however, particularly where speed is concerned and it will nag you to upgrade.
For serious users, the Premium plan is the only real option. The pricing for Premium is:
One month for $9.95
Six months for $8.30 per month ($49.80)
Twelve months for $6.25 per month ($74.95)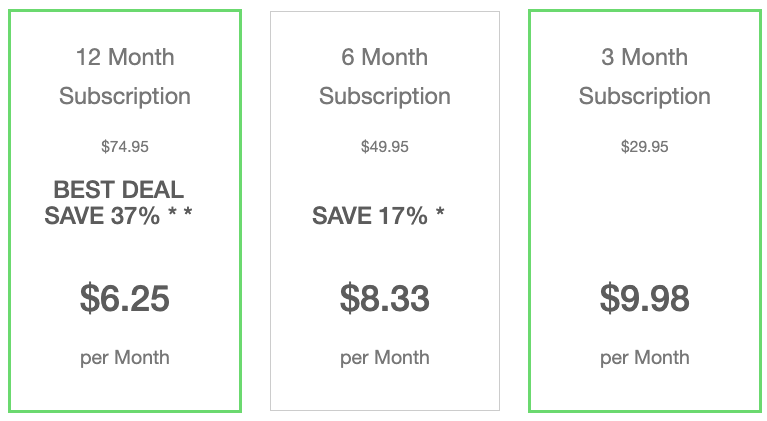 Free Trial/ Money-back Guarantee
Premium accounts come with a 30-day free trial. Trial is only valid for new users of Proxpn.
Privacy & Anonymity
ProXPN keeps logs of your connections to the servers—but not of your traffic—for fourteen days. They delete the logs after that time and do not monitor the sites you visit.
Provider Logging Policy
Their privacy policy is as follows, from their website:
"We do not monitor or record activity on our network (not that we even could, as the connection is encrypted). We log which proXPN IP is assigned when a user connects. These logs are kept for 2 weeks and then deleted. We use these logs for internal server administration and IP provisioning."
Torrent Policy
Torrenting is allowed on the Premium VPN subscription, but not on the Basic package.
Customer Support
ProXPN offers a wide range of support options. You can contact them via email, on social media, on the phone and more. They offer support around the clock.
Product Testing
The client that comes with ProXPN isn't bad at all. It's easy enough to use, as you can see from the screenshots.
Windows, Mac OSX, Android, IPhone, etc
Windows and Mac are both supported on the Basic account. The Premium account level adds support for iOS and Android devices.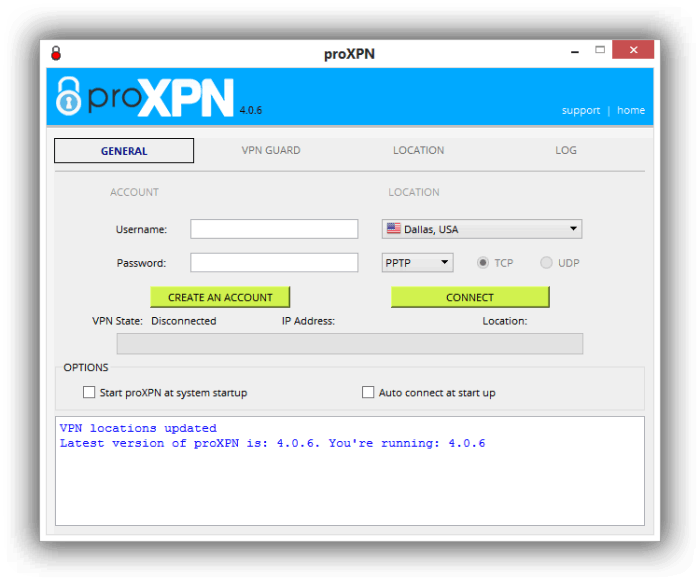 VPN Server Locations
Premium Accounts gain access to Proxpn''s strategically-placed VPN server clusters worldwide, allowing for fast, secure connectivity.
Countries Supported: 

Netherlands

Singapore

United Kingdom

United States
Speed Test
Unfortunately, the free version of this service will not allow you to conduct a speed test. This is a major nuisance and does tend to make the service look less attractive. If you try to conduct a speed test, you're rerouted to a page that asks you to sign up for Premium service.
The premium version, however, performed decently well when speed was tested. While it may not be at par with the best vpn services out there, Proxpn's speed was decent enough for browsing, downloading and streaming.
IPCheck and DNSLeak Test
The IP address tested okay, showing us at an anonymous proxy. The DNS did leak, however.
Feature Summary
2048-bit encryption key
OpenVPN and PPTP
Mobile Support
Client included
Free Basic account option
Additional Bonus Features
VPN Guard (kill switch) – a premium account feature that gives you the ability to select which programs should be automatically shut down if your connection to the ProXPN VPN is dropped for any reason.
We Liked
The kill switch is always a good feature, particularly if you have programs running unattended and don't want them to have unencrypted access. The packages are simple, of course, and that makes it easy to figure out which subscription you need.
Areas for Improvement
Offering L2TP would be a nice improvement. The denial of speed testing on the free service is a major drawback.
Conclusion
The free service, perhaps ironically, isn't really worth it with this provider. The paid service, however, promises much more, and their prices are competitive, if not stellar. If you are not satisfied with this provider, you can check out our list of top vpn services.