Proxy Multiply is not a VPN service but, rather, is a piece of software that allows you to get an extensive list of proxies all over the world. This may be particularly useful for people who just need to change their IP address but who don't necessarily need the advanced encryption features that come with a VPN service.
Pricing & Plans
There are two options with this service where price is concerned.
Basic License, $50: This comes with the software delivered electronically. You get unlimited finding and testing of proxy servers. Updates and support are included on a lifetime basis. There is no subscription or upgrade charge with this package.
PLUS License, $75.90: This includes add-on features that are included as a bundle. They include the search booster and URL manager features, which increase the efficiency of Proxy Multiply. The Basic features are all included with this option, as well, and there is no subscription fee or recurring charge.
Free Trial/ Money-back Guarantee
There are several websites in the world wide web where Proxy Multiply can be downloaded for free.
Torrent Policy
Depends upon the proxy used.
Customer Support
There is a ticket system and an FAQ on the site for support.
Product Testing
Proxy Multiply is installed on your computer—Windows only—like any other program. Once you start it up, it will draw from a list of over 400 different proxies. This list is updated on a daily basis.
If you have the list downloaded already, the program will begin using Bing, Google and Yahoo to search for other proxies. The program uses the base list to create the searches and expands from there. The developer claims that it can make one proxy into more than 5,000 proxies through this search service. You can limit how many it returns, however.
You can test proxies after you find them to make sure that they're up and running. After you've selected the proxy you want to use, you set it as the default in the program and IE and Google Chrome will both use that proxy server to connect to the Internet.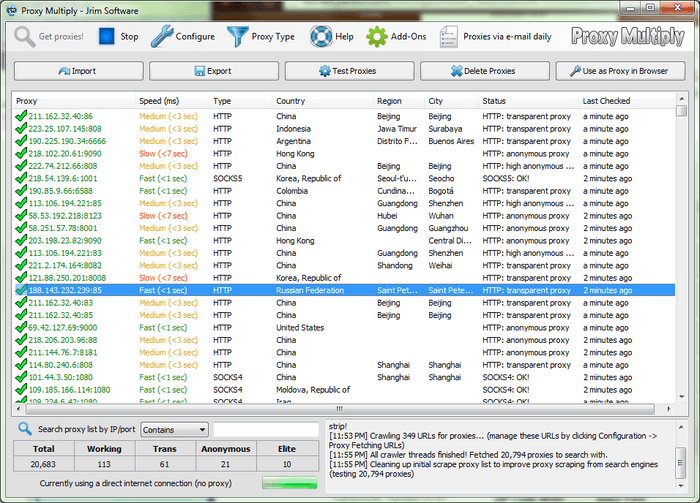 Locations
There are thousands of proxy servers that this program gives you access to and they are updated daily.

Conclusion
This is not a VPN service, so it doesn't offer privacy beyond changing your IP address. However, it does have some great features if you just want a proxy server to use. If you're an extensive user of proxies, this is a program that's definitely worth looking into.