SecretsLine has been in business since 2005. The company is headquartered in Panama. SecretsLine allows P2P access on specific servers. They offer OpenVPN, PPTP and proxies.
Pricing & Plans
SecretsLine has three different plans. Each of them is available at a lower price if you subscribe for a longer term. They include premium, double and onion plans.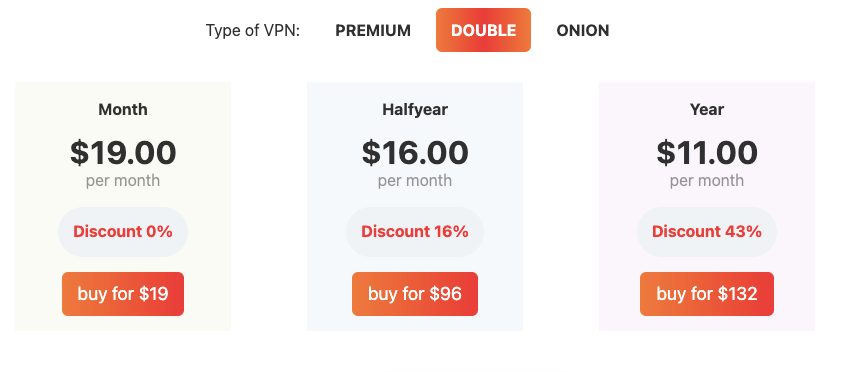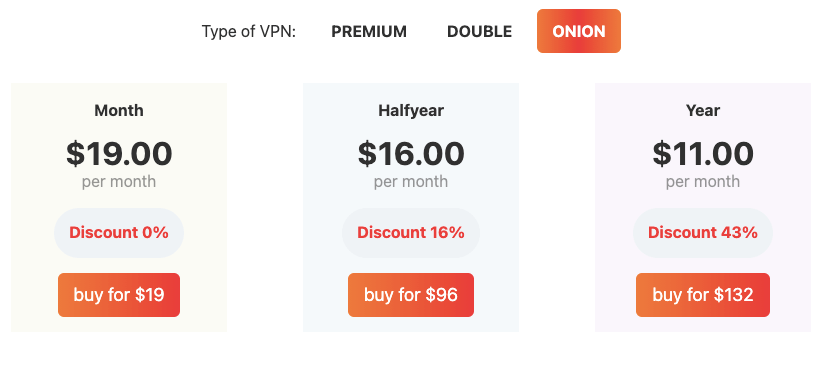 Premium is a regular VPN where the connection goes to the server. Double VPN is when you connect to the server, and the server, in turn, also connects to the server, which provides double anonymity. Onion plan provides VPN plus TOR. For details on all three plans, see image below: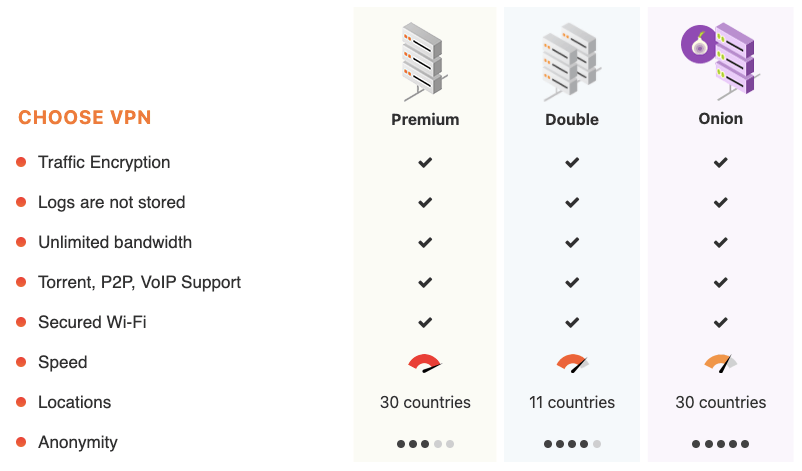 You can pay with credit cards, UKash, WebMoney, PayPal, Bitcoin and several other methods.
Free Trial/ Money-back Guarantee
You can get a free one-day trial of SecretsLine by signing up at their site.
Privacy & Anonymity
SecretsLine does not keep any information about your activity on the net.
Provider Logging Policy
Based on their privacy policy, Secretsline does not collect or log any traffic or use of its VPN service including OS system logs.
They cannot relate any specific activity with any specific user. If any legal notices are forwarded to their law department they will comply with that notice. However, they can not be forced to send information that they do not have.
From the moment Secretsline users activate their service, their internet data becomes encrypted. It starts to be invisible for governments, ISPs, third party snoopers and even Secretsline. Further, they have a strict no-logs policy when it comes to seeing user activity online: being based in Panama, which is an internet-friendly country and does not require data storage or reporting, they have the right to deny any third party requests.
Torrent Policy
BitTorrent, P2P and VoIP are supported. Torrenting is allowed on specific servers in the SecretsLine network.
Customer Support
SecretsLine has a live chat window on their site. You can also submit questions and issues through the account administration panel. Their site also has a 'help' section where you can find instructions on how to install a SecretsLine VPN on a specific platform. Their FAQ section also is helpful enough, however may not be as comprehensive as other VPN provider websites.
Product Testing
The program opens secure access to previously blocked sites, allowing you to conduct safe activities on previously closed domains. Each client who has chosenIP address in favor of SecretsLine software is guaranteed high-quality service and highly qualified technical support.
SecretsLine has apps for MacOS, Windows, Linux, iOS and Android.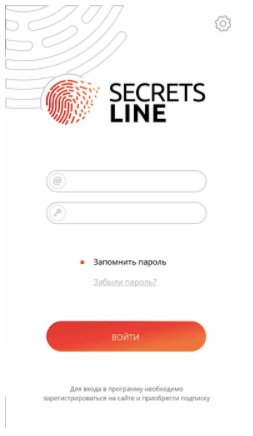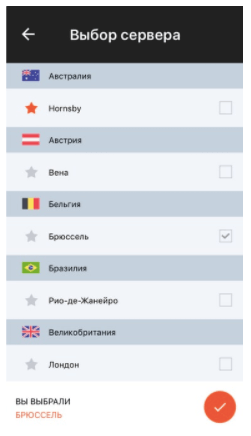 VPN Server Locations
The offered VPN has more than 100 working servers in more than 30 countries of the world. Note that VPN geography is constantly expanding, which allows you to connect to a larger list of countries while maintaining your anonymity.
Countries Supported:

Australia

Belarus

Bulgaria

Canada

Cyprus

Czech Republic

Estonia

Finland

France

Germany

Hong Kong

India

Israel

Italy

Japan

Kazakhstan

Latvia

Luxembourg

Mexico

Netherlands

Norway

Poland

Russian Federation

Singapore

Spain

Sweden

Switzerland

Ukraine

United Kingdom

United States
Speed Test
SecretsLine's connection was rather unstable, but we got decent speed in the end, though it was not in the same category as our top providers. The test was run on a 50Mbps connection.
IPCheck and DNSLeak Test
Our IP address was changed but our DNS did leak. The latter is easily remedied using a manual configuration. Their software supports capital protection of DNS requests.
Feature Summary
PPTP, OpenVPN, Proxies
No logging
Accepts Bitcoin
Torrents allowed on select servers
Double VPN option
Additional Bonus Features
It is an additional option to use the advanced features of Double VPN and Tor. An additional option to use the unique feature of Double VPN and Tor provides an additional level of anonymity with one click of the mouse.
We Liked
Anonymous payment methods
Good jurisdiction
Good setup instructions
Areas for Improvement
The website at SecretsLine is a bit difficult to decipher. This makes finding out specific information too hard, as a great deal of the copy simply uses phrases like "secure encryption" rather than giving specifics.
Conclusion
SecretsLine was okay, but not much better than that. The client was awkward and the connection wasn't particularly fast. Trying to configure the service on Linux was very difficult and the fastest Windows setup involved using the OpenVPN GUI.
SecretsLine doesn't have prices that are particularly competitive. For $9 per month, you can get IPVanish or another provider with a client that offers all the same features, and more.