Steganos is headquartered in Germany. The company sells an entire privacy suite, of which a VPN service is a part. The VPN service can be used for free for up to 500MB. Steganos will likely appeal to those who want an overall option for Internet security as opposed to those who are specifically interested in a VPN.
Pricing & Plans
A one year subscription costs $21.11 per year. Steganos can also be purchased on a 1 month or 6 month basis. Pricing is as follows:

You can pay with PayPal, credit cards or prepay with a check.
Free Trial/ Money-back Guarantee
Steganos offers a free 500MB VPN trial. Other than that, Steganos plans come with a 30-day money-back guarantee.
Privacy & Anonymity
There's rather contradictory information on the Steganos site. They claim that they don't save any identifying data and, moreover, that it's not possible for the company to determine what data is accessed by the Online Shield.
However, there's this line, further down the privacy policy, under the heading Access to the Steganos Online Shield-VPN Servers and the Webserver:
"We save user data on especially protected servers. The access is only made available to a small number of people."
Perhaps they don't save data. Then again, perhaps they do, but their privacy policy seems to contradict itself.
Logging Policy
The Steganos Online Shield-Service saves neither the addresses nor contents that the user calls up, nor the IP addresses that Steganos Online Shield has allocated, nor their own IP address that they use on Steganos Online Shield. It is not possible for Steganos to determine what contents Steganos Online Shield calls up. Neither the IP addresses of the users nor the IP addresses of the called server is saved.
Torrent Policy
We couldn't find anything on the site that specifically prohibits torrent usage, but the privacy policy shown above might serve as a reason not to use torrent on Steganos.
Customer Support
Customer support is available over email. There is also a knowledgebase at the site.
Product Testing
Steganos has a very simple interface. Turning on your VPN service is done by sliding a switch. You can change your server by clicking the globe icon next to the switch. Beyond that, the client doesn't offer much.
You can use the Steganos product on five devices, including Android and iOS devices.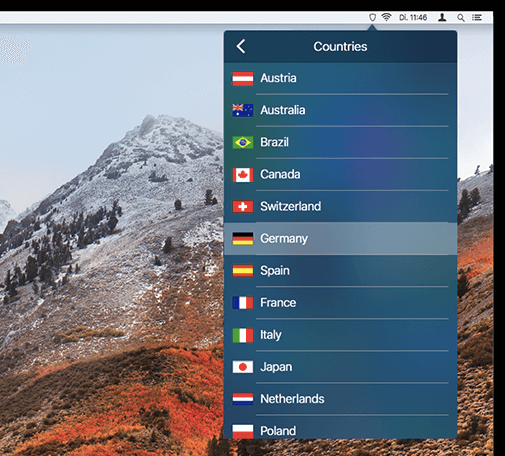 Countries Supported

Germany
Speed Test
The speed test wasn't particularly impressive, though the service did connect us by default to Germany. Since that's the connection that most users of this product are likely to get—it's designed for non-techie types, clearly—we decided to do the testing on that server. We got over 6Mbps, down from nearly 40Mbps. That's not terribly fast, of course, but for a server located on another continent it's not bad, either.
IPCheck and DNSLeak Test
Steganos hid both our IP and DNS server addresses with no additional tweaking.
Feature Summary
Very easy to use
Ad blocking
256-bit encryption
OpenVPN
Deletes Cookies
Mobile compatible
Threat detection
We Liked
Incredibly easy setup
Easy interface
Areas for Improvement
This service really isn't on par with dedicated VPN services in terms of what the client allows you to do. For those who aren't that technical, however, it's a good solution.
Conclusion
Steganos isn't a serious competitor for companies like HMA, VyprVPN and IPVanish. This product is a bit more corporate feeling in its design and how it functions. It's clearly aimed at users who aren't that familiar with VPNs and who need something simple that they can use to get better privacy while surfing. It's not suitable for P2P; there's just not enough of a server network and the privacy policy is a bit sketchy.