SurfEasy started out in 2011 and is owned by Opera Software, a Norwegian company. They're headquartered in Toronto, however, so they operate according to Canadian laws.
SurfEasy VPN is compatible with PCs, Macs, Android smartphones and tablets, iPads and iPhone. It can also be used on up to 5 simultaneous devices.
Pricing & Plans
SurfEasy has very competitive pricing. Their packages include the following:
No data limits
Region Selection
Ad-Tracker Blocking
Torrent Compatibility
Dedicated Customer Support
Use on up to 5 devices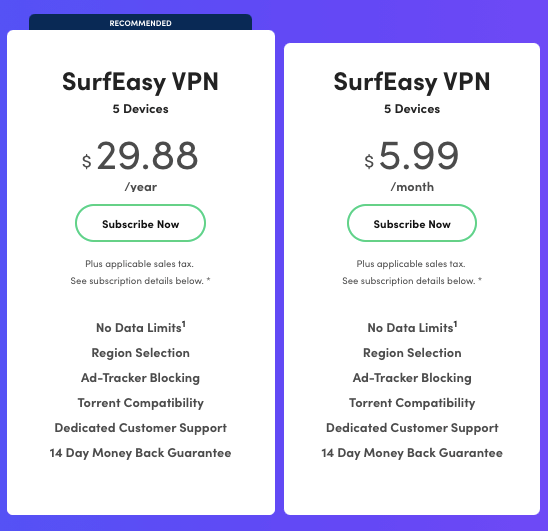 SurfEasy plans can be purchased either monthly or annually and can be paid via credit cards and bitcoin. You can also pay through Google Play Store or Apple App Store.
Free Trial/ Money-back Guarantee
All SurfEasy plans come with a 14-day money-back guarantee.
Privacy & Anonymity
According to their site, SurfEasy is a no-log VPN for all your devices. They don't retain any logs related to your online browsing or downloading activity.
SurfEasy also uses bank-grade encryption to ensure that your information has protection by the highest-quality technology.
Logging Policy
The company's logging policy is reproduced below:
"The privacy of our customers' data is of the utmost importance to SurfEasy and as such we will not introduce logging or other mechanisms that would enable tracking of DMCA related content issues by users."
Torrent Policy
SurfEasy has torrent compatibility but while BitTorrent can certainly be used for non-copyright content it is frequently used for content that triggers DMCA infractions and as a result they cannot support BitTorrent and maintain a quality and private network for their users.
Customer Support
SurfEasy comes with 24-hour support. Their regular office hours are 8am-8pm EST, seven days per week. You can contact support by email, through a live chat interface, by filing a support ticket, over Twitter or Facebook, via their own community or over remote desktop.
Product Testing
SurfEasy has a very simple client that operates out of the taskbar rather than as a standard desktop client. Configuration options are minimal, with servers being selected based on region. This client is easy to use, but may be too limiting for power users that want maximum control over their connection.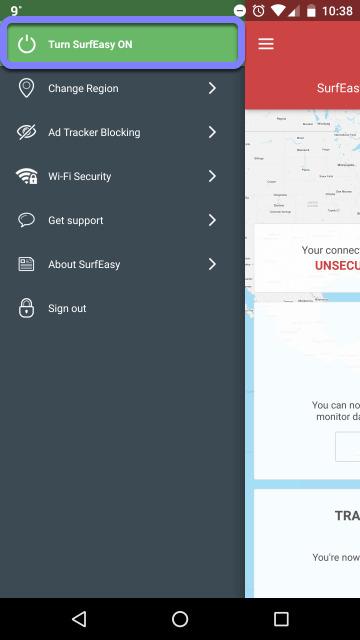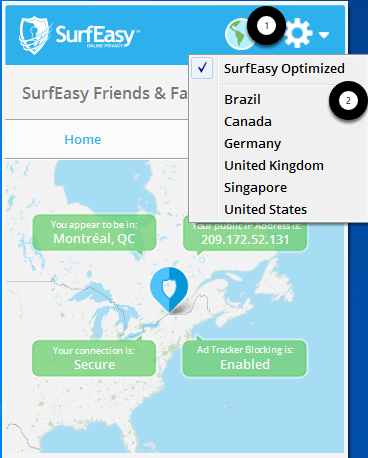 SurfEasy VPN is compatible with PCs, Macs, Android smartphones and tablets, iPads, and iPhones. SurfEasy VPN may be used on the specified number of devices – with unlimited use during the subscription term.
VPN Server Locations
SurfEasy has over 2000 servers in over 30 countries
Countries Supported

Australia

Brazil

Canada

France

Germany

Japan

Norway

Singapore

Spain

United Kingdom

United States
Speed Test
Over a 50Mbps/5Mbps line from Albuquerque to San Jose, speed reductions over the SurfEasy connection were not significant. The unencrypted line tested at 47Mbps versus a 44.04Mbps connection speed with the VPN connected. Upload speeds were too close to be significant. Ping times, however, almost doubled.
IPCheck and DNSLeak Test
The IP address given by the client was accurate. DNS did leak, however, on a Windows PC set to obtain the DNS server address automatically. You may want to configure your DNS server selection manually to avoid this.
Feature Summary
No log network
Bank-grade encryption
One click IP Masking
2000 servers in 30+ countries
Enhanced Tracker Blocker
Unlimited simultaneous use on 5 devices
No data limits on all paid plans
Available on multiple platforms
99.9% Uptime
14-day money-back
We Liked
The customer support options with this provider are outstanding. There are so many different ways to contact SurfEasy that it's difficult to imagine a scenario where one couldn't get in touch.
Areas for Improvement
Adding PPTP and SSTP would offer more options for users. They don't currently support Linux, which is likely to only affect a very small percentage of users, but adding that support would also be an improvement.
Conclusion
If you're not interested in torrenting or other P2P services, this is a good VPN service to look into. They have very competitive pricing and great customer service. The USB browser is also a nice feature, and their accommodation of mobile devices is certainly a plus.