SwissVPN is, of course, located in Switzerland. The company offers a very simple option as far as connection plans go. In addition to their VPN service, you can purchase a firewall for an extra fee. SwissVPN offers you an encrypted VPN tunnel from your computer to a Swiss data center in Zurich, from where you can access the Internet. This ensures your Internet traffic crosses all wireless and wired networks safely and enables you to surf the web from Switzerland. The service is very limited compared to most of our other providers in terms of location options.
Pricing & Plans
SwissVPN offers a one-month plan for $6. You can pay via credit cards or PayPal, with the option to renew. You can add the firewall service for $2 per month.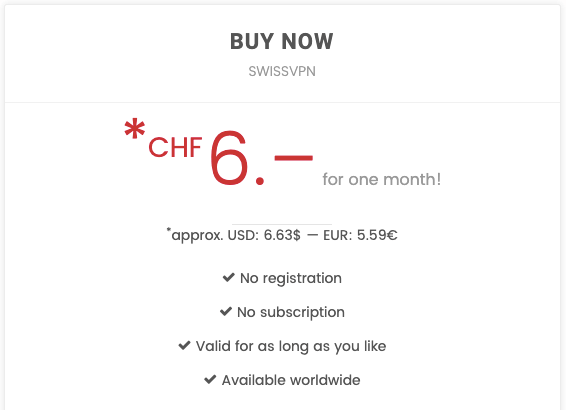 Free Trial/ Money-back Guarantee
There really isn't a free trial with this provider, but you can test your connection to their servers using openly-provided credentials on their site. You can't surf with that connection, but you can see whether or not you can hit their servers.
Privacy & Anonymity
SwissVPN logs your connection time and your transfer amount. Because they're located in Switzerland, however, the privacy policies are good. Switzerland does not currently allow public IP addresses to be recorded.
Torrent Policy
There are no restrictions on using torrents on this service.
Customer Support
SwissVPN has an 'Instructions' page on their site and are categorized according to platform of use. Aside from that, their site also has a comprehensive FAQ section. For support, however, the only point of contact is via email (support form).
Product Testing
SwissVPN doesn't offer a client. You can use Viscosity or the OpenVPN GUI to connect over the OpenVPN protocol. You can also configure PPTP, L2TP/IPSec and SSTP connections manually.
There are no clients offered, but you can configure any mobile device manually for the supported protocols.
Countries Supported

Switzerland
Speed Test
SwissVPN only has one server, so it seems a bit unfair to put them up against other providers in terms of speed, since connecting to them meant connecting to an overseas location. Not surprisingly, the speed was atrocious.
Starting out with a connection that was humming along at over 46Mbps, we were reduced to less than 2Mbps when connected to the SwissVPN server. Again, this is a very limited network, so SwissVPN is not really in the same league as our preferred providers, which tend to have servers located in nations all over the world.
IPCheck and DNSLeak Test
Using the OpenVPN configuration files, our IP was successfully changed to Switzerland. However, our DNS server address did leak, so configure your DNS manually when using this service.
Feature Summary
PPTP, L2TP/IPSec, OpenVPN, SSTP
Manual setup
Easy sign up
Static IP option
Firewall option
We Liked
Swiss privacy laws are excellent.
Areas for Improvement
This VPN service was excruciatingly slow. The setup is completely manual, unless you use Viscosity, which means that it's not likely to be a good choice for less experienced users.
Conclusion
If you want to torrent or, in fact, just surf at a reasonable speed, SwissVPN is not a good choice. The network was far too slow to accommodate either usage. For privacy, however, they could be a good choice, given their location. In other regards, however, this service really isn't competitive with the other providers out there. If you want a very basic, cheap VPN, they might be for you. Otherwise, look elsewhere.