TrustZone has some impressive credentials. This company is recommended by the largest Bittorrent system, Extratorrent. The service is provided by Extra Solutions, Ltd., which is based in the Seychelles.
Pricing and Plans
Pricing for this provider is based on the length of time you sign up for. Each option offers you three simultaneous connections, unlimited server switches and unlimited transfer and bandwidth. The pricing is as follows:
One month for $7.99
Six months for $35.94
One year for $47.88
For an additional $9.99 per month you can get a static IP address added to your account.
You can pay via PayPal, credit cards, WebMoney and a variety of other payment methods. You can also use a bank transfer.
Free Trial / Money Back Guarantee
TrustZone has a five-day free trial offer. If you get a subscription and aren't happy with it, and haven't downloaded more than 1GB, you can get your money back by contacting the company.
Privacy & Anonymity
TrustZone says that they do not log your information and that your usage data is anonymous. Given that they've been endorsed by a major name in the P2P world, this seems like a promise worth taking seriously. They have their team review DMCA notices but, since they don't keep logs, they can't give your information out; they simply don't have it, according to their privacy policy.
Torrent Policy
Torrents are allowed with this provider and, of course, TrustZone is endorsed by Extratorrent.
Customer Support
You can get live customer support between 6AM and 4PM GMT +0. The Trust Zone site has an FAQ and there's a ticketing system available for making support requests.
Product Testing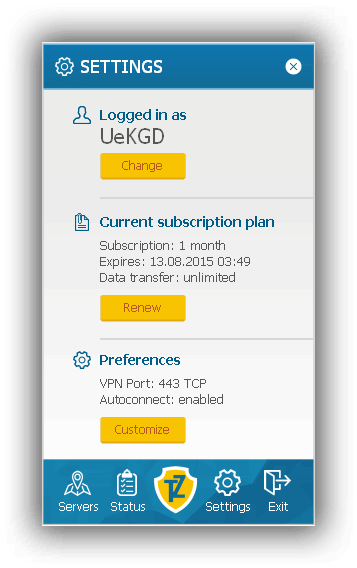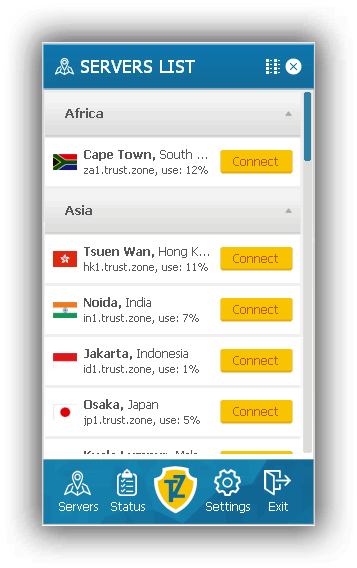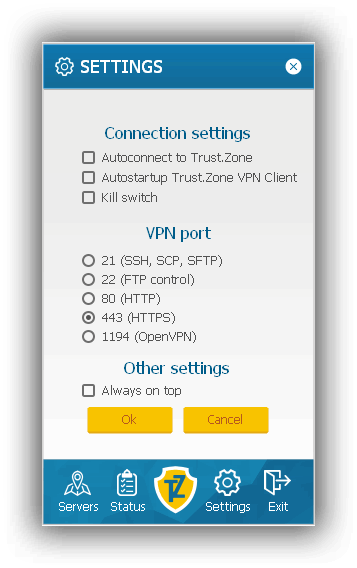 TrustZone manages to strike a balance between ease of use and sophistication with their client. You don't have to be technically adept to figure it out, but it does let you configure advanced features including your port, whether you want a kill switch on any given program and other options.
The client is small, not taking up much screen space at all and gives you a green shield icon when you're connected to a server. Server selection is very easy. If you want to switch your server, all you have to do is select another option from the list.
Windows, Mac OSX, Android, IPhone, etc.
There are detailed instructions for using TrustZone on Android, iOS, Mac OSX and Linux on the company's site. You'll have to configure your VPN manually on anything but Windows.
Speed Test

Baseline Speedtest
TrustZone Speedtest
TrustZone dropped our speed quite a bit when connected to a US server, but it was still over 12Mbps, comfortably within the range needed for most P2P activity. The connection was fast and stable.
IPCheck and DNSLeak
Our DNS did leak when Windows was configured to select a DNS server automatically. You can configure your DNS server manually to avoid this.
Feature Summary
L2TP/IPsec, OpenVPN
Endorsed by Extratorrent
Great privacy policy
No logging
Countries Supported

Australia

Bulgaria

Canada

France

Germany

Hong Kong

India

Indonesia

Japan

Latvia

Malaysia

Netherlands

New Zealand

Russian Federation

Singapore

South Africa

Ukraine

United Kingdom

United States
We Liked
Between the Seychelles location of the company and their logging policy, TrustZone is definitely well-suited for those who are seriously concerned about their privacy.
Areas for Improvement
The server speed wasn't really as fast as we would have liked, but there are more than thirty different options to select from with this service and they do give you an indication of how much load each server has when you're trying to connect.
Conclusion
TrustZone is a good choice for P2P. They may not be the fastest—at least in our testing—but they do have a great client and they make it easy to connect and be sure you're safe. For users who aren't particularly technically adept with VPN services, that's a real advantage. Their pricing is also competitive, to be certain, so they're worth taking a look at.