TunnelBear might be just the right thing for you if you want a very simple VPN service that allows you to watch television in nations that are geo-restricted. If you happen to be located in one of the nations, for example, that cannot watch television programs from England or the United States, you'll find that TunnelBear makes it possible. The service does have its limitations, but it also has some nice advantages and an attractive price.
Pricing & Plans
TunnelBear has three main plans: free, unlimited and teams. Pricing are as following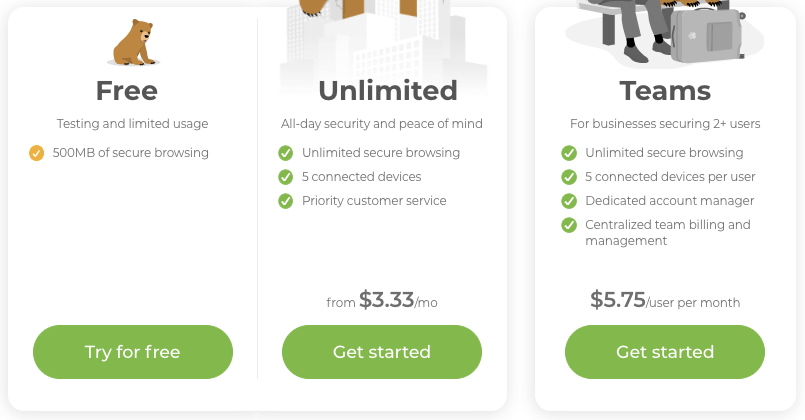 Their unlimited plan features unlimited secure browsing, 5 connected devices and priority customer service. Pricing are as follows:

For business securing 2+ users, you can purchase their Team plan. It features unlimited secure browsing, 5 connected devices PER USER, a dedicated account manager and centralized team building and management. Price is at $5.75 per user per month.
TunnelBear accepts credit card payments. While at one time they provided PayPal as a payment option for our customers, they no longer do. That being said, you can always try to link your PayPal account to your Google Pay or Apple ID as payment methods to use on Google Play or the iOS App Store. If you have an Android or iOS device, you will be able to purchase a TunnelBear subscription with PayPal through one of those stores.
Free Trial/ Money-back Guarantee
The 500-megabyte monthly free usage plan constitutes the free offering.
Privacy & Anonymity
TunnelBear does not log. They have to have your email address and password for the service, of course, and they do track how much data you use per month. They do not, however, keep your IP address and they don't log your activity.
Logging Policy
As stated on their privacy policy:
TunnelBear explicitly does NOT collect, store or log the following data:
IP addresses visiting their website
IP addresses upon service connection
DNS Queries while connected
Any information about the applications, services or websites our users use while connected to their Service
Torrent Policy
Although not explicitly advertised, TunnelBear does support BitTorrent and other P2P file sharing protocols on all its servers.
Customer Support
TunnelBear has a comprehensive knowledge base on their site. They offer good customer service to their customers and have dedicated account managers for users of their team plans. Their customer support is responsive. TunnelBear guarantees a response from their support department within 48 hours of submitting an issue. However, you can expect an answer in two hours or less.
Product Testing
TunnelBear uses OpenVPN to secure Windows, Mac and Android OS devices. Devices running iOS are secured using IPsec encryption. The client is the standout feature of this service. It is very well-designed and works on both the Windows and Macintosh operating systems. Controls are reduced to very simple button selections that make it easy for anybody to operate their own VPN.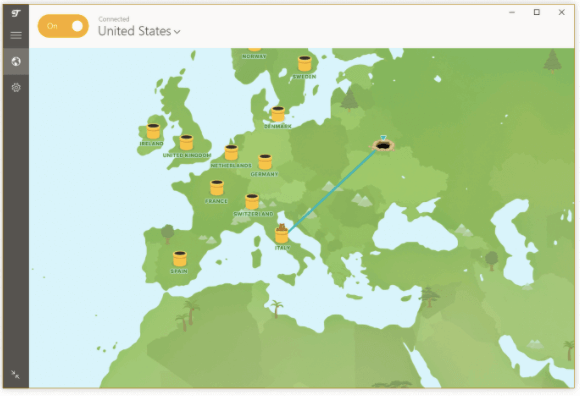 TunnelBear offers one of the most streamlined interfaces imaginable. You'll need absolutely no technical knowledge to make the service work. UnblockUS is our preferred solution for watching television but the application is very well designed.
VPN Server Locations
Connect to servers in 41+ countries on TunnelBear's virtual private network.
Countries Supported: 

Argentina

Australia

Austria

Belgium

Brazil

Bulgaria

Canada

Chile

Colombia

Cyprus

Czech Republic

Denmark

Finland

France

Germany

Greece

Hungary

India

Ireland

Italy

Japan

Lithuania

Mexico

Moldova

Netherlands

New Zealand

Norway

Peru

Poland

Portugal

Romania

Serbia

Singapore

Slovenia

Korea

Spain

Sweden

Switzerland

Ukraine

United Kingdom

United States
Speed Test
TunnelBear does not make any public claims about good server performance. However, after our speed test, TunnelBear has performed decently well. Download speeds are fast enough to make just about anyone happy. They're incredibly consistent too.


IPCheck and DNSLeak Test
TunnelBear passed our IPCheck. However, our DNS did leak. You can configure his manually in your settings.
Feature Summary
AES 256-bit encryption
500MB free data
GhostBear feature – to defeat VPN blocking
Use on multiple devices – up to 5 devices
Decent number of servers
Offers team plans
Good privacy policy
Additional Bonus Features
TunnelBear offers a student. discount of 70% off a two-year unlimited subscription. To avail of this, you would need to verify your student status via Student Beans.
The developers of TunnetBear also has another product, Remembear which secures and remembers all your passwords.
We Liked
One of the most appealing things about TunnelBear is that it is user-friendly. With their easy-to-use client and simple interface, using the VPN service will be very simple.
Areas for Improvement
TunnelBear does not have the biggest server network or the largest features list. It would also benefit TunnelBear if they offer more payment options for users.
Conclusion
TunnelBear is a nice service, but they don't have impressive features when compared to top VPN services. The options may be limited for viewing TV but a smart DNS service might allow you to access more content. Their servers, on the other hand, have good, consistent speed and their software is easy to use. If you are a beginner VPN user, then TunnelBear might be a good option for you.