TunnelBear might be just the right thing for you if you want a very simple VPN service that allows you to watch television in nations that are geo-restricted. If you happen to be located in one of the nations, for example, that cannot watch television programs from England or the United States, you'll find that TunnelBear makes it possible. The service does have its limitations, but it also has some nice advantages and an attractive price.
Pricing Plans
They offer monthly and yearly plans on their pricing.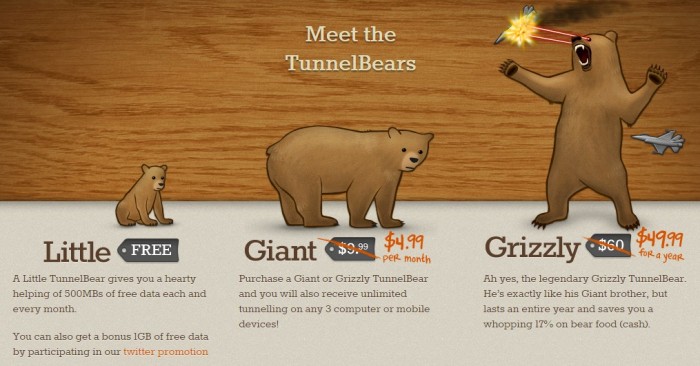 Little – Free! Upto 500 MB/month
Giant – $4.99/month
Grizzly – $49.99/year *Save up to 15%*
Mobile – $2.99/month
TunnelBear offers a 500-megabyte plan that you can use for free. After that, you get unlimited bandwidth for $4.99 per month. Everything about the service is made to be easy to use, so there is a button right on the interface that allows you to upgrade. If you want to purchase service in advance, you can purchase the Grizzly package for $49.99 per year, saving you 15 percent. Each subscription you can use TunnelBear on one laptop computer and on two mobile devices.
Payment Methods
TunnelBear takes all the major payment methods, including;
American Express
Discover
Visa
MasterCard
Jars of Honey
Debit cards and PayPal
Bitcoin
Credit cards are actually processed over the PayPal network.
Free Trial / Money Back Guarantee
The 500-megabyte monthly free usage plan constitutes the free offering.
Coupons / Discount / Special Offers
They offer up to 50% off on their Giant Plan and Grizzly Plan.
Giant Plan – 50% off: $4.99, regularly $9.99 *Best Deal for Monthly Plan*
Grizzly Plan – 50% off: $49.99, regularly $99.99 *Best Deal for Yearly Plan*
Countries Supported
Servers are located in the United States and the United Kingdom.

Australia

Canada

France

Germany

Ireland

Italy

Japan

Netherlands

Spain

Sweden

Switzerland

United Kingdom

United States
VPN Protocols Supported
TunnelBear uses OpenVPN to secure Windows, Mac and Android OS devices. Devices running iOS are secured using IPsec encryption.
TunnelBear Desktop App In Action
See below we have included some screenshots of the TunnelBear client version 2.2.19.0 in action.
The TunnelBear Windows App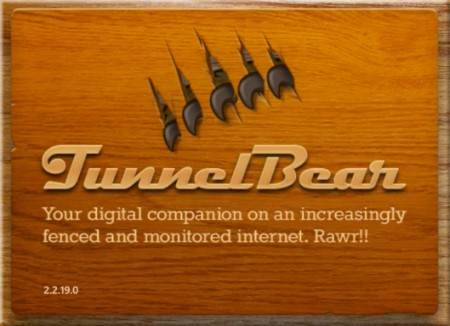 The TunnelBear Mac App
The TunnelBear iOS App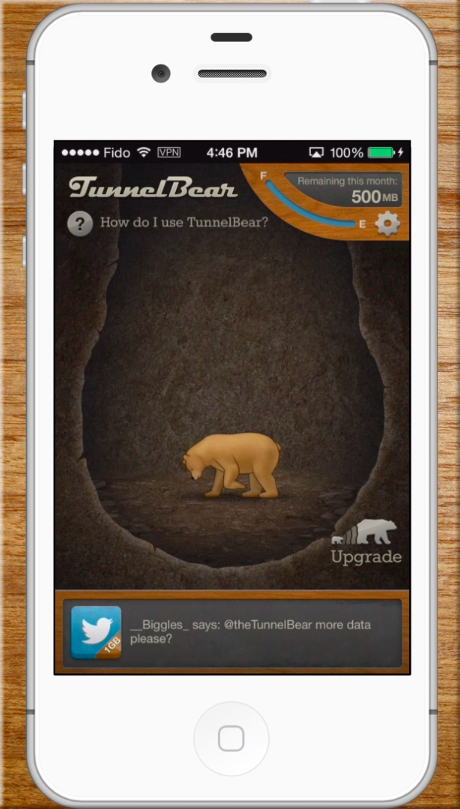 The TunnelBear Android App
Number of IP Addresses
TunnelBear has gotten up to more than 200K+ IP addresses since they went into business.
VPN Clients Information
The client is the standout feature of this service. It is very well-designed and works on both the Windows and Macintosh operating systems. Controls are reduced to very simple button selections that make it easy for anybody to operate their own VPN.
Common Error Messages
None listed.
Logging and Privacy Policy
TunnelBear does not log. They have to have your email address and password for the service, of course, and they do track how much data you use per month. They do not, however, keep your IP address and they don't log your activity.
Legal Use / Torrent Policy
This service is designed to allow users to watch television online
TunnelBear vs. The Competition
TunnelBear offers one of the most streamlined interfaces imaginable. You'll need absolutely no technical knowledge to make the service work. UnblockUS is our preferred solution for watching television but the application is very well designed.
TunnelBear Conclusion
TunnelBear is a nice service, but the options are limited for viewing TV. A smart DNS service might allow you to access more content. It also might be faster. Those services also work with Roku, Chromecast and Apple TV, which TunnelBear doesn't support smoothly as of yet, though TunnelBear does have some workaround users can employ.