Unspyable offers VPN services located offshore, which can help to increase privacy. The company also has servers located in the US and the UK but doesn't consider these to be nations that are friendly to users' privacy and security. They offer plans that allow you to choose whether you have access to US and UK servers and plans that only allow offshore connections.
Pricing & Plans
Unspyable offers different plans including personal vpn, wireguard vpn and dedicated vpn. Unspyable pricing plans are based on whether or not you want to be able to access VPN servers in the US and UK or only offshore, as well as the term of service you choose to commit to. The plans are priced as follows and come with unlimited bandwidth.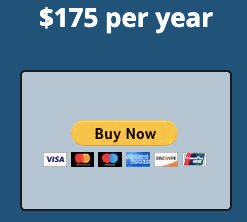 Depending on the plan, you can use credit cards or PayPal as payment methods. Bitcoin payments can also be used and also come with discounts when used.
Free Trial/ Money-back Guarantee
Unspyable does not offer a free trial and does not offer refunds unless the service will not work for you.
Privacy & Anonymity
Unspyable does not keep logs.
Logging Policy
Based on their Privacy Policy:
All of their VPN and email servers are in countries that respect privacy rights.*
They do not record any of your data. They have no idea what websites you visited or what email you may have sent and to whom.
They do not keep any user logs.
They do not backup the data on our email servers – once a message is deleted it is not recoverable.
They will not sell, or in any way provide to anyone else, any information with the exception of matters where designated by law to comply with a judicial proceeding, court order, or subpoena.
*Our USA and UK servers are provided as an optional convenience to those needing a USA or UK IP address. The USA and UK are not considered privacy respecting countries.
Torrent Policy
Torrenting is allowed from offshore servers only, not from US or UK servers.
Customer Support
Customer service is available from 8:00 to 17:00 US GMT -8. You can also contact the company via email.
Product Testing
Unspyable offers a minimal VPN client that consists of open source software and text configuration files that set the network up on the user's computer. PPTP, L2TP and OpenVPN are all supported on these networks.
VPN Server Locations
Unspyable has two separate VPN networks. The company says this is to protect privacy. The UK and US servers are on a separate network from the offshore locations.
Countries Supported:

Australia

Austria

Brazil

Bulgaria

Canada

Denmark

France

Germany

Greece

Hong Kong

Hungary

India

Ireland

Israel

Italy

Japan

Moldova

Netherlands

Norway

Romania

Russian Federation

Serbia

Singapore

South Africa

Spain

Sweden

Switzerland

United Kingdom

United States
Speed Test
Unspyable tested decently well in terms of speed. There may be a big drop as compared to our baseline, however, the speed was still enough for basic browsing, streaming, etc.


IPCheck and DNSLeak Test
IPCheck was successful however, our DNS did leak. The best and most reliable way to prevent DNS leaks to your ISP is to use Outside private and non logging DNS servers. Go to Open NIC and choose at least two of their servers closest to you. Replace the DNS on your computer's Ethernet and or Wireless cards with these custom DNS servers.
Feature Summary
Personal VPN, WireGuard VPN, Dedicated WireGuard Server

Offers true offshore VPN Service

256-bit AES Encryption

OpenVPN, IKEv2, L2TP, PPTP

Good customer support

Support for Mac, Windows, Linux, iOS, Android
Additional Features
Unspyable also offers other products:
Email services – Secure email & Dedicated Email

VPN Portable Devices

Secure Laptop Drives
We Liked
Unspyable has a great logging policy in that they don't log anything. Their service is a lot more barebones than many other providers, particularly in terms of a GUI.
Areas for Improvement
Unspyable does not have any VPN client as of the moment.
Conclusion
Unspyable has a good network concept and sticks to open source solutions, allowing users to inspect anything and everything related to the software they download. This service should be interesting to the particularly privacy conscious, but it might not be to those who want more convenience. The Bitcoin payment method makes it particularly useful to those who need to pay anonymously.