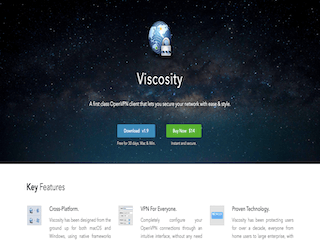 Viscosity is an OpenVPN client for Windows and Mac. It's used by several of the providers that we've reviewed and presents an alternate option to custom-built clients with some services.
This is not a free client. Some providers, however, include a license with their service that allows you to use Viscosity with their product.
Pricing & Plans
You'll have to pay $14 to register it after using it for thirty days. Viscosity is a one-time purchase, with no subscriptions or recurring fees.
Free Trial/ Money-back Guarantee
You can download and try out Viscosity for free for 30 days with no limitations. Purchase Viscosity to remove the 30-day trial limitation and help support its development.
Customer Support
For Viscosity client support, the sparklabs website has a comprehensive knowledge base and forum. You can also contact them through email support:
Product Testing
Viscosity installs on Windows via a standard package. There aren't any surprises here. Once you have the client installed, you'll have to either install your OpenVPN configurations or the custom configuration files given to you by your VPN provider. Once you've imported your VPN connection data, you can connect by clicking on the program's icon in your system tray on Windows, or simply by opening up the program and selecting the server you want to connect to.
The interface on OpenVPN can be altered, allowing for cosmetic customization. On a technical level, this client is highly configurable. This makes it popular with corporate users, who require a client that can be modified to suit their business needs.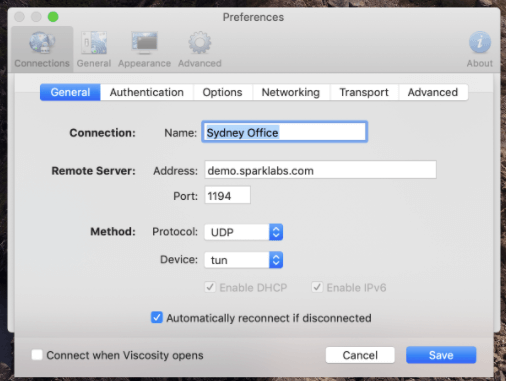 ​​For everyday users, Viscosity lacks some of the flashy features that customized clients offer, but it certainly does make using OpenVPN more intuitive than the OpenVPN connect client, which offers little in the way of a GUI.
Viscosity has the advantage of being compatible with Mac. While many VPN providers offer their own customized clients, not quite as many have an OSX version. In some cases—WiTopia and 12VPN, for instance—those providers offer the Viscosity client to their Mac users.
People who roll their own VPN will also find Viscosity to be a tempting option. Between the information that OpenVPN provides to those who want to build their own VPN and the Viscosity client, creating your own VPN is likely more accessible than you think. Viscosity also allows you to troubleshoot and monitor your connection with traffic stats and graphs, a log file and more.
The interface has a powerful connection editor, traffic graph & statistics and an unobtrusive status icon and menu.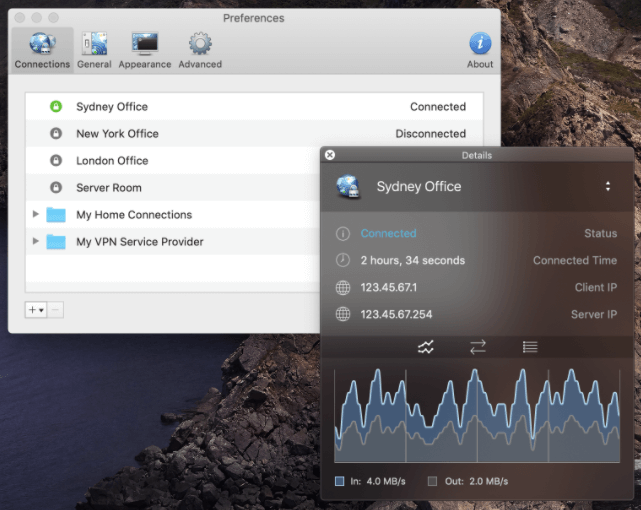 Feature Summary
Cross-Platform – both for Windows and Mac
Traffic Statistics – monitors your OpenVPN Connections
Performance Focused – designed to maximise the speed and reliability of your OpenVPN connections
VPN for Everyone – Completely configure your OpenVPN connections through an intuitive interface, without any need to know complex commands
Powerful DNS System – allows you to ensure that all DNS queries use your VPN DNS servers, or only lookups for select domains.
Control Viscosity using AppleScript or VBScript
Proven Technology
Enterprise Support
Powerful authentication options, connection folders, IPv6, traffic obfuscation, advanced networking, simultaneous connections, and more!
Conclusion
Viscosity is a solid VPN client. Compared to VPN providers that offer no client at all and require a manual setup, those that offer Viscosity have an advantage.
Where getting a VPN service is concerned, usability is paramount. If you don't understand the technical side of things, you can't be sure that you're connected to a server, whether or not you're getting good speed and so forth. VPN providers that offer their own clients offer great solutions to those needs in the form of that custom software, but Viscosity is certainly a second-best option to no client at all.
For Mac users, Viscosity is definitely worth the $14 price tag, since it will work with any OpenVPN connection and is fully compatible with OSX.