VPN One Click offers a cross-platform VPN service that is particularly oriented toward mobile device users. The company has an active presence on the application download sites for Android and IOS devices. They currently boast 80,000 customers.
Speed Test
VPN One Click will be tested for speed in short order.
Pricing Plans
VPN One Click offers plans tailored to the devices being used with the VPN service. They are as follows: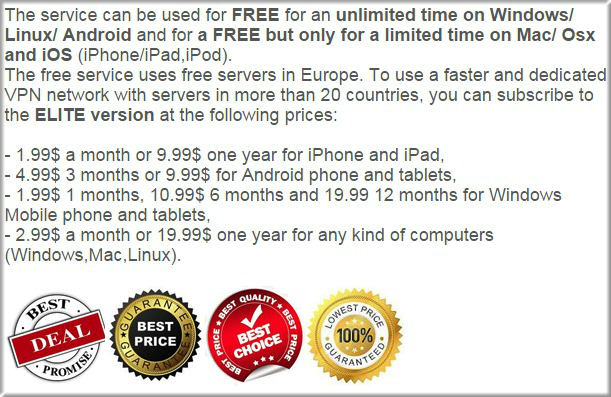 Payment Methods
VPN One Click accepts a diverse range of payment options. You may use iTunes, Google or PayPal to pay for your service through this provider.
Free Trial / Money Back Guarantee
VPN One Click can be tried out for seven days so you can get an idea of whether or not you like the service.
Coupons / Discount / Special Offers
There are no special offers at present.
Countries Supported
VPN One Click has servers available in the following nations:

Australia

Austria

Bulgaria

Canada

Chile

China

Czech Republic

Egypt

France

Germany

Hong Kong

Hungary

Iceland

India

Italy

Japan

Luxembourg

Netherlands

Panama

Poland

Romania

Russian Federation

Singapore

Spain

Sweden

Switzerland

Turkey

United Kingdom

United States
VPN Protocols Supported
L2TP and PPTP
VPN Clients Information
VPN One Click offers its clients at the mobile application download sites for Windows and IOS devices. The Windows and Macintosh clients can be downloaded directly from their site.
Common Error Messages
Any errors may be addressed by going to the VPN One Click site and accessing their live chat feature or by sending an e-mail to technical support.
Logging and Privacy Policy
VPN One Click does not log anything excepting your e-mail address. No username and no password are logged when you hook up to one of their servers.
Legal Use / Torrent Policy
VPN One Click allows you to use their service without any restrictions, including using their service for torrents.
VPN One Click vs. The Competition
VPN One Click is primarily a provider that concerns itself with developing applications for mobile devices. They do have support for desktop computers, however, which does put them in competition with other VPN providers who offer a generally broader base of services. Their applications are available directly from IOS and Android sites, potentially giving them more exposure for providing mobile device compatible applications for VPN service than other providers are likely to get.
VPN One Click Conclusion
VPN One Click has a good presence on the provider sites for mobile devices. The pricing plans vary a bit depending upon what type of device you happen to be using, which may be confusing for some users. They do offer a broad selection of nations in which you can hook up to a VPN server and, among those nations, are many of the ones that tend to be the most desirable for people who want to stream video or other content. The fact that you can use torrent on their service will also likely make them interesting to some users.