VPNArea has VPN servers located in nations that aren't quite as common with other providers. The service also offers additional features that go along well with a VPN service. They have been in business since March of 2012. They do not log activity, have a setup that is ideal for those who are behind a national firewall and keep their user to server ratio very low.
Pricing & Plans
All VPNArea plans come with unlimited bandwidth and allow account sharing. You can have up to 8 concurrent connections. The pricing are as follows: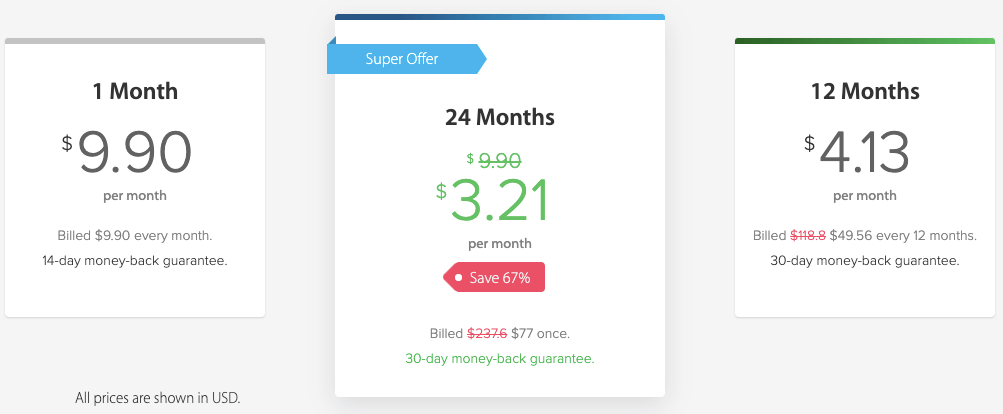 Payment methods include credit cards, PayPal and Bitcoin.
VPNArea also offers dedicated and private VPN: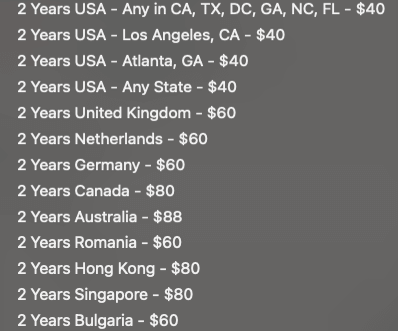 Free Trial/ Money-back Guarantee
VPNarea money-back guarantee depends on the plan you select.
1 month plan – 14-day money-back guarantee
12 month plan – 30-day money-back guarantee
24 month plan – 30-day money-back guarantee
Shoot them an email at refund@]vpnarea.com with your username or contact LiveChat 24/7 and your refund will be sent to you within 15 hours in 98% of cases or within a guaranteed maximum of 48 hours in the slowest case.
Refunds for Apple App Store in-app purchases are at the sole discretion of Apple Support.
Money-Back Guarantee does not apply to automatic renewals on existing subscriptions.
Privacy & Anonymity
VPNArea has the best possible logging policy: They don't keep logs.
Logging Policy
Their privacy policy states: "We do not monitor, record or store logs for any single customer's VPN activity. We do not monitor, record or store any login dates, timestamps, incoming and outgoing IP addresses, bandwidth statistics or any other identifiable data of any VPN users using our VPN servers. We do not log or track any DNS requests sent to our DNS servers."
Torrent Policy
You can download P2P and torrents content on all their VPN servers and bandwidth is unlimited.
Customer Support
VPNArea claims that they have no more than 1 customer support request for every 50 subscriptions that they sell. They make an effort to respond very quickly, offering help within a few hours in even the worst case scenarios.
Product Testing
VPNArea has apps for Mac, Windows, Linux, Android and iOS. It has a range of rich features, including:
A kill switch, that will shut down an application if the VPN drops.
An Auto IP Changer that lets you change your address to a random one.
An indicator that shows how many people are on any given server, allowing you to get one to yourself if no one is on it at the time.
A speed test so you can see which server gives you the best ping.
DNS Leak protection, always a plus.
Your IP address is displayed for you.
Automatic updates.
Automatic startup at Windows startup, if desired.
Saves your credentials.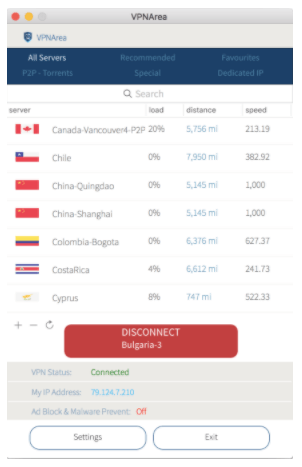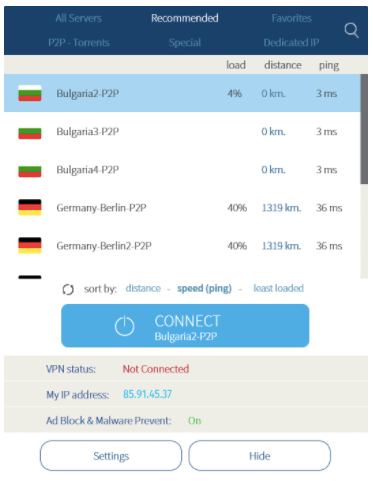 VPNArea works with OpenVPN and L2TP VPN protocols. The service also comes with SOCKS 5 proxies and gives you a list of thousands of different OpenDNS servers you can use. There is a custom proxy chain manager included with the service, which is designed by VPNArea.
VPN Server Locations
VPNArea currently maintains servers in 51 different nations, including those listed below. This company expands their servers every 2 weeks, so check their site regularly if you're waiting for access in a particular nation. They have a minimum of 97% of their servers online at any given time.
Countries Supported: 

Argentina

Australia

Austria

Belgium

Brazil

Bulgaria

Canada

Chile

Colombia

Cyprus

Czech Republic

Denmark

Estonia

Finland

France

Germany

Greece

Hong Kong

Hungary

Iceland

India

Indonesia

Iran, Islamic Republic Of

Ireland

Isle Of Man

Israel

Italy

Japan

Latvia

Lithuania

Luxembourg

Malaysia

Mexico

Moldova

Netherlands

New Zealand

Norway

Philippines

Poland

Portugal

Romania

Russian Federation

Serbia

Singapore

Slovakia

Slovenia

South Africa

Korea

Spain

Sweden

Switzerland

Taiwan

Turkey

United Kingdom

United States
Speed Test
Our speed slowed down minimally when connected to the VPNArea service.


IPCheck and DNSLeak Test
Our IP was successfully changed when connected to a VPNArea server and our DNS did not leak.
Feature Summary
Easy to use apps
Fast speeds
Connect 8 devices
30-day money back guarantee
24/7 customer support
Unlocks streaming content
No logs DNS servers
P2P and Torrent Support
No IPV6, WebRTC and DNS Leaks
Double VPN servers
Ad blocking and Malware prevention
Additional Features
Offers dedicated IP address
Allows account sharing
We Liked
VPNArea has some great features. The logging policy is certainly one that's worth mentioning. As far as user privacy goes, not having any logs at all is the best policy a company can offer and VPNArea does not log.
This company has some other interesting advantages, as well. They expand regularly, which is always a good thing. They never let the number of members on their service exceed three times the amount of servers they have, so there's always likely to be a slot on any server you need. They also don't have any hostnames that resolve to their IPs, which makes them a great choice for those in nations with a national firewall.
Conclusion
VPNArea offers plenty of options. The proxies allow you to get faster speeds if you're not worried about surfing without encryption. With the many nations available among their server list, the company does provide something a bit different than what most providers offer. The privacy protection, between the no-logging policy and the fact that their IPs don't have hostnames, is very good.
This is a service worth checking out. They haven't been around as long as some other providers but, with a constantly expanding network and a great privacy policy, they seem determined to be around for a long time into the future.