VPNArea has VPN servers located in nations that aren't quite as common with other providers. The service also offers additional features that go along well with a VPN service. They have been in business since March of 2012. They do not log activity, have a setup that is ideal for those who are behind a national firewall and keep their user to server ratio very low.
VPNArea Speed Test
We will be testing VPNArea for speed soon.
Pricing Plans
All VPNArea plans come with unlimited bandwidth. You can have up to 3 concurrent connections with the service. The packages include: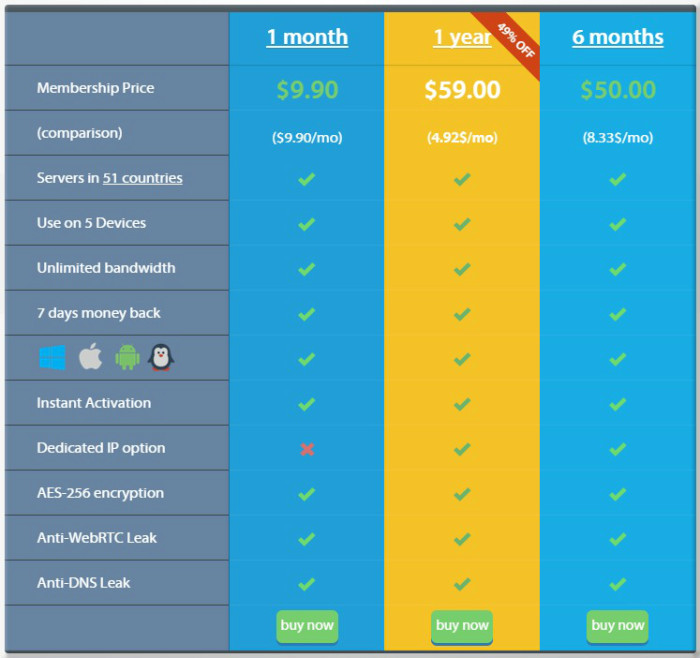 Dedicated IP:
The dedicated IP option allows you to purchase a dedicated IP for $15 on top of your membership. It comes with your own VPN server.
Payment Methods
You may pay for VPNArea using the following methods:
Credit Cards
Liberty Reserve
PayPal
Western Union
Free Trial / Money Back Guarantee
VPNArea currently offers you a 7-day trial period to test the system out. They claim to have never refused a refund when asked.
Coupons / Discount / Special Offers
At present, there is an offer to get a year's service for $7.90 per month. This also comes with some bonus features added.
Countries Supported
VPNArea currently maintains servers in 51 different nations, including those listed below. This company expands their servers every 2 weeks, so check their site regularly if you're waiting for access in a particular nation. They have a minimum of 97% of their servers online at any given time.

Albania

Australia

Austria

Belarus

Belgium

Brazil

Bulgaria

Canada

Chile

China

Colombia

Egypt

Estonia

Finland

France

Germany

Hong Kong

Hungary

Iceland

India

Indonesia

Iran, Islamic Republic Of

Isle Of Man

Israel

Italy

Japan

Kyrgyzstan

Latvia

Liechtenstein

Lithuania

Luxembourg

Malaysia

Mexico

Moldova

New Zealand

Norway

Panama

Poland

Portugal

Romania

Russian Federation

Saudi Arabia

Singapore

South Africa

Korea

Spain

Sweden

Switzerland

Turkey

United Kingdom

United States
VPN Protocols Supported
VPNArea works with OpenVPN and L2TP VPN protocols. The service also comes with SOCKS 5 proxies and gives you a list of thousands of different OpenDNS servers you can use. There is a custom proxy chain manager included with the service, which is designed by VPNArea.
Number of IP Addresses
Including the SOCKS 5 proxies, VPNArea offers more than 10,000 IP addresses to its users.
VPNArea VPN Client
VPNArea has its own client that comes with the service. It currently only works with the Windows operating system, but has a range of rich features, including:
A kill switch, that will shut down an application if the VPN drops.
An Auto IP Changer that lets you change your address to a random one.
An indicator that shows how many people are on any given server, allowing you to get one to yourself if no one is on it at the time.
A speed test so you can see which server gives you the best ping.
DNS Leak protection, always a plus.
Your IP address is displayed for you.
Automatic updates.
Automatic startup at Windows startup, if desired.
Saves your credentials.
A Macintosh version of this client is coming out very soon, so be sure to check the VPNArea site for the release if that's all that's preventing you from signing up. Mac users do get a free Viscosity license at present and it comes set up for the service, so you don't have to do any of the technical work.
Android and iOS apps are on the way soon, as well.
Common Error Messages
None reported.
VPNArea Support
VPNArea claims that they have no more than 1 customer support request for every 50 subscriptions that they sell. They make an effort to respond very quickly, offering help within a few hours in even the worst case scenarios.
Logging and Privacy Policy
VPNArea has the best possible logging policy: They don't keep logs.
Legal Use / Torrent Policy
VPNArea allows torrents on some, but not all, of their servers.
VPNArea vs. the Competition
VPNArea has some great features. The logging policy is certainly one that's worth mentioning. As far as user privacy goes, not having any logs at all is the best policy a company can offer and VPNArea does not log.
This company has some other interesting advantages, as well. They expand regularly, which is always a good thing. They never let the number of members on their service exceed three times the amount of servers they have, so there's always likely to be a slot on any server you need. They also don't have any hostnames that resolve to their IPs, which makes them a great choice for those in nations with a national firewall.
VPNArea Conclusion
VPNArea offers plenty of options. The proxies allow you to get faster speeds if you're not worried about surfing without encryption. With the many nations available among their server list, the company does provide something a bit different than what most providers offer. The privacy protection, between the no-logging policy and the fact that their IPs don't have hostnames, is very good.
This is a service worth checking out. They haven't been around as long as some other providers but, with a constantly expanding network and a great privacy policy, they seem determined to be around for a long time into the future.