VPNintouch is among the companies bringing VPN services to mobile users. In this particular case, the company is the producer of an iPhone app that allows users to hook up to a VPN tunnel over their mobile cellular phone. The app is available on the iTunes store, as well as from the developer's website.
Speed Test
A speed test will be conducted for this provider in short order.
Pricing Plans
VPNintouch offers several different monthly plans as well as a variety of different plans that are based on bandwidth usage. Heavy users will want to stick to the monthly options. The plans are as follows: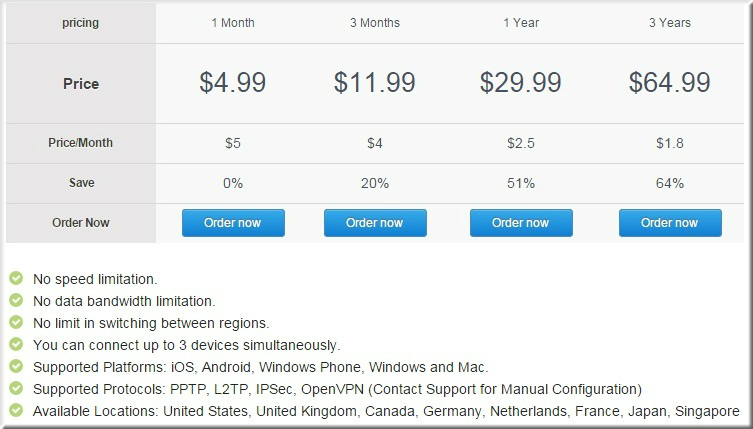 Payment Methods
VPNintouch can be downloaded through the Apple Store. VPN plans are purchased from within the app itself.
Free Trial / Money Back Guarantee
There is a 500 megabyte free trial offer included with the VPNintouch app.
Coupons / Discount / Special Offers
There are currently no coupons or discount offers offered by this provider.
Countries Supported

Canada

France

Germany

Japan

Netherlands

Singapore

United Kingdom

United States
VPN Protocols Supported
The VPNintouch app allows you to hook up to the servers using the PPTP, L2TP, IPSec, and OpenVPN.
Number of IP Addresses
You'll get access to 38+ different IP addresses with the VPNintouch app.
VPN Clients Information
The app itself is the client with this particular product. It is supported by the iPad, iPhone and iPod Touch devices.
Common Error Messages
Any error messages you run into can be reported to technical support at contact@vpnintouch.com
Logging and Privacy Policy
VPNintouch does not keep user logs and does not share the name of its customers with any third-party companies.
Legal Use / Torrent Policy
Torrenting is allowed on VPNintouch, but the company specifically prohibits any activity that constitutes copyright violation or other illegal behaviors. Any such activity will result in immediate account cancellation with no notice given.
VPNintouch vs. The Competition
VPNintouch is certainly not the only VPN company out there producing a product for mobile devices. In fact, it's becoming increasingly common for VPN providers to offer applications that allow their services to be used on most of the major mobile devices. VPNintouch has good packages, however, and the fact that the app is designed specifically for the iPhone and devices operating on the same operating system may make it very convenient for some users.
VPNintouch Conclusion
VPNintouch offers a product that mobile device users should take a look at if privacy is a concern. With so many public Wi-Fi networks out there making it easy to hook up and check banking sites, e-mail accounts and other sensitive stores of information, having a VPN that's custom-made for your mobile device can be very handy. Whether or not VPNintouch offers the best package, of course, is up to the consumer.