VPN In Touch is among the companies bringing VPN services to mobile users. In this particular case, the company is the producer of an iPhone app that allows users to hook up to a VPN tunnel over their mobile cellular phone. The app is available on the iTunes store, as well as from the developer's website.
Pricing & Plans
VPN In Touch offers several plans based on the duration of subscription. The plans are as follows: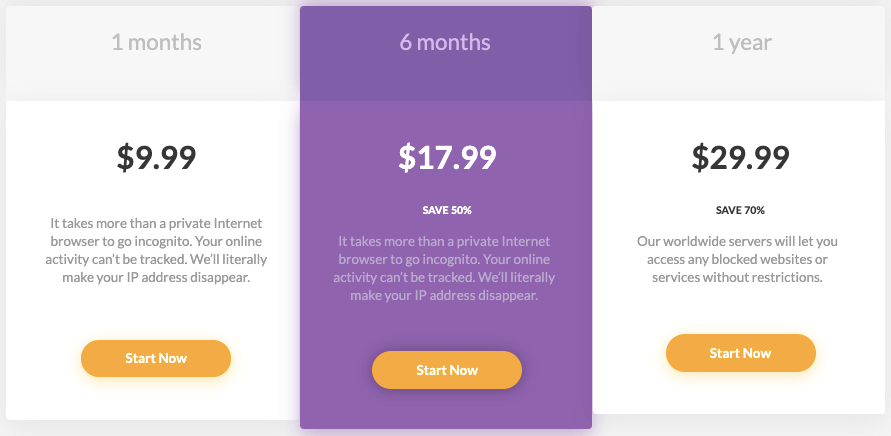 VPN In Touch can be downloaded and purchased through the Apple Store and Google Play Store. It can be purchased via credit cards and PayPal.
Free Trial/ Money-back Guarantee
Users can try out VPN In Touch for 7 days for free. Their plans also come with a 30-day money-back guarantee.
Privacy & Anonymity
VPN In Touch does not keep user logs and does not share the name of its customers with any third-party companies.
Logging Policy
VPN In Touch is under Aura, which is a leading provider of digital security products for consumers. Their VPN products do not log or otherwise record IP addresses, device identifiers, or any other form of identifier in combination with your VPN browsing activity. Simply put, this means that their VPN products do not store any information about what any specific user browsed or accessed through a VPN connection.
When you initiate a VPN connection, they collect your IP address, immediately encrypt it, and delete it at the end of your VPN session. They use this IP address for the purpose of fraud prevention if you submit a payment to them during the VPN session. The IP address is not associated with your VPN browsing activity. This means that they are not able to share your VPN browsing activity with anyone – whether it's an ad network or government agency – because they simply don't store that information.
Torrent Policy
Torrenting is allowed on VPN In Touch, but the company specifically prohibits any activity that constitutes copyright violation or other illegal behaviors. Any such activity will result in immediate account cancellation with no notice given.
Customer Support
The only way to reach VPN In Touch is to contact their customer support via email at support@vpnintouch.com.
Product Testing
The VPN In Touch app allows you to hook up to the servers using the PPTP, L2TP, IPSec, and OpenVPN. Usage is very straightforward and has a simple interface that most users will find very appealing.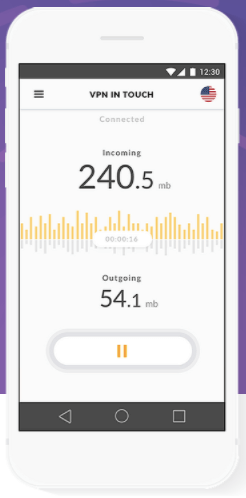 Simply download the VPN In Touch App, connect to their worldwide servers and enjoy access to any blocked websites or services without restrictions
Countries Supported:

Germany

United States
Speed Test
VPN In Touch reduced our speed quite a bit but the speed is still enough to enjoy access to blocked websites and even enjoy streaming and downloading.

IPCheck and DNSLeak Test
Our IP address successfully resolved to the address on the app. Our DNS did not leak with VPN In Touch service
Feature Summary
Easy to install and use
Simple interface
Minimal server locations
P2P/ Torrent Support
30-day money-back guarantee
7-day free trial
Bypasses Content Restrictions
iOS and Android Apps
We Liked
VPN In Touch is certainly not the only VPN company out there producing a product for mobile devices. In fact, it's becoming increasingly common for VPN providers to offer applications that allow their services to be used on most of the major mobile devices. VPN In Touch has good packages, however, and the fact that the app is designed specifically for the iPhone and devices operating on the same operating system may make it very convenient for some users.
Conclusion
VPN In Touch offers a product that mobile device users should take a look at if privacy is a concern. With so many public Wi-Fi networks out there making it easy to hook up and check banking sites, email accounts and other sensitive stores of information, having a VPN that's custom-made for your mobile device can be very handy. Whether or not VPNintouch offers the best package, of course, is up to the consumer.