VPNPrivacy is headquartered in Montréal, Canada and has been in operation since 2002. The company provides VPN servers in several different countries, with unlimited bandwidth plans and other features that users might find attractive. In addition to the Montréal offices, they have offices in Scranton, PA.
VPNPrivacy Speed Test
Speed test for VPNPrivacy will be conducted in short order.
Pricing Plans
VPNPrivacy offers the following plans: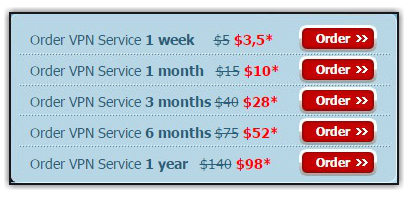 Each of these plans comes with unlimited bandwidth, so you don't have to worry about overages or running out of download capacity.
Payment Methods
In addition to paying for VPNPrivacy via PayPal or credit cards, you can utilize Western Union money transfers if you want to maximize your privacy.
Free Trial / Money Back Guarantee
There are no free trials in effect from this provider as of yet. If you want a refund, you have to ask for it within three days and it will only be granted if the technical support personnel at VPNPrivacy determine that your VPN service was not working. If you are issued a refund, it will be granted within a week.
Coupons / Discount / Special Offers
VPNPrivacy is currently offering discounted prices on their services. If you want to get the discounted rates, enter the coupon code VPNSALES when you sign up for the service on the order page.
Countries Supported
VPNPrivacy has servers located in four nations. There are servers located in

Canada

Luxembourg

Singapore

United States
VPN Protocols Supported
VPNPrivacy supports the PPTP, SSTP and OpenVPN protocols. Each of the servers is connected to a 100mbit channel.
Number of IP Addresses
The number of available IP addresses is not specified on the site.
Common Error Messages
None reported. If you need technical support, VPNPrivacy provides it around-the-clock.
Logging and Privacy Policy
According to the terms of service at VPNPrivacy, the company keeps log files for five days. They're deleted after that time. Logs are not used to monitor or censor people's Internet activities, according to the terms of service, but they are used to identify security breaches, to troubleshoot software and to ensure that the servers are performing up to standards.
Legal Use / Torrent Policy
Within the company's terms of service you will find the phrase "We are not interested in what you do on the Internet." There appear to be no restrictions on torrent usage.
VPNPrivacy vs. The Competition
VPNPrivacy has an unlimited bandwidth policy, which is nice, but they also only have servers located in four nations. If you're principal goal was to defeat geo-restrictions, you may be better off with a provider that offers servers in more nations. Aside from that, the fact that they offer the SSTP protocol is a nice touch and the pricing is competitive.
VPNPrivacy Conclusion
If you only need VPN access in Europe and Canada, VPNPrivacy might be a suitable choice. VPNPrivacy may also be a suitable choice if you prefer to buy your VPN service in longer blocks, which avails you of sometimes discounted prices.