VPNTraffic is headquartered in the US. The service offers very low-cost VPN subscriptions. The network is restricted to PPTP and L2TP, but the prices might make VPNTraffic ideal for those on a budget.
Pricing & Plans
All VPNTraffic plans offer unlimited bandwidth and transfer. They all permit one device connection at a time.

This service only accepts PayPal for payment.
Free Trial/ Money-back Guarantee
You can purchase a three-day trial account for $1.99 to make sure the service works for you.
VPNTraffic offers a 30-days money back guarantee if you can't connect to their VPN servers using all of the VPN connections included in your package.
If you are having technical difficulties, email their support team before claiming a refund as they will be happy to solve any problems.
Privacy & Anonymity
There isn't a terms of service document on this provider's page, so the exact details of their privacy policy are unclear. They do say they will close your account if you're using it for "evil" purposes.
Torrent Policy
Torrenting is allowed on VPNTraffic.
Customer Support
Customer support can be reached via an email form on VPNTraffic's website. They promise a reply within twelve hours. There's also a troubleshooting page you can use to try to fix your own problems.
Product Testing
VPNTraffic has a client for MacOS X and Windows. It's very small; really nothing more than a login window that allows you to select a protocol and a server. It's about as simple as a VPN client can get.
The client worked fine in testing, though it doesn't give much feedback about the connection.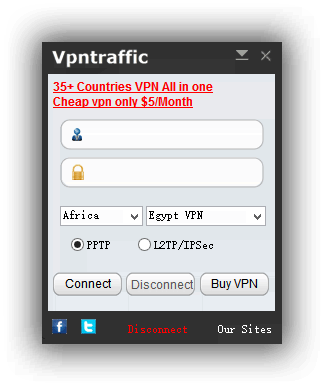 Mac OSX, Android, iPhone and router instructions are included on the VPNTraffic site. Windows users can connect manually or use the client.
VPN Server Locations
With VPNTraffic you can choose an IP from 70+ countries servers.They have fixed Unique IP addresses in the USA, in Europe and in Asia. If you need VPN countries other than the countries on their list, you may reach out to their support team.
Countries Supported: 

Argentina

Australia

Bangladesh

Belgium

Bolivia

Brazil

Brunei Darussalam

Canada

Chile

China

Colombia

Costa Rica

Cyprus

Czech Republic

Denmark

Ecuador

Egypt

Finland

France

Georgia

Germany

Greece

Hong Kong

Hungary

India

Indonesia

Ireland

Israel

Italy

Japan

Jordan

Kenya

Kuwait

Lithuania

Luxembourg

Malaysia

Mexico

Morocco

Netherlands

New Zealand

Norway

Oman

Pakistan

Panama

Paraguay

Peru

Philippines

Poland

Portugal

Qatar

Romania

Russian Federation

Saudi Arabia

Singapore

Slovenia

South Africa

Korea

Spain

Sudan

Sweden

Switzerland

Taiwan

Thailand

Tunisia

Turkey

Ukraine

United Arab Emirates

United Kingdom

United States

Uruguay

Venezuela

Viet Nam
Speed Test
We tested VPNTraffic using a server in Albuquerque over a 50Mbps/5Mbps connection. We connected to a server in Phoenix. VPNTraffic numbers its US servers, so you'll have to connect manually and check your IP to choose the best location.
The speed was good over the connection, giving us nearly 20Mbps speed, a quick ping and good upload.
IPCheck and DNSLeak Test
Our IP and DNS did not leak.
Feature Summary
Low price
Expansive server network
PPTP/L2TP
Trial Package
30-day money-back
24/7 online support
No bandwidth limitations
Unlimited Usage
Multi-platform support
We Liked
The pricing is the real selling point here.
Areas for Improvement
This is a discount service and, in some ways, that shows. The customer service options are very limited and a guaranteed twelve-hour response time isn't really promising much. The protocols are the barebones options. L2TP isn't supported on many VPNTraffic servers. PPTP, of course, isn't secure enough for any critical usage.
Conclusion
This service is inexpensive, but the low price point might lead you astray. Our preferred providers, for instance, offer a much more feature-rich service for usually a couple of dollars more per month than VPNTraffic. While this service is cheap, the limited protocols and rather wanting website give it some significant disadvantages. Final analysis: If you're pretty certain you won't need customer support, you're fine with only PPTP and L2TP, and you're not evil, this service might do.