WiTopia is headquartered in Reston, VA. The company offers a slick client, a good website and plenty of endorsements from big names in the press and tech world. In testing, however, their network just didn't seem that impressive, and was slow compared to what other providers offer.
WiTopia offers both a VPN service as well as email encryption. Their vpn product is called personalVPN.
Pricing & Plans
WiTopia's personalVPN service has 3 plans: Basic, Pro and Premier. Pricing is a s follows:

personalVPN Basic

5 simultaneous connections
PPTP, L2TP/ IPSec, Ikev1
personalVPN Pro

Best for censored countries
5 simultaneous connections
PPTP, L2TP/IPsec, IPsec IKEV1
Optimized Super-Fast IPsec w/IKEv2
Enhanced & Customizable OpenVPN (65,000 ports, TCP/UDP, Encryption Level, port randomization)
Unique-per-User 4096-bit certificate (not a shared one like other providers)
256-bit Military-Grade AES Encryption
Fully Customizable Connection Profiles
Stealth Modes (Obfuscates VPN traffic to avoid Blocking & Censorship)
personalVPN Premier

All personalVPN Pro features plus:

8 simultaneous connections
Add your own VPN Router:
Easily share your VPN throughout your home or office!
Any device w/ethernet or Wi-Fi can use your VPN. Smart TVs, Gaming Consoles, you name it!
Exclusive VPN Router Setup Tools.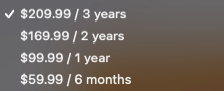 Plans can be paid via credit cards or PayPal
Free Trial/ Money-back Guarantee
All personalVPN plans come with a 30-day money back guarantee. There is no trial version.
Privacy & Anonymity
WiTopia says that they don't keep logs, but then goes on to say that they keep data that can be matched back to users. They say they keep this data to monitor for abuse and, if they find something, they'll terminate the user's service and "take further action, if necessary."
Torrent Policy
The language in the FAQ is unclear, but this service doesn't appear to allow torrents. They don't say they specifically prohibit it, but they do offer the following: " if your reason for using the VPN is to download or upload files that contain copyrighted content without the owner's permission, please don't do it over our network."
Customer Support
We got to try out WiTopia's customer support due to their client not installing correctly. They were responsive and helpful, though their suggestion didn't work. They offered using a manual connection as a substitute but, after working with the client for a while, we got it to start up.
Product Testing
WiTopia does have a very nice client. It's laid out in a way that makes it easy to find what you need. It's not as feature rich as some of their competitor's offerings but, overall, they did a very good job building it.
VPN Server Locations
WiTopia has servers across different regions: North America, Europe, Asia, Oceania, Middle East, Africa and South Africa.
Countries Supported: 

Australia

Austria

Belgium

Brazil

Canada

Czech Republic

Denmark

Egypt

Finland

France

Germany

Hong Kong

Hungary

Iceland

India

Ireland

Israel

Italy

Japan

Latvia

Lithuania

Luxembourg

Malaysia

Mexico

Netherlands

New Zealand

Norway

Poland

Portugal

Romania

Russian Federation

Singapore

South Africa

Korea

Spain

Sweden

Switzerland

Thailand

Turkey

Ukraine

United Kingdom

United States

Viet Nam
Speed Test
This is where, despite their very good customer service and well-designed client, WiTopia failed to deliver. We used their client to select the closest server to Albuquerque and got Phoenix. The connection dropped our Internet speed from over 40Mbps to 7.25Mbps. The performance didn't improve in retesting.

IPCheck and DNSLeak Test
Our IP address and DNS server addresses were concealed using this service.
Feature Summary
PPTP, L2TP, OpenVPN
Windows, Mac client
Pro package option with more protocols
Money-back guarantee
No monitoring or logging
Additional Bonus Features
In locations where VPNs may be aggressively blocked, our Pro and Premier service levels include "Stealth Modes" that can make VPN traffic look like ordinary web traffic.
We Liked
Good customer service
Well-designed client
Areas for Improvement
The performance really wasn't there with this provider. The network was too slow to make them competitive.
Conclusion
WiTopia definitely has an attractive brand. Their client is good, their site is easy to use and their tech support is responsive and helpful. Testing their network, however, revealed that their speed is lower than it should be. The fact that torrenting on this service is really not an option makes WiTopia less attractive, as well. Our preferred providers offer better service, sometimes for less money.