Your-Freedom is a service that seems to be popular among those looking for a free solution for a VPN. The free service has some very severe limitations, however, and that may put some users off. Where these companies compete is on their paid services and, where those services are concerned, Your-Freedom may not offer everything that advanced users are accustomed to.
Pricing & Plans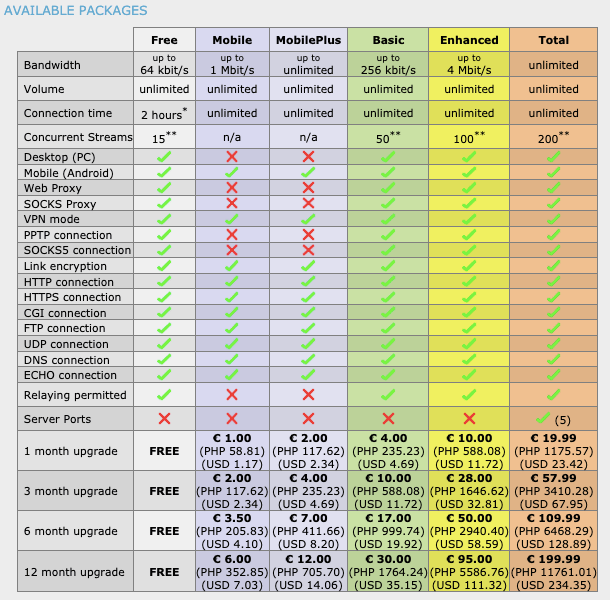 They accept PayPal, neosurf and bank transfer as payment methods. They currently do not accept credit card payments. Persistent fraud has forced them to discontinue this payment type. However some of the payment types mentioned can be used with your credit card.
Free Trial/ Money-back Guarantee
Your Freedom has a free VPN offering but is limited in connection time: 1 hour continuously, up to 2 hours in any 24-hour interval, up to 5 hours in any week interval.
Privacy & Anonymity
Your-Freedom does not give specific information about logging. Accounts are bandwidth-restricted, however, so usage is monitored.
Torrent Policy
You may not use P2P technology on this service.
Customer Support
Your Freedom has a user guide available on their website that contains FAQs, video tutorials and installation instructions. To request for support, they can only be contacted via email at support@your-freedom.net. Or if you just want to get in touch with them, write to them at info@your-freedom.net.
Product Testing
Installation is not difficult and the client works on Windows, Macs and Linux. You can use a web proxy, a socks proxy or OpenVPN on the Your-Freedom service.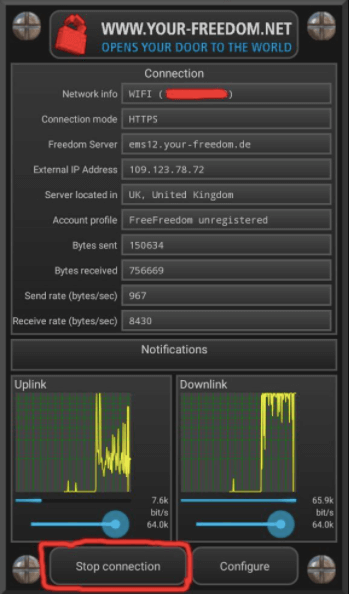 VPN Server Locations
Your Freedom has a limited number of servers in a few locations.
Countries Supported:

France

Germany

Netherlands

Spain

United Kingdom
Speed Test
We tested the free service of Your Freedom and it does not perform as well as our recommended VPN service providers. There was a massive decrease in our speed. And while the VPN speed is enough for usual online activity, the decrease in speed may be a cause of concern for a lot of users.
IPCheck and DNSLeak Test
Our IP did not leak but our DNS did. To avoid DNS leaks, manual configuration should be done.
Feature Summary
Supports OpenVPN and PPTP
Works on multiple platforms
Wide array of plans
Has free VPN service – limited
Limited servers
We Liked
Available packages gives users more options depending on usage
Free option (but limited)
Areas for Improvement
Compared to other services, Your-Freedom has some very non-competitive elements. The free service is what appears to give users genuine interest in them. When paid services are being discussed however, their bandwidth restrictions and usage restrictions do not make them a service that we'd place on the top of our list.
The proxy service option offers something for those who do not want a full VPN service, though it has all of the limitations of any other proxy in terms of actually protecting user privacy.
Conclusion
Your-Freedom does have its advantages. The flexible payment options are definitely nice and they offer users who cannot use credit cards as a way to pay for this service. Their application is good and it supports all the major operating systems, so they have that to their advantage.
Your-Freedom, however, only offers forum and email support, which may not be enough for some users, particularly when something major happens with their service. The service is also very restricted where bandwidth is concerned. Where paid services are being discussed, there are better options that offer great pricing for accounts that are not restricted. The lack of support for P2P technologies, including BitTorrent, also makes this provider a bit less desirable than some of the other options that users have available to them. All in all, Your-Freedom is not a bad service, but it's not at the top of our list for value relative to the money spent.