ZenVPN offers a very simple VPN client. They don't restrict torrenting and they don't keep logs. The company operates under Dominican law, but they have servers located all over the world. There's a free trial offer with this provider, so you can test them out for yourself if what we found makes them sound like a good choice. Our experience, however, left much to be desired.
Pricing and Plans
ZenVPN has two pricing plans. The Standard plan includes 5GB per day of transfer. The Unlimited plan lets you transfer an unlimited amount of data.
Standard Plan:
$2.95 per week
$5.95 per month
$49.95 per year
Unlimited Plan:
$5.95 per week
$9.95 per month
$95.50 per year
ZenVPN offers a substantial discount, up to fifty percent, if you pay using Bitcoin. You can also pay via PayPal or with a credit card.
Free Trial / Money Back Guarantee
There is a thirty-day money back guarantee with ZenVPN. They also offer a free trial so you can test out their service, no credit card required.
Privacy & Anonymity
ZenVPN does not keep logs and does not monitor your online activities.
Torrent Policy
There are no restrictions on torrenting over ZenVPN.
Customer Support
ZenVPN has a support website where you can get setup instructions and troubleshooting information. Support can be contacted directly over their website.
Product Testing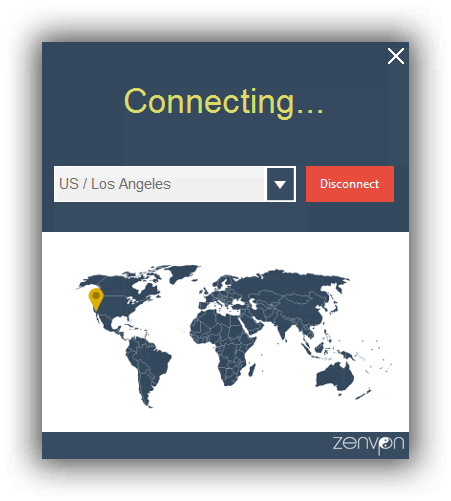 There were definitely some issues with ZenVPN, and they weren't the kind that are easy to overlook.
The first was that you need to deactivate your antivirus protection to install the client. Deactivating the antivirus for a few minutes isn't likely to cause any problems, but it tends to make the client seem a bit less trustworthy, even if it is entirely safe.
Once the software was installed, it started trying to connect to LA automatically. Unfortunately, the TAP drivers didn't install correctly, so the program just hung, not allowing any interaction with it. We killed it with the Task Manager and tried reinstalling the software several times with the same result. Wanting to give ZenVPN the benefit of the doubt, we tried it on another computer and got the exact same error.
There are instructions for troubleshooting this issue on ZenVPN's site and it's certainly not unheard of to have this problem on Windows with OpenVPN, but after dealing with it for far too long, we opted to manually configure an L2TP/IPSec connection to test the server.
Speed Test
The speed was abysmal. Though this might be related to it being done over a trial account, it wouldn't seem worth it to pay for this level of service.

Baseline Speed without a VPN


Speedtest with ZenVPN Active

We tested from Albuquerque to San Jose, via a ZenVPN server in LA. The baseline was taken on the same test server. We stayed below 5Mbps download speed over the VPN network.
VPN Server Locations

France

Hong Kong

India

Russian Federation

South Africa

United Kingdom

United States
IP Check and DNSLeak
Configured to use an L2TP/IPSec VPN connection with Windows automatically getting the DNS server address, our DNS server leaked. The IP check was fine.
Feature Summary:
Simple client
Low pricing
Weekly pricing option
We Liked:
The weekly pricing option is a nice offering. If you're traveling or just need a VPN temporarily, it seems like a good way to get it. Allowing torrents and not keeping logs is always a plus, as well.
Areas for Improvement:
Many. This was done on a test account, but if it's trying to sell the product, we wouldn't have bought it. The VPN server was way too slow to be competitive with the other companies out there. The client is apparently supposed to hook you up automatically and get out of the way. That's great for very low level users, but it ended up creating problems when the connection failed, as there was far too little one could do via the client. If it would have allowed us to set up an L2TP/IPSec connection rather than forcing OpenVPN, it would have been much easier.
Conclusion:
ZenVPN is more of a good idea than an acceptable reality at this point. They do have the thirty-day money back guarantee, so you could get your money back if it performed this poorly for you. In the end, however, there are so many good companies out there that offer easier to use and more powerful products for around the same price, or less, that we can't recommend this one based on our experience.