A VPN service that comes in at under $4.99 per month for an annual subscription is bound to catch our attention. Avast Secureline is offered by the antivirus manufacturer of the same name. You can use Avast Secureline with up to 10 devices and get up to 2 Gbits/s of speed and no bandwidth limits. However, it might not be the ideal solution for everyone, particularly those who demand a good privacy policy since their service is covered under California law.
Visit Avast! Secureline VPN Now
Pricing & Plans
Avast Secureline offers three subscription plans from 1 year to 3 years. This includes usage to up to 10 devices and compatibility with multiple platforms like Windows, Mac, Android and iOS. You can also install this VPN as a browser extension for Chrome and Firefox.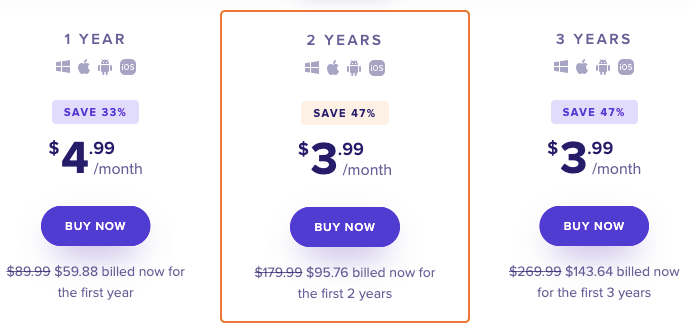 Subscribers can pay for their Avast Secureline account through PayPal or Credit Cards. Unfortunately, there is no option for Bitcoin or other cryptocurrencies.
Free Trial/ Money-back Guarantee
You're free to cancel this order for a refund within 30 days of purchase. Avast Secureline also has a 7-day free trial with no credit card information needed.
Privacy & Anonymity
According to their privacy policy: "When you use the Avast Secureline virtual private network (VPN) service, the server may capture certain basic data such as the time and network location from which the VPN connection was made and the duration of the VPN connection. This information is routinely deleted within 30 days. In addition, the system may store data on the bandwidth transferred per session."
Avast Secureline VPN Logging Policy
Avast Secureline VPN collects some connection logs, and it keeps it for 30 days including the amount of data transmitted during each session. In addition to that, their privacy policy mentions that third parties may have access to their stored data under certain circumstances. Their documentation is not clear-cut, which is something we don't like in general. If you're looking for a VPN that doesn't store information, this is not it.
Torrent Policy
Avast Secureline VPN allows torrenting on some of its servers. Users will be able to see which servers support P2P file sharing since they are clearly marked on the server selection screen.
Customer Support
Avast offers a range of different support options, including phone support around the clock. The company is well-known as an antivirus provider, so they do have good infrastructure for support.
Product Testing
Avast Secureline really doesn't have much in the way of a client compared to other providers. The upside to that is, if you know someone who doesn't really understand what a VPN is or how it works, you can get them this one and using it will only be as difficult as clicking a button. This is one of Avast Secureline's best features – that it is easy to install and quick to set up on multiple devices and has a user-friendly interface.
Avast Secureline VPN Desktop App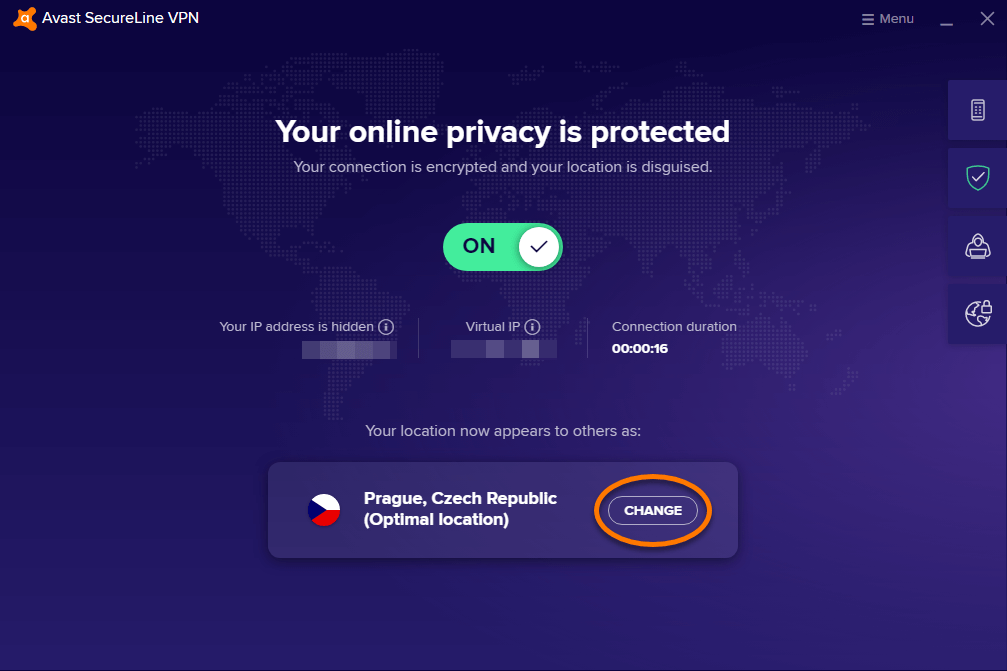 Avast Secureline VPN Mobile App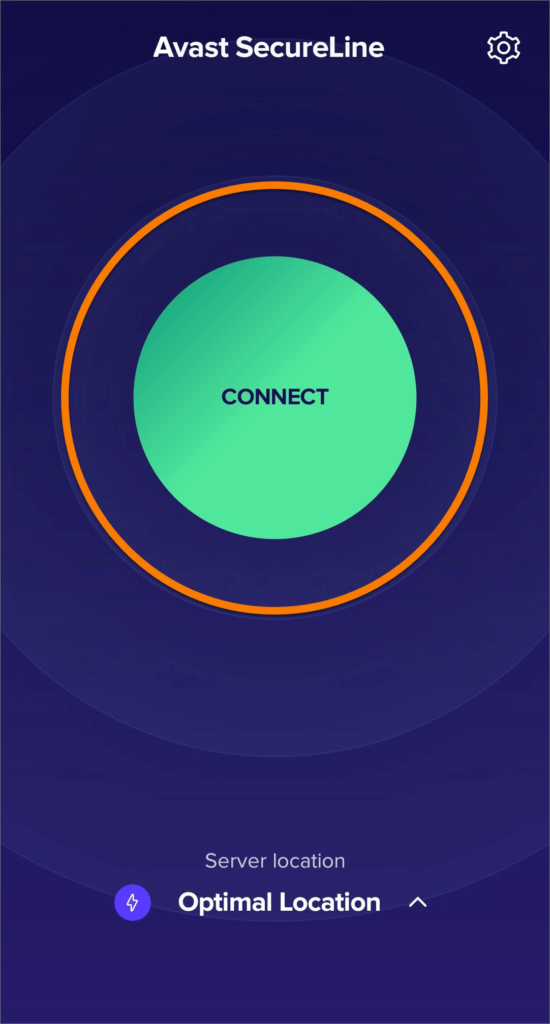 If you're an advanced user, or even an intermediate user, this client isn't going to do much for you. The ease of use has its advantages, but the lack of feedback really reduces the experience to a leap of faith, which is exactly what VPN users are usually trying to avoid.
VPN Server Locations
Avast Secureline VPN has more than 700 servers in over 30 countries.
Countries Supported:

Australia

Austria

Belgium

Brazil

Canada

China

Czech Republic

Denmark

Finland

France

Germany

Hungary

Israel

Italy

Japan

Luxembourg

Malaysia

Mexico

Netherlands

New Zealand

Norway

Poland

Portugal

Russian Federation

Singapore

South Africa

Korea

Spain

Sweden

Switzerland

Taiwan

Turkey

United Kingdom

United States
Speed Test
Avast Secureline did test very well in terms of speed. The speed reduction was barely noticeable.
IPCheck and DNSLeak Test
Avast Secureline VPN protects your privacy with 256-bit advanced encryption standard (AES) and DNS leak protection, so your internet service providers never see your online activity or your IP address.
Based on our testing, the IP address checked out. However, while they have DNS leak protection, our DNS did leak so manually configuring your DNS server might be advisable with this product.
Feature Summary
OpenVPN & OpenSSL
Easy to Use VPN Client
256-bit AES Encryption
Single Shared IP address
Secure any Wi-Fi or Network
Servers supporting P2P
700 servers in 34 countries
Visit Avast! Secureline VPN Now
Additional Bonus Features
Avast Secureline VPN has a new feature that allows users to access Android TV. Stream content directly on your Android smart TV, Nvidia Shield TV, or Mi Box, privately and securely.
We Liked
The client connected quickly and reliably. Some disconnect issues have been reported by users of this service, but we didn't experience any.
Areas for Improvement
While we find it convenient that Avast Secureline VPN is an easy to install and use application, others may find it way too simple. There's just not enough control here. If there were more control, there still wouldn't be enough of a server network to make Avast Secureline competitive with other options.
The privacy policy is also far less than ideal, particularly considering that third parties are mentioned by the provider throughout their privacy policy documentation, which is confusing, to say the least.
Conclusion
Avast Secureline is a decent VPN provider but it may not be considered as one of the best around. It is a little basic for our taste for the price it costs. It doesn't offer much in the way of flexibility and it certainly doesn't offer a very sophisticated client. Some VPN services are clearly designed for users who aren't really familiar with the technology and this is among them. That being said, as a basic VPN service it covers all the necessary features when it comes to security but it does not include a lot of advanced features.