Flashrouters doesn't offer VPN service, but they are partnered up with several VPN services and they allow you to get a DD-WRT router preconfigured to work with those VPN services. The routers can also be set up for other services, though this has to be done manually.
Normally, the process of configuring a router in this way is fairly complex for the majority of users. By purchasing these routers preconfigured, users can get all of the advantages of DD-WRT without having to worry about ruining their device during the setup process. The company has been in business since 2011 and ships worldwide. The service works with some of our favorite VPN providers, including VyprVPN, ExpressVPN and IPvanish.
Pricing & Plans
The pricing of the service depends upon the type of router that you purchase. Prices range from around $160 to as much as $450 for the most advanced routers on the market. There are many options in between those price levels. The full list of prices follows:
ExpressVPN Netgear R6400 FlashRouter – $174.99
ExpressVPN Asus AC56U FlashRouter – $159.99
Asus AC56U DD-WRT FlashRouter – $159.99
ExpressVPN Netgear R6700 FlashRouter – $169.99
ExpressVPN Linksys WRT1900ACS FlashRouter – $249.99
Linksys WRT1900ACS DD-WRT FlashRouter – $249.99
ExpressVPN Netgear R7000P FlashRouter – $209.99
ExpressVPN Netgear R7000 FlashRouter – $249.99
Netgear R7000 DD-WRT FlashRouter – $249.99
Netgear R6400 DD-WRT FlashRouter – $199.99
ExpressVPN Linksys WRT3200ACM FlashRouter – $299.99
Linksys WRT3200ACM DD-WRT FlashRouter – $299.99
Asus AC5300 DD-WRT FlashRouter – $399.99
All routers include installed FlashRouters privacy app, upgraded custom firmware and worldwide compatibility. FlashRouters include:
On-demand Installation of enhanced firmware and our exclusive FlashRouters VPN Privacy App.
Custom setup guide.
Power cord and an ethernet cable.
Individual VPN Account Setup/Pre-configuration (On Request)
1 year open source hardware warranty.
30-day satisfaction guarantee.
Initial basic setup assistance via email. For any advanced setups/configurations, live chat or remote assistance, a service plan purchase is required.
Free Trial/ Money-back Guarantee
FlashRouters has a 30-day satisfaction guarantee.
Special Offers
As of writing, FlashRouters is on their 10th anniversary, and they are offering an anniversary promo on their website. They also have a Spring Savings discount on their Router service plans.
Setup/ How to Use
Flashrouters come preconfigured for several different VPN services, depending upon user preferences. They utilize DD-WRT and Tomato Firmware.
Protocol Support
Flashrouters support OpenVPN, L2TP and PPTP.
Privacy & Anonymity
Flashrouters is not a VPN service in and of itself. Your privacy policy depends upon your VPN provider.
Customer Support
FlashRouter also offers Router Service plans from which you can choose what level of ongoing expert service or technical support suits your needs. They do not provide any phone support with their service plans.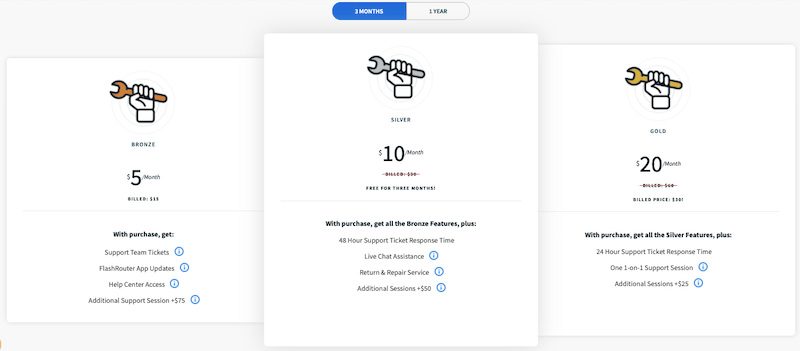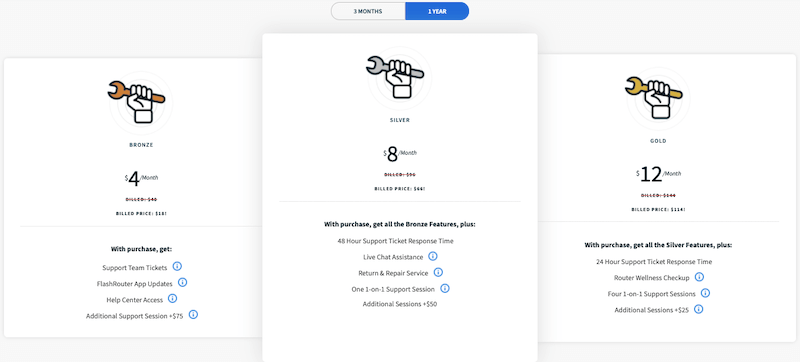 FlashRouter Products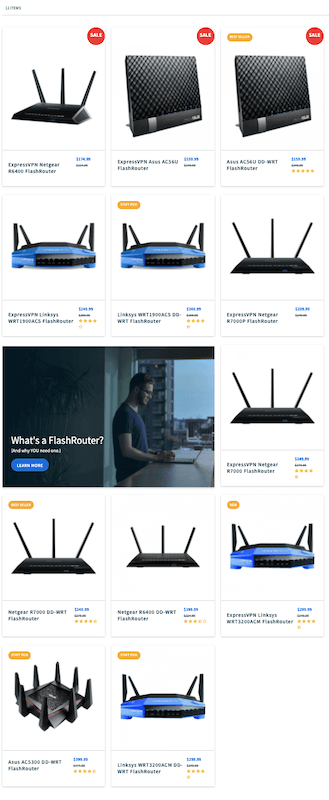 Feature Summary
Full wireless network encryption with one VPN connection
Ships flashed with custom VPN setup guide
Exclusive 1-year open-source warranty
Includes FlashRouters App updates and service
Conclusion
FlashRouters is not a VPN service, but it can greatly enhance the security that many users do get out of their VPN services. By utilizing a router with DD-WRT technology, users can enjoy better privacy and, depending upon the router they purchase, they can get that privacy in some of the most advanced packages available.