NOTE: ibVPN is no longer active and has now merged with StrongVPN. The review below is kept for historical purposes and for the benefit of online communities. You may also check out our review on StrongVPN. 
IbVPN is headquartered in Romania. The provider offers an array of different packages at very competitive prices. They allow torrenting on specific servers within their network and have an excellent privacy policy.
Pricing and Plans


IbVPN has several different options for service.
Ultimate VPN, 94 servers, 39 nations, comes with SmartDNS: $10.96 per month
Total VPN, 75 servers, 39 nations: $7.95 per month
SmartDNS only: $4.95 per month
Torrent VPN, 10 servers, 7 nations: $4.95 per month
USA and Canada VPN: $4.95 per month
UK and Ireland VPN: $4.95 per month
EU VPN: $4.95 per month
Family VPN, 3 connections, with smart DNS: $13.96 per month
Small Business VPN, 5 connections: $19.59 per month
Small Business VPN with Smart DNS, 10 connections: $34.96 per month
Small Business VPN with smart DNS, 20 connections: $69.96 per month
Discounts are available with longer terms of service. IbVPN accepts a variety of different payment methods, including Bitcoin and LiteCoin.
Free Trial / Money Back Guarantee
IbVPN offers a six-hour free trial account. It's not limited in any way, so it provides a good method of assessing the service. They have a fifteen-day money back guarantee.
Privacy & Anonymity
IbVPN doesn't keep logs. They do retain some data for a period of seven days, however. From their website:
"We do not spy on our users and we don't monitor their Internet usage. We do not keep logs with our users' activity. We will however record and keep the following data for 7 days:
Time, date and location VPN connection was made.
Duration of the VPN connection.
Bandwidth used during the connection"
The data is kept to enforce their TOS and to detect abuse.
Torrent Policy
Torrenting is allowed on specific servers, located in Canada, Luxembourg and the Netherlands. IbVPN has a specific package for users who want the service for P2P. The expanded packages include access to the torrent-friendly servers.
Customer Support
IbVPN offers a live chat feature at their website that you can use for tech support. They also have a remote desktop option. Support is available around the clock.
Product Testing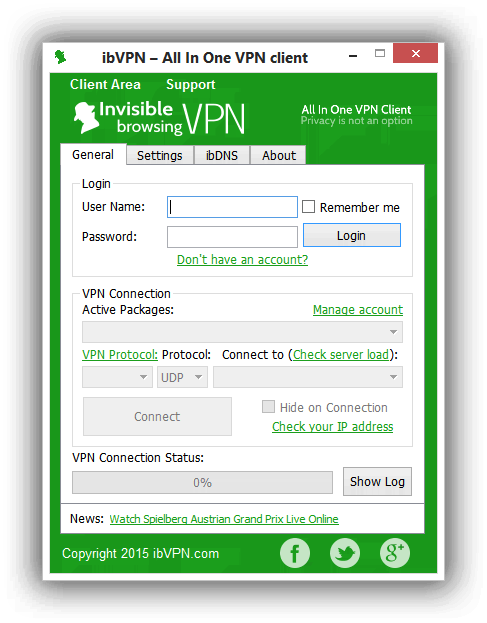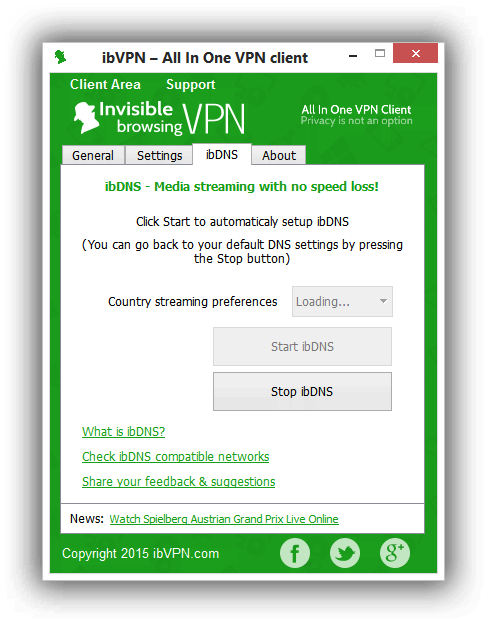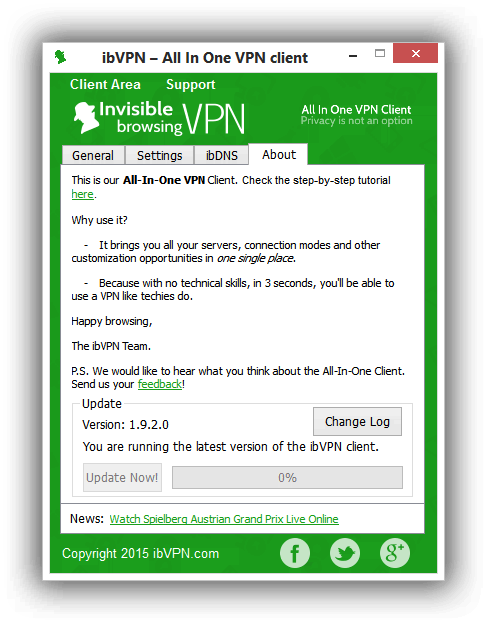 IbVPN has an All-in-One client with an easy to use design. As the name implies, you can control both your VPN and IbDNS from the one client, which makes it rather convenient.
Support and account information are also accessible from the client.
Windows, Mac OSX, Android, IPhone, etc.
IbVPN offers clients for Windows, Mac, Android and iOS. Their site has documentation that gives the manual setup process for each of these devices, as well.
Speed Test

Baseline Speedtest

IbVPN Speedtest 1

IbVPN Speedtest 2
IbVPN had acceptable speed in our test. It dropped us roughly 10Mbps from our baseline of 27Mbps. Upload speed was only diminished slightly.
IPCheck and DNSLeak
IbVPN did change our IP, but DNS leaked on a Windows 8.1 computer configured to obtain the DNS server address automatically.
Feature Summary
OpenVPN, L2TP/IPSec, PPTP, SSTP
Smart DNS
Business packages
Accepts Bitcoin
Good privacy policy
P2P servers
Countries Supported

Argentina

Australia

Austria

Belgium

Brazil

Bulgaria

Canada

Chile

Czech Republic

Egypt

Finland

France

Germany

Hong Kong

Hungary

Iceland

India

Ireland

Israel

Italy

Japan

Lithuania

Luxembourg

Netherlands

New Zealand

Norway

Panama

Poland

Portugal

Romania

Russian Federation

Saudi Arabia

Singapore

Spain

Sweden

Switzerland

Turkey

United Kingdom

United States
We Liked
Excellent range of options
Good prices
Well-designed client
Acceptable speed
Areas for Improvement
This service has good speed, but it could have been better. The test was done through two servers with roughly the same results.
Conclusion
IbVPN has a good service. Because they're based in Romania, they're not subject to the same data retention laws that other EU nations have in effect. Their torrent and privacy policies are good, as well, andIbVPNprovides plenty of options for people who want to use P2P over their services. They're not quite an industry leader yet, but they're not slouches, either.