Lamnia gets generally mixed reviews as a VPN service. Based in the United Kingdom, the service offers 128 bit-encryption and servers located in nations that allow you to watch most of the popular streaming television sites.
Speed Test
A speed test for Lamnia VPN will be conducted shortly.
Pricing Plans
Lamnia VPN only has two different packages available. They both feature instant activation. The packages are: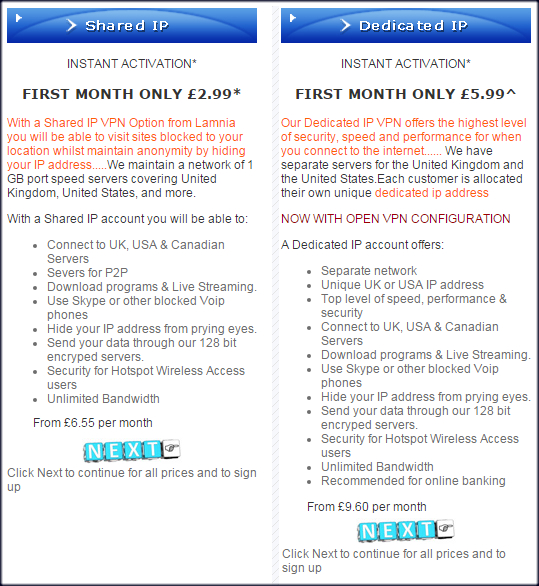 Payment Methods
Lamnia take several different types of payment. You may use:
• Direct Debt
• American Express
• Visa
• MasterCard
• PayPal
Free Trial / Money Back Guarantee
If you're not happy with the Lamnia VPN service, you will receive a full discount if you cancel your purchase within two days.
Coupons / Discount / Special Offers
Signing up for the shared IP package comes with a discounted first month, at £2.99 per month. Please note that the cost of monthly service increases to £7.75 per month after this trial offer.
Countries Supported
Servers are located in the following nations:

Canada

Czech Republic

Germany

Israel

Luxembourg

Netherlands

Slovakia

Sweden

United Kingdom

United States
VPN Protocols Supported
Lamnia supports PPTP and L2TP/IPsec.
Number of IP Addresses
The total number of IP addresses available through the Lamnia VPN service is not listed on their site. However, users with dedicated IP service get an IP address assigned to them while users of the less expensive shared IP VPN service get a random IP assigned to them by the server.
VPN Clients Information
You can connect to the Lamnia VPN service directly from the welcome e-mail that will be sent to you after you sign up. There are also extensive instructions given on the website to help you set up your connection manually for the Windows and Macintosh OS X operating systems. The dialer client can also be downloaded from the company's website.
Common Error Messages
Users have reported errors related to password changes.
Logging and Privacy Policy
There is no logging of user activity save for a five-day log that is kept for technical support purposes. Permanent logs are not kept.
Legal Use / Torrent Policy
Lamnia lists no restrictions on how their service may be used. All accounts come with unlimited bandwidth.
Lamnia vs. The Competition
Lamnia gets mixed reviews from most of the people who have used the service. It offers unlimited bandwidth, which is an advantage compared to some other services but does not offer OpenVPN connectivity, which is currently the most secure and fastest form of VPN access.
Lamnia Conclusion
Lamnia has all of the basics that most VPN services have and the unlimited bandwidth is a nice touch. The number of nations available from which you can connect is fairly limited, however, and the service has gotten some negative reviews around the Internet. It principally advertises that it is to be used for watching television and, with 128 bit encryption, its privacy potential is somewhat lacking compared to what other companies offer.