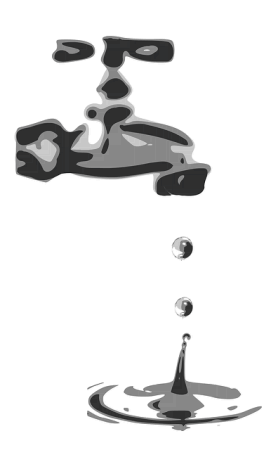 VPNs can go a long way toward protecting your privacy, but configuring them, even with a client, can be complex. Do it wrong and you might end up leaking your IP address when you're torrenting. Depending upon what you're torrenting, that could be a bad thing.
Because of this, we figured it'd be worth our reader's time to put out some information on how you can check your connection to make sure it's as secure and private as possible. While these tests won't detect every possible leak, you can at least be assured that, where the most common types of leaks are concerned, you'll know for sure whether or not you're experiencing any of them.
First, Know Your Provider's Policies and Tech
We always include the logging/privacy policy of any provider we review. Make sure you read this and verify that it suits your needs when you're considering whether or not to go with a provider. If you want the maximum possible privacy protection, look for:
No-logging policies
Jurisdictions outside your own, i.e. where the business behind the VPN service is located
Shared IP addresses
Strong encryption
Protocols other than PPTP
Warrant canaries
Basic IP Check
Most VPN clients will let you know what your IP address is when you connect to your service. You'll usually see it change from your real IP to the IP address of the server you connect to once you're hooked up. It's not a bad idea to verify your IP manually, just in case.
The easiest way to do it is to search Google for "My IP." You'll get your current IP address at the top of the page. If it doesn't match what you're VPN client says, you have a problem and shouldn't torrent until you fix it.
DNS Leak Test
We use DNS Leak Test's service to test VPN providers for DNS leaks. DNS leaks mean that your DNS server addresses could be visible, even if your IP address appears to be hidden.
You'll want to test any VPN service you install with this test, just as a basic security measure. Be aware that a lot of people report issues with DNS leaks on the free OpenVPN client, at least on Windows. If you're using that client, be sure to run this test. It only takes a couple of seconds to run the basic test.
You can see our results below. Kudos to IPVanish for this one; we didn't have any leaks using their client over OpenVPN with a completely vanilla, unaltered configuration.
If you do show a DNS leak, you can fix it by setting your DNS server addresses manually, either to servers your VPN service offers or Google's DNS servers, whichever you prefer.

Do I Leak?
If you want a comprehensive test that's designed specifically to check your safety while torrenting, go over to Do I Leak to run one. The test checks quite a few different security holes.
Some browsers support WebRTC, which can leak your IP address without you knowing. You can get a fix for Chrome right here. You can see the WebRTC flagged as a potential leak in our test results, pictured below. In this case, it was leaking our VPN IP, which isn't a problem, obviously. Before installing the extension linked above, however, our real IP did leak over WebRTC, so definitely check yours and see if there's an easy fix for your browser.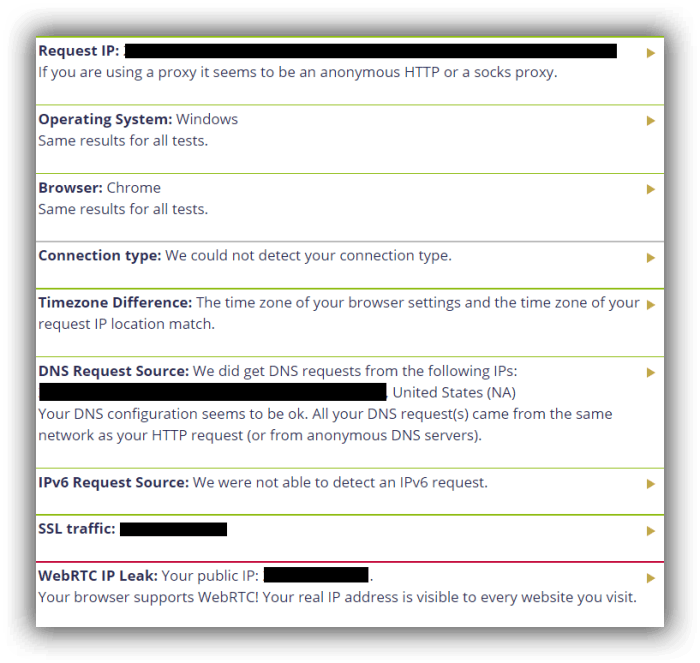 Be Smart
Remember that no privacy protection service is perfect. If you're doing something genuinely shady online, you shouldn't be using commercial VPN services, in any regard, since the companies aren't set up to accommodate criminals and they generally will comply with lawful requests from law enforcement agencies.