LiquidVPN is a US-based company. They offer a comparable range of products to other VPN providers with one important difference. They offer something called "modulating IP," which is a means of changing your IP very rapidly, sometimes several times within the time it takes to load a single page. LiquidVPN also has a good privacy policy and competitive prices.
Pricing and Plans
LiquidVPN divides up its packages based on how many devices you're allowed to connect simultaneously. There's also a static IP option. The pricing is as follows:
"Sidekick" plan, two devices for $6 per month
"Road Warrior" plan, four devices for $10 per month
Ultimate plan, eight devices for $18 per month
Static IP for two devices, $25 per month
You can pay using PayPal, credit cards, cryptocurrencies, cash or Bitcoin.
Free Trial / Money Back Guarantee
You get a free seven-day trial when you sign up for LiquidVPN, but you do have to buy a subscription from the start. There's no free trial without paying the initial fee, but you can get the fee refunded.
Privacy & Anonymity
LiquidVPN has a no-logging policy, a real advantage. They also have a warrant canary on their site, which is accessible right from their client, see below. They do say that they'll forward DMCA complaints, however.
Torrent Policy
LiquidVPN does allow you to torrent on their networks. Use their non-US servers for the best security.
Customer Support
LiquidVPN has a ticketing system for support available through the user control panel.
Product Testing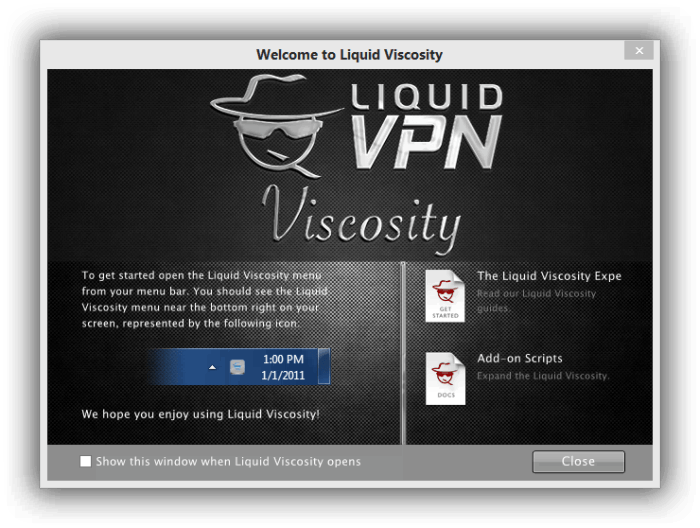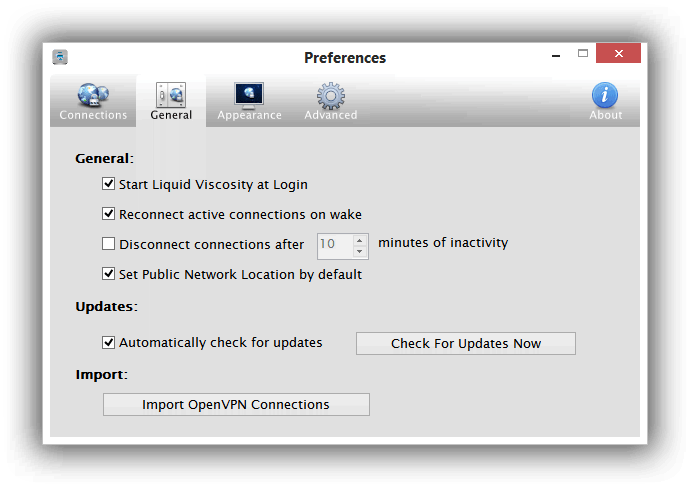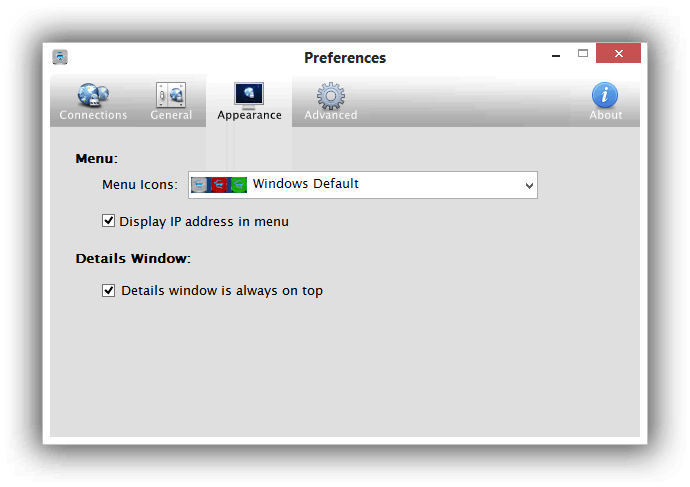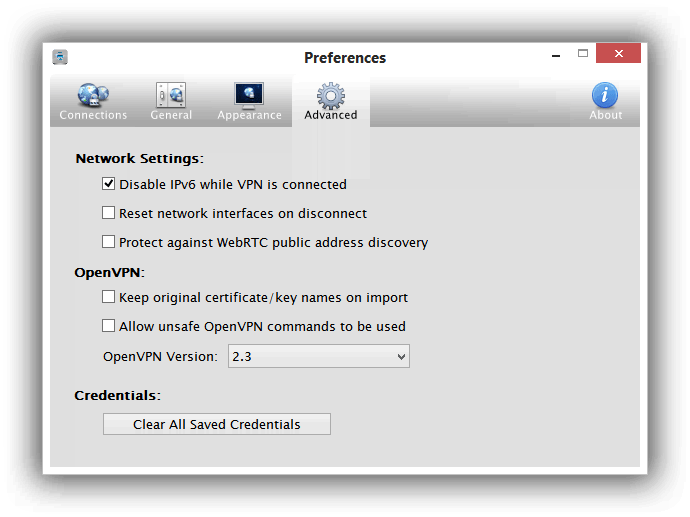 LiquidVPN uses the Viscosity client, but they've added some features to it that make it quite handy. It has a built-in leak test and speed test. You can even click an option on the menu and go right to the provider's warrant canary.
Other than that, it's Viscosity, so the client isn't much different than what a lot of other providers offer. That's not a bad thing. Viscosity is a good client and it's easy to use, so there's no real drawback here.
Windows, Mac OSX, Android, IPhone, etc.
LiquidVPN has the Viscosity client for Windows. Their site provides detailed setup instructions for Mac, Android, iOS, Linux and other systems.
Speed Test

LiquidVPN Baseline Speedtest

LiquidVPN Speedtest
The speed test for LiquidVPN was very impressive. With the VPN hooked up, our connection barely slowed, as you can see from the screenshots below. The connection was tested on a 50Mbps/5Mbps connection.
IPCheck and DNSLeak
LiquidVPN did very well in this regard, effectively hiding our IP and our DNS servers. There were no issues to report.
Feature Summary
The most notable feature from LiquidVPN is the modulating IP, which changes your IP constantly while you're online. It's unique to this provider and something worth exploring.
Other good features include:
L2TP, OpenVPN, SSTP
Static IP available
Multiple simultaneous connections
Modulating IP feature
No logging
Countries Supported

Canada

Netherlands

Romania

Singapore

Switzerland

United Kingdom

United States
We Liked
Great logging policy
Torrents allowed
Modulating IP feature
Excellent speed
Bitcoin accepted
Areas for Improvement
Cancelling your account to take advantage of the seven-day trial is a bit blocky.
Conclusion
LiquidVPN has some very nice features for privacy buffs. It is a US-based company, which isn't ideal but, beyond that, they really do go out of their way to protect user privacy. They have strong encryption, their own IP changing technology, they don't log and they take Bitcoin, so they're definitely working hard to provide good anonymity protection. On top of that, they not only have a warrant canary, but make it easy for you to get to it, which demonstrates a commitment to transparency on their part.