VPN service provider OverPlay offers a high quality VPN service at a decent price. In addition to their VPN offering OverPlay also offers an optimized SmartDNS service for when you don't require encryption. They offer all the major VPN protocols, a very simple client and console, mobile and router compatibility.
OverPlay Pricing & Plans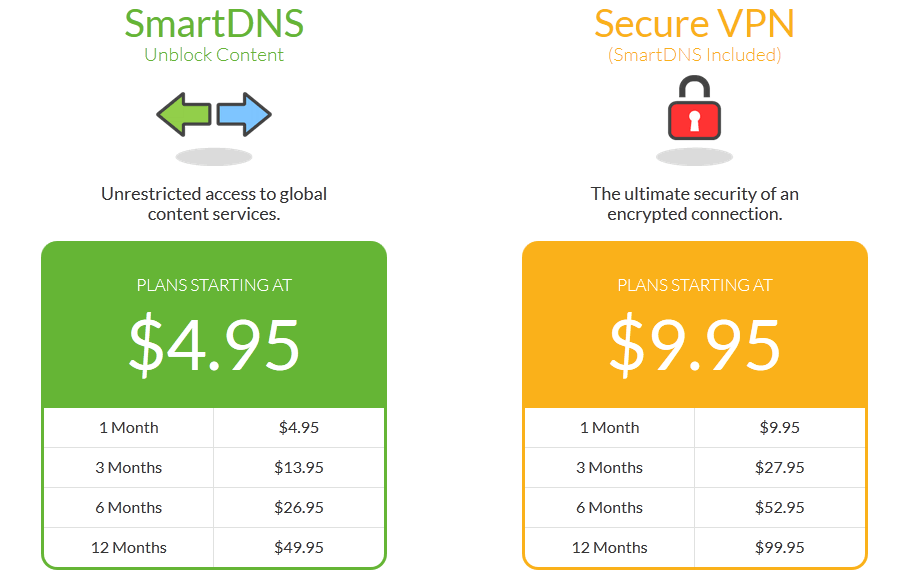 OverPlay offers discounts for longer sign up periods. Their plans include:
* Monthly: $9.95
* Three Months: $27.95
* Six Months: $52.95
* Twelve Months: $99.95
* Smart DNS: $4.95 per month The SmartDNS service doesn't provide encryption or increased privacy, but speed will typically be faster than it will over a VPN.
Free Trial / Money Back Guarantee
This company doesn't offer a money-back guarantee with their service, though you can go the monthly route without a recurring payment to try it out.
Privacy & Anonymity
OverPlay does not keep personally identifying logs, but they do keep connection times and data download totals. These are deleted regularly.
Torrent Policy
There are no torrent restrictions on this service.
Customer Support Customer
support is available via email. Also Overplay has very detailed help and support pages for every platform.
Product Testing
OverPlay has a very streamlined, even simple, client for Windows. After logging in, you can automatically connect or choose a server using their advanced option.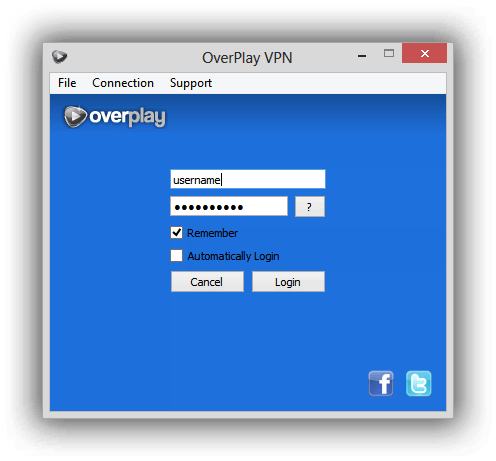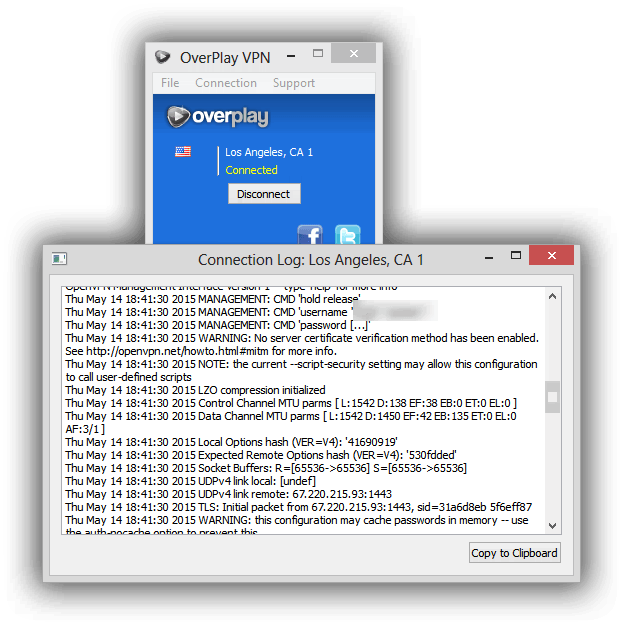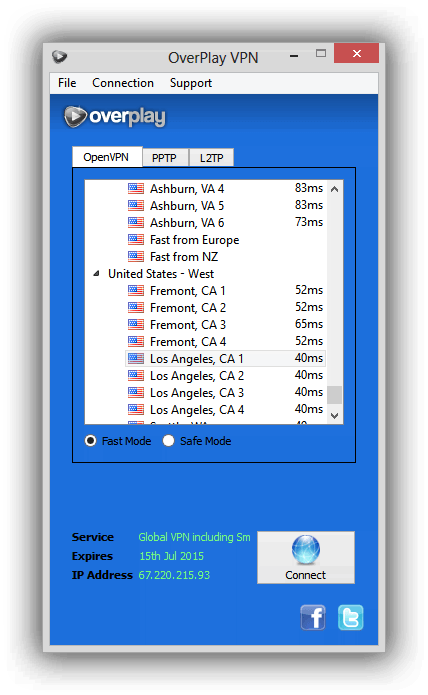 Once you're connected, there's little to distract you from browsing.
OverPlay Setup / How to Use OverPlay
While OverPlay can be set up manually, users also have the option of downloading a client that will handle the installation for them. The company recommends that users take advantage of this, as the software will automatically punch the appropriate holes in the firewall and make it much easier to work with the service. There are
downloads available for Windows 2000 through Windows 7 and Mac OS systems. There are instructions provided for running the service on iOS and Android, DD-WRT routers, XBOX360 and many other devices on their site, as well. This provider has very easy to use software for DD-WRT routers, if you want to go with that option. For SmartDNS, there are separate instructions which are very easy to follow. You can get this service going in no time, no client required.
Speed Test
Above you can see a baseline test over a 50Mbps upload/5Mbps download connection from Albuquerque, NM to Washington DC. Below, you'll see the results of a test from OverPlay's LA servers—the closest to ours—and the same Washington DC server. Over the VPN server, there was a 17.37 Mbps reduction in download speed and an 1 Mbps reduction in upload speed. That still offers very high speeds; certainly enough for a steady video stream. The 43ms increase in ping might be noticeable for gamers, but it's likely that no one else would experience any difficulties.
IPCheck and DNSLeak Test
Our IP check matched up with what OverPlay's client showed. DNS, however, did leak, so it's probably best for users on this service to manually configure their DNS server to use Google public DNS.  Note: If you use the included smartDNS addresses however your DNS will not leak – The DNSLeak only appears in conjunction with the Windows VPN software.
Feature Summary
48 servers worldwide
Dedicated gaming servers
SmartDNS for when no encryption is needed
No logging beyond connection time and download
Support for routers and Smart TVs
Unlimited bandwidth
Software for VPN Routers
Torrents allowed
OverPlay Server Locations

Argentina

Australia

Austria

Bahamas

Belarus

Belgium

Brazil

Bulgaria

Canada

Czech Republic

Denmark

Egypt

Estonia

Finland

France

Germany

Greece

Hong Kong

Hungary

Iceland

India

Ireland

Italy

Japan

Latvia

Lithuania

Luxembourg

Mexico

Netherlands

New Zealand

Norway

Poland

Portugal

Romania

Russian Federation

Singapore

South Africa

Korea

Spain

Sweden

Switzerland

Taiwan

Turkey

Ukraine

United Kingdom

United States

Venezuela
We Liked
Very easy-to-use client
SmartDNS and JetSwitch BGP DNS
Affordable service
Gaming console compatibility
Areas for Improvement
They could start offering a money-back guarantee
No Mobile Apps
Client might not offer enough feedback for some users
Conclusion
OverPlay is a good service if you want something affordable and easy to use. If you're primarily interested in getting around geo-restrictions on content, their SmartDNS is a particularly suitable option. OverPlay also
has great software for their DD-WRT router service. Their tutorials are excellent and even novice users should have little or no trouble getting the service up and running, no matter how they decide to use it, router or otherwise.