One of the most established names in the industry, StrongVPN has been around since 1995.
This company is headquartered in the United States. They have a good reputation where user support is concerned.
StrongVPN has 500+ VPN servers and more than 8500+ IP addresses.
Pricing and Plans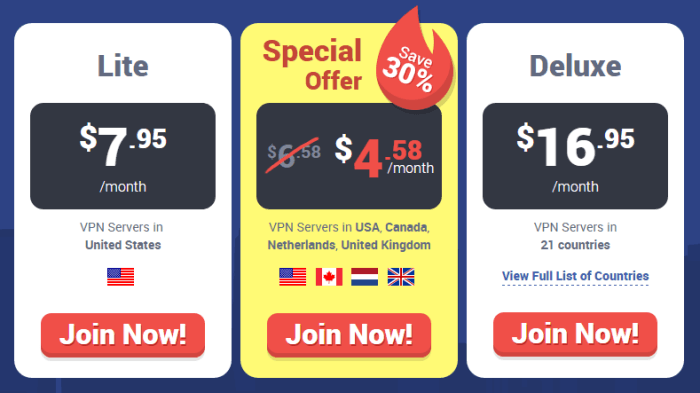 StrongVPN offers three different packages. Each of them come with PPTP and OpenVPN access and unlimited bandwidth and speed.
Lite: US servers $6.25 per month
Special: US, CA, FR and UK servers for $6.58 per month
Deluxe: Full network access for $12.95 per month
StrongVPN charges you a credit each time you switch servers. There's a warning screen on the client that reminds youof this when you make a switch. Keep this in mind if you want a service that lets you hop from nation to nation.
Free Trial/Money Back Guarantee
StrongVPN offers a seven-day money back guarantee on their service.
Privacy and Anonymity
StrongVPN does not log. From their site:
"During our normal course of duties, we do not monitor, record or store logs for any single customers VPN activity. We do not store web traffic data, including websites visited, files downloaded, etc.
We will however record the following data:
1. time, date and location vpn connection was made
2. duration of the vpn connection
3. bandwidth used during the connection
This information is regularly cycled within our servers. This information enables StrongVPN to enforce our Terms of Service, spam, crimes using the service, etc. If there is a violation we will use these trace logs to determine which account is in violation. After lengthy analysis of this data, we will terminate the service and/or take further action."
Torrent Policy
StrongVPN does allow torrents, but they will send you warnings and eventually cancel your account if you get DMCA notices.
Customer Support
StrongVPN has extensive information on its website. There's a support form available, as well, and customer support is available around the clock.
Product Testing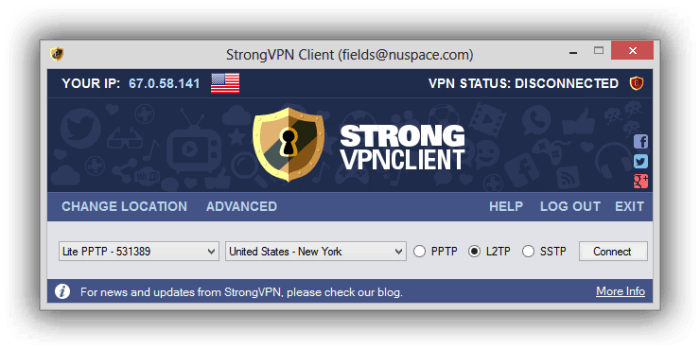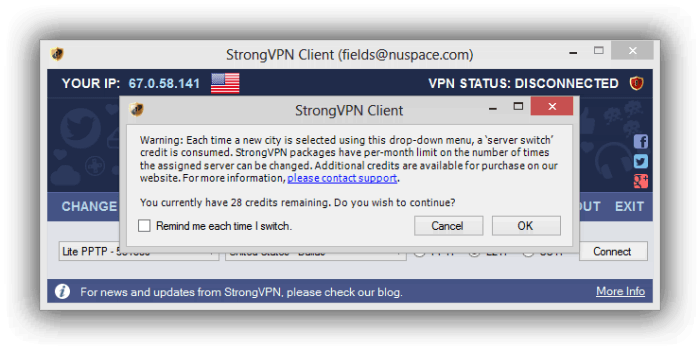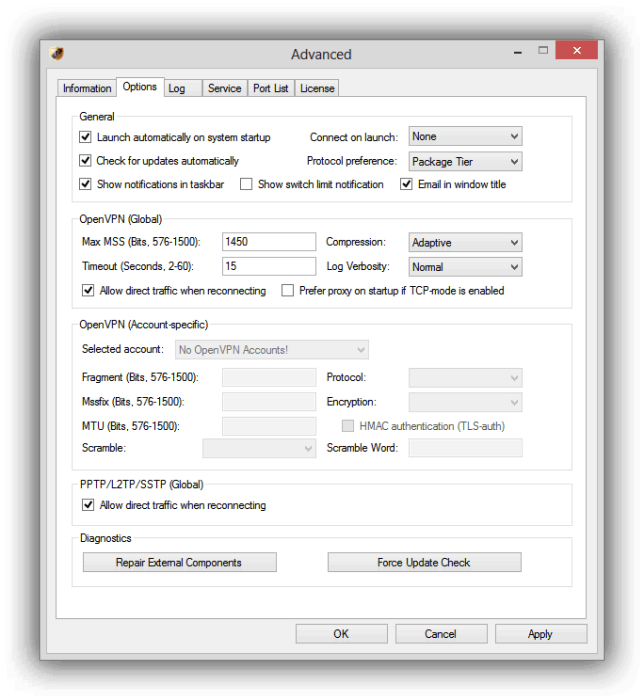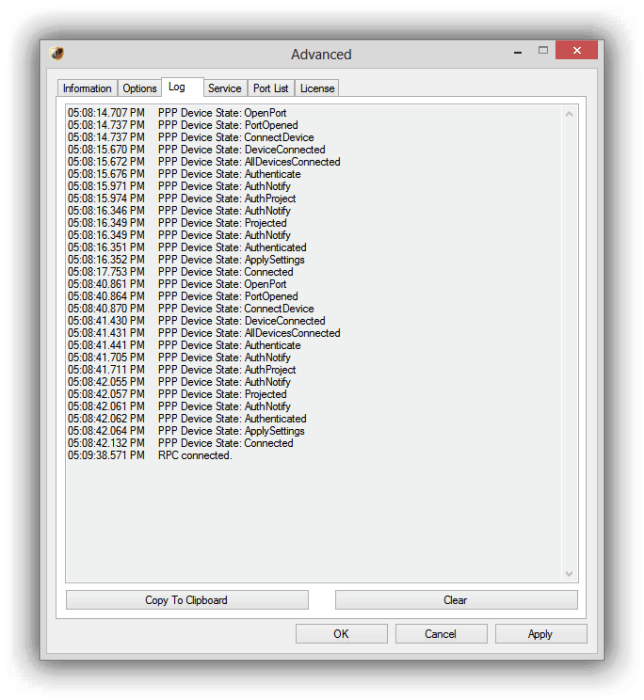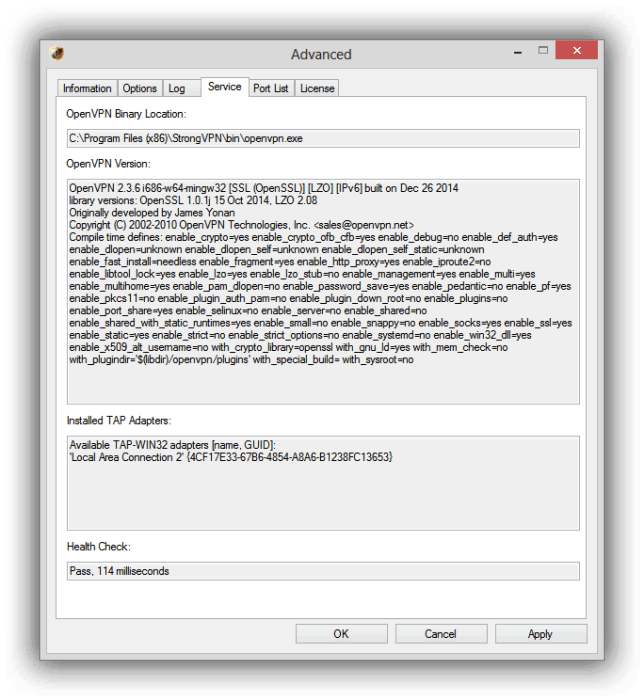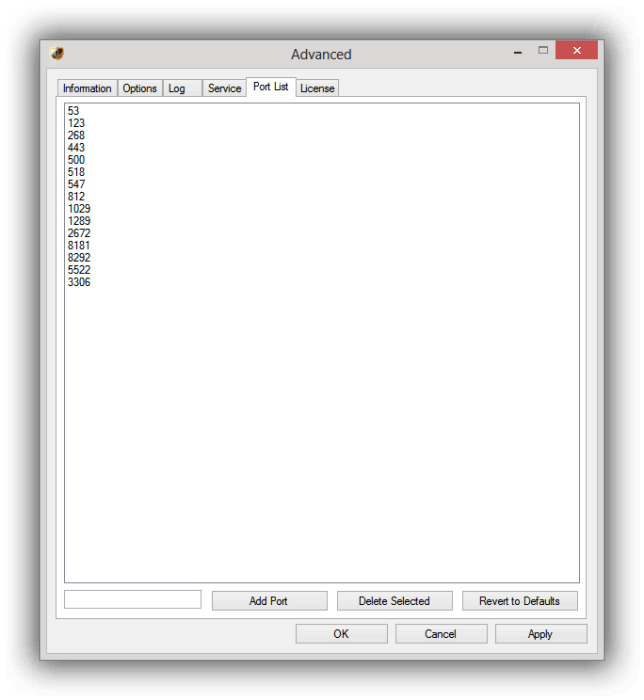 You can hook up to StrongVPN by creating a VPN connection in your network settings or by using their client.
Their client is easy to install and there's really no technical knowledge required to use it. When you switch servers, you'll be notified that you're using up credits. The screen is shown in the screenshots below.
Speed Test
StrongVPN Baseline Speedtest

StrongVPN Speedtest
We hooked up to a speed testing server in Washington DC from Albuquerque over a 50Mbps/5Mbps connection. As you can see from the speed test, our download and upload rates were barely effected with the VPN on. The speeds were very impressive.

IP Check and DNSLeak
DNS did leak on StrongVPN, so it's probably best to configure it manually. Our IP address was effectively changed, however.
Feature Summary
477 servers in 22 nations
Applications for Windows, Mac, iOS and Android
Unlimited speed and transfers
24-hour support
Countries Supported

Canada

Czech Republic

Germany

Hong Kong

Israel

Italy

Japan

Latvia

Luxembourg

Malaysia

Mexico

Netherlands

Norway

Romania

Russian Federation

Singapore

Sweden

Switzerland

Turkey

United Kingdom

United States
What We Liked
StrongVPN is a very well-known brand, which gives it some credibility from the start. The worldwide network and number of long-term customers also make it a compelling choice for a VPN provider.

Areas for Improvement
The limitations on server switching make this company less competitive than it should be. Their prices aren't remarkably lower than other providers, and putting a cost on server switching drives those prices up unnecessarily.
Conclusion
StrongVPN has a long history, which indicates that they're good at what they do. Their service bears this out, and they're a solid choice in many regards.
They're probably not the best choice for P2P, but for privacy and security they're very good.