Private WiFi is a VPN service that promises it will activate every time you establish a connection to the internet and will secure you by routing all of your internet traffic through an OpenVPN connection.
Private Wifi is a small company that is fairly new  to the VPN world but seems to offer a decent solution.
Private WiFi Speed Test
Minor slow downs can be expected with any VPN connection, it's how much of a loss that is experienced is where the real test comes in, and we found no significant losses in surfing speeds were experienced except in the cases of large downloads. But, this can be expected from other VPN services as well.
Private WiFi Pricing Plans/Coupons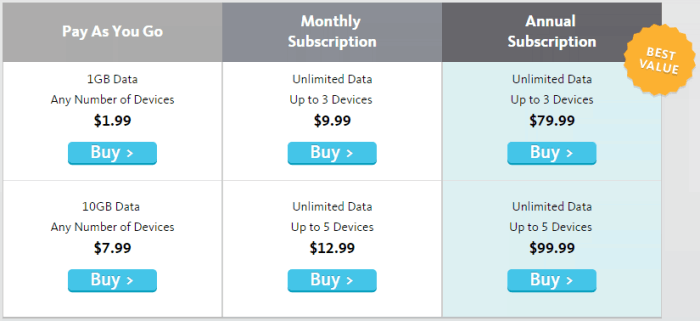 You can save on signup by using our coupon code which is simply "VPN".  Just enter VPN on the checkout page and you are good to go.
They do have a 10 day trial account for those on the fence and wanting to check out their service. All that is required to check them out is a good e-mail address.
For your money you will get unlimited access to the VPN, from any computer you use that has their software installed, but the rule is "Only one computer at a time."
You can pay for Private Wifi via credit card or PayPal.
There are business and corporate level programs available also if you are looking into securing a large network.
Private WiFi Setup / How To Use Private WiFi
From their "Try It" page we selected the 3 day trial and the 4 Mb download went smoothly. After a few minutes we had installed the VPN onto our Windows 7  test machine. According to their website they support all versions of Windows from XP on and Mac with OS X Leopard or Snow Leopard.
Private WiFi Client Details
Once started the client resides in your task bar waiting to be activated and once activated it will route all internet traffic through the Private WiFi server's secure connection to your computer. Wherever you are in the world, it will appear to others that you are in the location of the server you choose to connect to through their temporarily assigned IP address for you.
Private WiFi Server Locations
The single largest weakness of this service is the shortage of server locations. But the ones they do have are in excellent locations. They are in: California, Virginia, and Missouri, in the U.S. With additional servers in the Netherlands, and Singapore.
Open VPN (SSL) is the only protocol they presently support. 128 bit encryption is used for your connection on all of their servers.
Countries Supported

Australia

Belgium

Brazil

Canada

France

Georgia

Germany

Hong Kong

India

Japan

Mexico

Netherlands

Panama

Peru

Singapore

South Africa

Korea

Spain

Sweden

United Kingdom

United States
Private WiFi vs. The Competition
As a new service we expected them to be a little light on a few facts like the servers. A minor limitation of this service is the single protocol supported. While OpenVPN is indeed a good standard it is not the fastest out there for things liking watching netflix overseas.
Unlike many other companies though they do have a 24 hour live chat, and if anything goes wrong they will be more than happy to help.
We submitted a ticket to their support staff and was answered in short order with a satisfactory answer.
Private WiFi Errors
After downloading and installing the client we were informed that our computer's 3 day trial had expired. We knew this to be an error and contacted support through their e-mail. Issues were resolved within 3 hours.
Conclusion On Private WiFi
While they do have their limits and their pricing and available server locations are not as developed as a provider like HMA(HideMyAss)  nonetheless their  service seems decent and their support staff  knowledgeable. The issues we encountered were quickly resolved, and all our other questions were answered.
Our recommendation check out our list of Best VPN Services  where you might be able to find other providers with more server locations and / or protocols, etc but either way Private Wifi seems to be trying to put out a good product.