SaferVPN has been in business since 2013. The company is based in Israel. This service does not allow you to use torrents or other P2P downloaders. As a business service, it has its advantages, being sold based on the number of simultaneous connections allowed, which makes it convenient for those who need to use several different devices at once over a secure connection.
Recently, SaferVPN has combined forces with StrongVPN to bring you superior VPN service and features. Existing SaferVPN customers can still log in to their existing service. However, new users will be redirected to StrongVPN.
Since existing users can still log in to their accounts, review details below are kept as reference.
Pricing & Plans
SaferVPN offers a three-tier pricing system. Each tier allows a greater number of simultaneous connections. All of the following options come with unlimited bandwidth:
You can pay via PayPal, with credit cards and Bitcoin. This provider does offer payment options specific to certain regions, as well, so be sure to check what might be available in yours.
If you refer a friend to this service, both of you will get a free month of access. You can get up to one full year of free VPN through SaferVPN's referral program.
Free Trial/ Money-back Guarantee
You can try this service for twenty-four hours with no obligation whatsoever. If you don't like it, you have fifteen days to ask for a full refund.
Privacy & Anonymity
This provider only keeps logs of when you connected, how much bandwidth you used, your IP address and the VPN server you were using. They do not collect personally identifying data.
Provider Logging Policy
To summarize their privacy policy:
They are a zero-logging VPN service, meaning they do not track or store your data while connected to their VPN service.
The only personal information they collect from you is used for your account setup, such as an email address and payment information.
They do not sell your personal information to third parties.
They use cookies on their Site to provide basic functionality and understand Site activity in aggregate. You can disable cookies on their Site at any time.
Torrent Policy
This company does not allow torrenting over their service.
Customer Support
You can contact SaferVPN support via email or an online ticketing system. They also have a live chat option, which is usually the best way to go. There's a knowledge base and FAQ at the provider's site that you can use to search for answers on your own, if you prefer.
Product Testing
SaferVPN has a simple client that offers the most basic options and makes them readily accessible. The server selection is limited to selecting by region.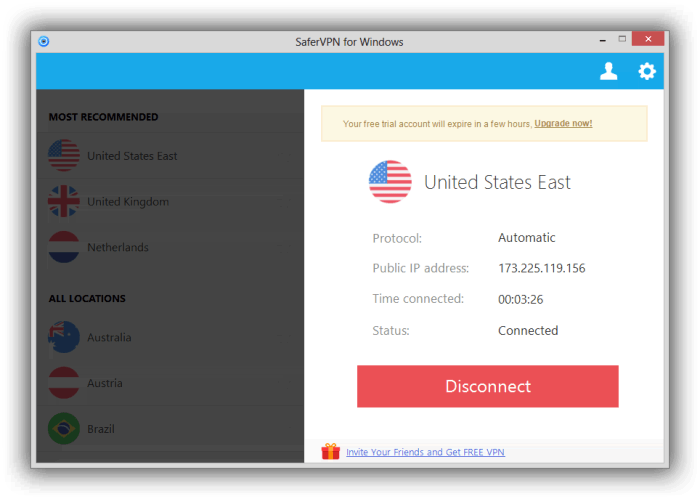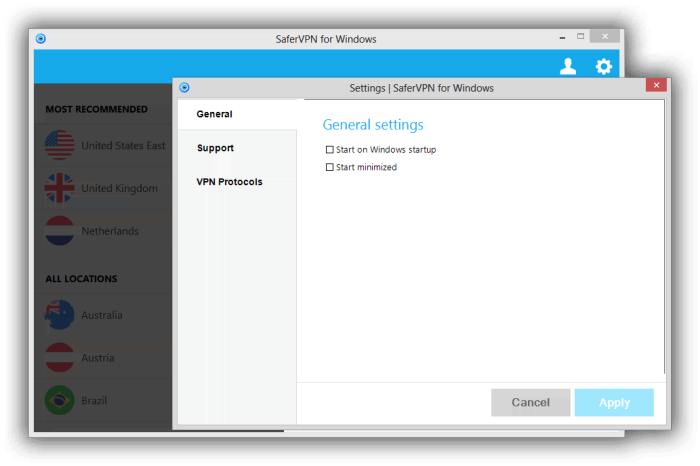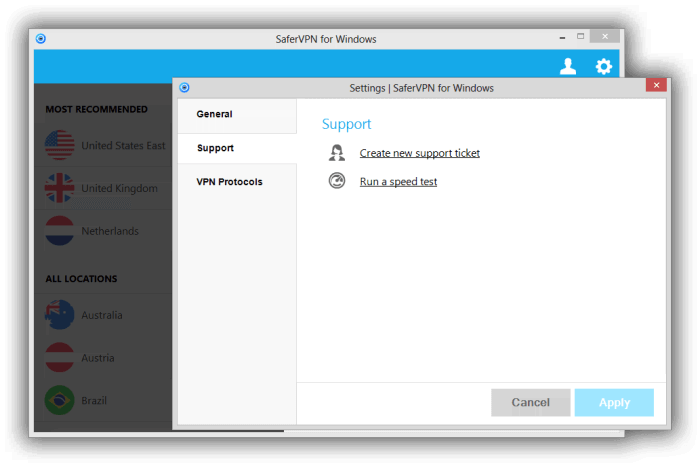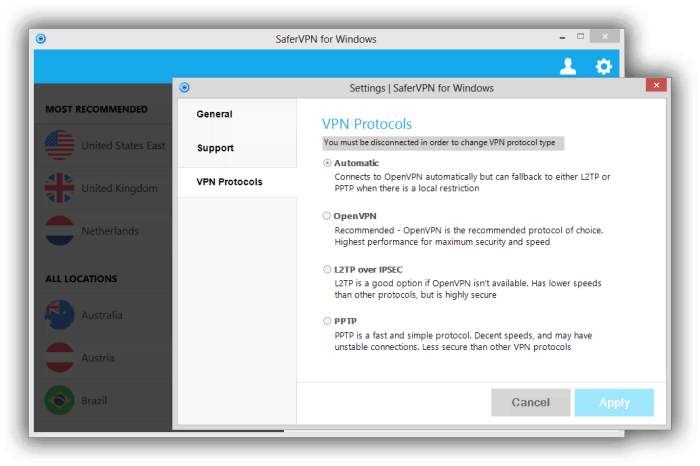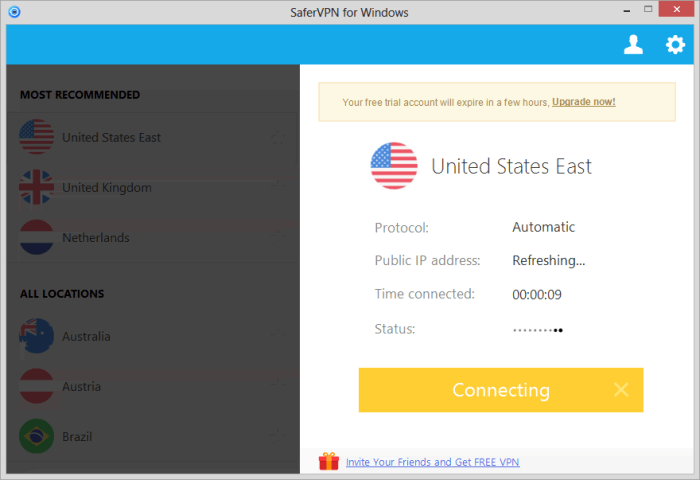 VPN Server Locations
SaferVPN has several servers across over 20 countries.
Countries Supported:

Australia

Austria

Brazil

Canada

Denmark

Finland

France

Germany

Hong Kong

India

Israel

Italy

Japan

Netherlands

Norway

Poland

Russian Federation

Spain

Sweden

Switzerland

United Kingdom

United States
Speed Test
Over a 50Mbps/5Mbps connection from Albuquerque to Washington DC, the speed reduction was not severe using the SaferVPN network. An approximately 3Mbps reduction in download speed, a 27ms increase in ping and a .26Mbps increase in upload speed constituted the extent of the slowdown.
IPCheck and DNSLeak Test
The IP address given by the client was accurate. With Windows set to obtain the DNS server address automatically, however, this client did leak the ISPs DNS server. Manually configuring your DNS server would be advisable.
Feature Summary
PPTP, LT2P/IPsec, OpenVPN
Windows, Mac OS, iOS, Android support
Live chat support
Excellent setup guides
We Liked
This company has a sense of responsibility. They offer their VPN service at no cost to people who are verified as human rights activists that reside in nations where Internet access is censored.
Areas for Improvement
The VPN client doesn't allow you to choose a specific server, which some users might find limiting.
Conclusion
SaferVPN is a good service, provided you don't want to use it for torrenting. The server selection is a bit blocky in that you can't specify which server you want to use, only the nation, but this shouldn't be a problem for anyone except users who are very exacting about their VPN usage. Overall, this client has a lot of nice features, broad operating system support and a great pricing structure that makes it easy to decide how much you need to pay for VPN service every month.