CactusVPN Now Takes CashU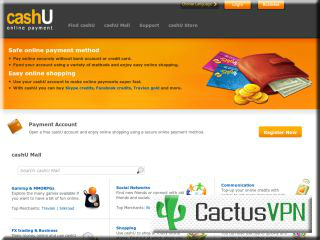 If you're a CactusVPN user, you can now pay with CashU. In a company release, CactusVPN said that they added the payment system due to security concerns that have become more prevalent among users in recent months and because, in some nations, it's simply not an option to use regular payment options.
Save on signup with CactusVPN here
CashU
CashU can be used in any nation where the service is available. This new offering from CactusVPN will affect those located in the Middle East and North African more than any others, and people in those nations have some of the most difficulty purchasing VPN services.
CactusVPN offers services in nations such as China and Russia, as well, both of which have some severe restrictions against the free usage of the Internet. If CashU is available in your home nation, you can now use that payment processor to get CactusVPN and to see the Internet without any restrictions. You can get more information on CashU on their homepage.
Share This Webpage