HideMyAss Review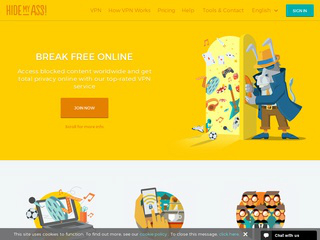 | | |
| --- | --- |
| Rating | |
| Countries | 182 |
| Servers | 853 |
| IPs | 114,732 |
| Price | 6 |
| Payment: | Credit Card, Paypal, Bitcoin |
| Protocols | PPTP, IPSec, OpenVPN |
Hide My Ass is a personal VPN service offering OpenVPN, L2TP, and PPTP protocols. Hide My Ass currently has 853 servers spread across 182 different nations. The provider offers in excess of 114,732 different IP addresses, which can be changed randomly or deliberately anytime the user wishes via their client software. In total, there are 164 cities in which this provider has servers, and the number is always expanding.
Hide My Ass has been in business since 2005 and has rapidly evolved to be the most popular VPN service for personal VPN users as judged by both their user community and their Alexa.com ranking. HideMyAss, a UK-based business, has several additional features and services that make them a very attractive option.
Hide My Ass Speed Test

Test Results: Within the United States, average speeds were approximately 15 Mbps download and 1.25 Mbps upload. In testing VPN download speeds for Hide My Ass, note our original connection was based in the USA and we were working with a 20 Mbps connection download speed and a 1.5 Mbps upload speed.
European servers clocked in at around 10 Mbps download and 1 Mbps upload.
The speed results are acceptable for anybody who is accustomed to the average speed of a VPN service. Also with over 600 servers available in 75 countries, if one server is slow then another location will likely be much faster and changing server locations with the HideMyAss client is easily done.
Hide My Ass Pricing Plans / Hide My Ass Coupon
First good thing to note is that all plans come with a 30 day money back guarantee.

Also from 2 December to the 5th of January 2015 you can take advantage of the XMas special pricing and  get up to 57% off when you sign up for a year.
XMAS Special 2014 Details
1 month: $11.52
6 months: $69.12
12 months: $138.24
All of these plans are unlimited data plans, so you never have to worry about running out of download bandwidth.
Hide My Ass Payment Methods Accepted
Credit cards
Debit cards
PayPal
BitCoin
WebMoney
Wire Transfer
Hide My Ass Setup / How To Use Hide My Ass
Follow the instructions applicable to your OS for setting up the VPN connection manually. Alternately, you can use their client, which offers some real advantages. See below.
Hide My Ass Client Details
Hide My Ass comes with clients for Windows, Mac, Linux and mobile operating systems. You may also configure your router to connect via their service. The available clients include:
HMA Windows Client – .exe file (easy install) provides a visual interface.
HMA Mac Client – .dmg file (easy install) provides visual interface.
HMA Linux Client – There is an experimental GUI client for Linux available. There is also a command line version.
HMA iPhone – Supported with easy built-in configuration. Works with tablets and smartphones.
HMA Android App—The new app has recently been released and offers a lot of convenience for users. It allows you to switch countries and IPs, just like the desktop client. It comes free with the service and can be downloaded from the Google Play store.
HMA Router – DD-WRT routers are supported (instructions inside).
The client offers many great features. It's set up so that you can use any of the following features without any technical knowledge at all, and even techies will find it convenient:
Schedule IP Changes: This allows you to switch to a random IP at set intervals. The software simply keeps track of how long you've been online and, at a time that you set, it grabs another IP address from the available pool and assigns it to you.
IP Address History: You can keep track of which IP addresses you've used on a local log.
Use Secure IP Bind: This will only allow applications that you specify to connect to the Internet if you're connected to the VPN already. If you want a program to work only from behind a VPN, this is a great feature.
Safe Disconnect: This is a built-in feature that offers a lot of security. If programs that you specify are running and the VPN connection drops, the app will shut those applications down. This ensures that you're never running certain programs unencrypted.
Speed Guide: If you want to know where the fastest VPN available is, this will help you do it.
Load Balancing: This is a great feature. If you're looking for a server in a specific location, the app will let you know which one of them has the least connections. This can really crank up your speed.
Hide My Ass is always improving the clients for their VPN network. As an example of this, the client notifies you if you disconnect an improvement over previous versions that did not have this feature. It will even function as a kill switch if you have security sensitive programs running that you want to keep behind a VPN. The speed guide allows you to measure your connection speed using three types of tests. There are plenty of great clients out there offered by VPN providers, but this really is one of the most complete.
Because the client is always being improved, the level of service improves continuously, as well.
Server Locations
Hide My Ass boasts an impressive list of nations (75 and growing) where servers are located. HMA also provides more than 114,732 IP addresses to users. They have servers in 164 locations around the world. As of May 2015, this company had a whopping 853 VPN servers within its network.
Users will find servers available in nations as diverse as the United States, Canada, United Kingdom, Netherlands, Germany, Estonia, Hungary, Ireland, Italy, Latvia, Lithuania, Luxembourg, Poland, Portugal, Romania, Russia, Spain, Switzerland, Turkey, Ukraine, Hong Kong, Singapore, Australia, Malaysia, South Korea, Austria, UAE, Qatar, Kuwait, Uganda, Cameroon, Ghana, Taiwan, and many other nations.
HMA adds new servers regularly. This makes them a good choice for users who need the maximum possible variety in locations. The new additions include servers in nations around the world as well as new servers in nations where HMA already has a presence, expanding the ability of people in large nations such as the US to choose a server based on physical proximity and speed.
Countries Supported
Afghanistan

Aland Islands
Albania

Algeria

Angola

Anguilla

Antigua And Barbuda

Argentina

Armenia

Aruba

Australia

Austria

Azerbaijan

Bahamas

Bahrain

Bangladesh

Barbados

Belarus

Belgium

Belize

Benin

Bermuda

Bolivia

Bosnia And Herzegovina
Botswana

Brazil

Virgin Islands, British

Brunei Darussalam

Bulgaria

Burkina Faso
Burundi

Cameroon

Canada

Cayman Islands

Chad

Chile

China

Christmas Island

Colombia

Cook Islands

Costa Rica

Croatia
Cuba

Cyprus

Czech Republic

Denmark
Djibouti

Dominica
Dominican Republic

Ecuador

Egypt

El Salvador

Eritrea

Estonia

Ethiopia

Falkland Islands (Malvinas)

Faroe Islands

Finland

France

Gabon

Georgia

Germany

Ghana

Greece

Greenland

Grenada

Guatemala

Guinea

Guyana

Haiti

Honduras

Hong Kong

Hungary

Iceland

India

Indonesia
Iraq

Ireland

Israel
Italy
Jamaica

Japan

Jordan

Kazakhstan

Kenya

Kiribati

Kuwait

Latvia

Lebanon

Liberia

Libyan Arab Jamahiriya

Lithuania

Luxembourg

Macao

Macedonia

Madagascar

Malawi

Malaysia

Mali

Malta
Mauritania

Mauritius

Mexico

Moldova

Montenegro

Montserrat

Morocco

Mozambique

Myanmar

Namibia

Netherlands

New Caledonia

New Zealand

Nicaragua

Niger

Nigeria

Niue

Norfolk Island

Norway
Oman

Pakistan

Palau

Palestinian Territory, Occupied

Panama

Paraguay

Peru

Philippines

Pitcairn

Poland

Portugal
Qatar

Romania

Russian Federation

Rwanda

Saint Helena

Saint Kitts And Nevis
Saint Lucia
Saint Pierre And Miquelon

Saint Vincent And Grenadines

Saudi Arabia
Senegal

Serbia

Seychelles

Sierra Leone

Singapore

Slovakia

Slovenia

South Africa

Korea

Spain

Sudan

Suriname

Sweden

Switzerland

Syrian Arab Republic

Taiwan

Tajikistan

Tanzania

Thailand
Togo

Tokelau

Trinidad And Tobago

Tunisia

Turkey

Turkmenistan

Turks And Caicos Islands

Uganda

Ukraine

United Arab Emirates

United Kingdom

United States

Uruguay

Uzbekistan

Vanuatu

Venezuela

Viet Nam

Yemen

Zambia

Zimbabwe
Protocols Supported
Hide My Ass supports all of the major VPN protocols. These include PPTP, L2TP and OpenVPN. OpenVPN is supported over both TCP and UDP on all of their servers. HMA service also supports all of the major browsers on the market, including Google Chrome and Opera.
Hide My Ass vs. The Competition
HMA (HideMyAss) is the market leader with the best-known brand name according to Alexa and compared to the competition, Hide My Ass has some definitive features. The pricing plans are attractive and should be within the range of personal users. The ease of installation facilitated by the installer package is also a powerful selling point. The service boasts a particularly large list of nations where servers are located.
Common Error Messages
The major error that users of Hide My Ass complained of in the past was not being notified when their connection disconnected from one of the servers. This issue is fixed in the current client software. The software also automatically configures the firewall so there should be no significant difficulties for users of any level.
Hide My Ass Conclusion
HMA has a vast network. They also have a huge number of IP addresses available. Combined with the easy to use client, this makes them an excellent choice for those who need flexibility where their connection location is concerned.
The company also regularly expands their network, showing a commitment to growing and becoming even better than they are. They offer compatibility with DD-WRT routers, which offers an entirely other level of security. Between the large and expanding network, the great client and the constant improvements to both, HMA is a great choice in VPN providers.
Share This Webpage