Hotspot Shield Review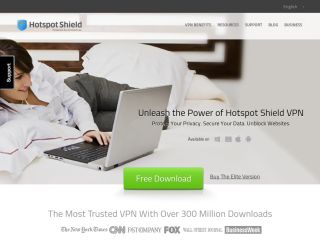 | | |
| --- | --- |
| Rating | |
| Countries | 1 |
| Servers | No info |
| IPs | No info |
| Price | Free |
| Payment: | Credit Card |
| Protocols | PPTP |
Hotspot shield is a freeware program that you can use to encrypt your data and make yourself more difficult to trace on the Internet. Unlike other programs, you do not need to pay for a subscription plan in order to access the encryption. However, you may not have a good connection with this freeware also it is advertiser supported aka Adware.
Hotspot Shield Speed Test
The performance of the Hotspot Shield leaves something to be desired. The connection will not work as well as other products that you can find on the market, and it is mostly because the connection will be interrupted frequently. This can make it difficult for you to browse the web and access useful information if you are in a hurry. This product could still be good for someone that needed to encrypt data at the last minute. If you will be using this software over a longer period, a paid program will work much better for you.
Hotspot Shield Plans and Pricing
Hotspot Shield is free. No subscription necessary. But you will pay the price by being subjected to intrusive advertisement but what do you expect its free.
Hotspot Shield Set Up – How to Use Hotspot Shield?
To install the program, you will need to download it to your computer and complete the install process. This should not take very long. Once that is complete, you will see a program icon right on your desktop. You should click on that icon and the application will display in your web browser of choice. Once you get to this start up page, you will be able to see your IP address, server address, connection status, etc.
Hotspot Shield Protocol Supported
This program will work your PC or Mac. The Windows 7 and Snow Leopard operating systems are both compatible with Hotspot Shield. The Hotspot Shield will also run on Windows XP/2000/Vista or Mac OS X Leopard/Snow Leopard/Lion. It can also be used on mobile devices.
Hotshot Shield vs. the Competition
The competition is stiff compared to the Hotshot Shield. Unfortunately, this program is lacking a really good connectivity rate, and there are some other errors that can be found on the product. If the product was redesigned, it may actually be better in the future. As of now, the competition blows the free Hotspot Shield out of the water.
Hotspot Shield Errors
Some users have reported that the software will setup your computer up with additional adware. The. This software program may redirect your browsing and infect your computer with adware. Since this app is free, there will also be a lot of ads in the display pages when you access them.
Hotspot Shield Conclusion
The Hotspot Shield is  good app if you need a grab and go type of security encryption for your Internet usage. However, if you are serious about keeping your data and your personal identity secure, you may want to opt for a software program that has a better reputation. With Hotspot Shield, you will get some basic features to help you encrypt and protect your data, but you can get a lot more from one of the many paid software programs on the market.
Share This Webpage