NordVPN Review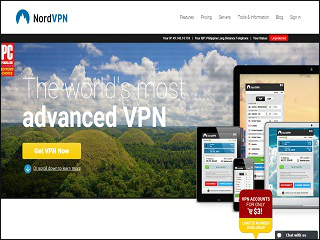 | | |
| --- | --- |
| Rating | |
| Countries | 28 |
| Servers | 80 |
| IPs | No info |
| Price | $8/mnth |
| Payment: | Credit Card, Paypal, Bitcoin |
| Protocols | PPTP, IPSec, OpenVPN |
NordVPN offers the most relied upon VPN protocols. This provider also allows you to use a Double VPN setup, using more than one node, and TOR over VPN, which provides very good security. The company even offers some free proxy addresses and some security tools at their site.
NordVPN Speed Test
Coming soon.
Pricing Plans
All plans are unlimited bandwidth. They include:
Be aware of the fact that the discounts for extended terms of service are substantial with this provider. This is one of the providers that really does offer a lot of value in exchange for customer loyalty.
Payment Methods
NordVPN accepts payment via:
PayPal
Bitcoin
Credit Cards
Free Trial / Money Back Guarantee
You can get a free trial account by emailing support@nordvpn.com. You do not need to provide a credit card number at the time you sign up for your free trial. The free trial runs for 3 days. They will refund your money if the service fails to work with your computer.
Coupons / Discount / Special Offers
There are currently reduced prices available at the service, which are given above. Check the site for additional offers.
Countries Supported
NordVPN has servers located in the following nations:

Australia

Austria

Brazil

Canada

Chile

France

Germany

Hong Kong

Iceland

Isle Of Man

Israel
Italy

Japan

Liechtenstein

Lithuania

Netherlands

New Zealand

Norway

Poland

Romania

Russian Federation

Singapore

South Africa

Spain

Sweden

Switzerland

United Kingdom

United States
NordVPN also has Ultra Fast TV servers in Canada, the UK and the US, which allows users to get around geo-restrictions on content.
Tor over VPN provides access from Sweden. The Double VPN server is located in Austria and the Netherlands.
VPN Protocols Supported
NordVPN supports OpenVPN, L2TP/IPsec and PPTP encryption. They also support the TOR network and Double VPN. Their Double VPN technology does just what the name implies. It encrypts your data two times, using a multi-node server farm. The encryption is double AES-256-CBC. They have proxy services available, as well.
Number of IP Addresses
Not given, but the addresses are dynamic. You can get a static IP by emailing support and paying an extra fee.
NordVPN VPN Client
NordVPN has its own client that you can download as part of the service. The client supports Mac, Windows and Linux. They also have clients for iOS and Android operating systems, software that will configure a proxy connection and even support for ChromeOS.
Common Error Messages
None reported
NordVPN Support
NordVPN has a contact form that customers can use to get help. Questions are answered in 12 hours or less.
Logging and Privacy Policy
NordVPN does not keep logs of your Internet activity. They store nothing at all, making them a good choice for people who want absolute privacy from their provider.
Legal Use / Torrent Policy
No restrictions listed on site.
NordVPN vs. the Competition
NordVPN has some nice offerings versus the competition. The ability to connect to the TOR network seamlessly over their VPN is very nice. The Double VPN option is great, too. Any provider that does not log has a distinct advantage over those who do, as well.
NordVPN Conclusion
NordVPN provides a competitively priced service with a lot of security features that those really worried about their privacy will appreciate. They come through in a big way where their discounts for extended plans are concerned, with a 50% savings being available with a 12-month subscription. That brings the price down to very competitive levels.—Click here for more details on their pricing.
This service has a lot going for it. The Double VPN option is great for people who are seriously worried about encryption and the VPN over TOR is an excellent option for people who want to use that service in the simplest way possible, along with their VPN.
Share This Webpage