VPNTraffic Review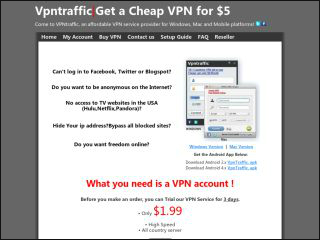 | | |
| --- | --- |
| Rating | |
| Countries | 73 |
| Servers | 73+ |
| IPs | No Info |
| Price | $5/mnt |
| Payment: | Paypal |
| Protocols | PPTP |
VPNTraffic offers a basic and low cost VPN service. For such a cheap VPN service VPNTraffic offers a large number of countries to choose from – 73 in total.
Speed
Speed test for VPNTraffic is coming soon.
Pricing Plans
VPNTraffic has a very simple pricing plan, which will be welcome news to those who are tired with dealing with pricing plans that are very complicated and based upon the nations to which you connect. The pricing plans for VPNTraffic are: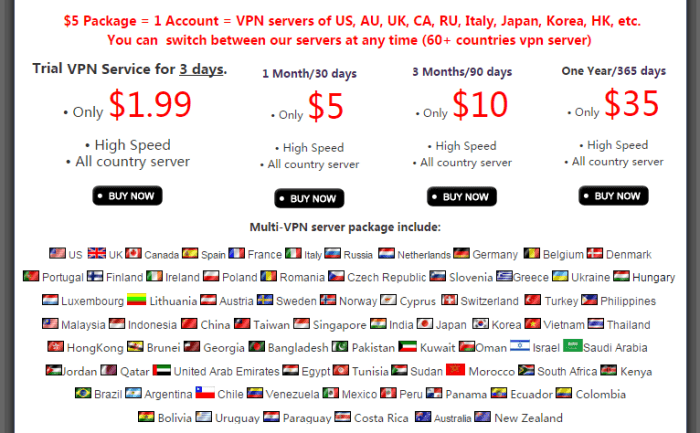 Payment Methods
VPNTraffic only accepts PayPal payments.
Free Trial / Money Back Guarantee
VPNTraffic does not offer a free trial. However they do have a free trial for $1.99/month.
Coupons / Discount / Special Offers
VPNTraffic may not offer a free trial pricing is very affordable, you can use the service for $1.99.
Countries Supported
VPNTraffic has an extensive list of countries that are supported. The list of supported nations includes:

Argentina

Australia

Austria

Bangladesh

Belgium

Bolivia

Brazil

Brunei Darussalam

Canada

Chile

China

Colombia

Costa Rica

Cyprus

Czech Republic

Denmark

Ecuador

Egypt

Finland

France

Georgia

Germany

Greece

Hong Kong

Hungary

India

Indonesia

Ireland

Israel
Italy

Japan

Jordan

Kenya

Kuwait

Lithuania

Luxembourg

Malaysia

Mexico

Morocco

Netherlands

New Zealand

Norway
Oman

Pakistan

Panama

Paraguay

Peru

Philippines

Poland

Portugal
Qatar

Romania

Russian Federation

Saudi Arabia

Singapore

Slovenia

South Africa

Korea

Spain

Sudan

Sweden

Switzerland

Taiwan

Thailand

Tunisia

Turkey

Ukraine

United Arab Emirates

United Kingdom

United States

Uruguay

Venezuela

Viet Nam
VPN Protocols Supported
VPNTraffic supports both the PPTP and LT2P VPN protocols.
VPN Clients Information
VPNTraffic supports the following operating systems below:
Windows XP
Windows Vista
Windows 7
Mac OS: Tiger, Leopard, Snow Leopard
Iphone,Ipad,Ipod Touch
Symbian
Android
Windows Mobile
Common Error Messages
Error 800 was commonly seen with the service.
Logging and Privacy Policy
Using the VPNTraffic service requires that you login with the username and password.
Legal Use / Torrent Policy
There are no restrictions on what you may use on the VPNTraffic network. There is unlimited traffic permitted on the service and bit torrent is allowed on all of its servers.
VPNTraffic vs. The Competition
VPNTraffic has a large list of countries supported and cheap pricing.
VPNTraffic Conclusion
The pricing plans are adequate and the list of supported nations should be good news to those who are looking for a large number of countries at a discount. Those looking in the same price range and lower should also give private internet a look also.
And as mentioned elsewhere those looking for a nice combination of all around pricing, countries and protocols would do well to consider top provider HideMyAss.
And finally VPNTraffic is also working checking out considering their affordable pricing and the large numbers of countries to choose from.
Share This Webpage