StrongVPN Review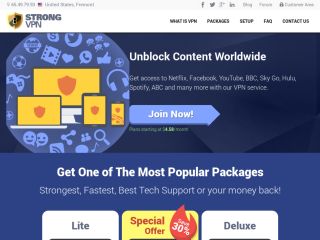 | | |
| --- | --- |
| Rating | |
| Countries | 22 |
| Servers | 500+ |
| IPs | 8500+ |
| Price | 10 |
| Payment: | Credit Card, Paypal, Bitcoin |
| Protocols | PPTP, IPSec, OpenVPN, SSTP |
One of the most notable names in the industry, StrongVPN has been around since 1995. This company makes its headquarters in the United States. They have a reputation for excellent support and a wide variety of servers located all over the world. There are 500+ VPN servers and more than 8500 IP addresses.
StrongVPN comes with the credibility that established companies boast and with plenty of technical features that make it an excellent choice for a range of users.
StrongVPN is a recommend provider and a good choice because they offer a a high quality VPN solution. Read the technical review for more details or ..
StrongVPN Speed Test
StrongVPN had impressive speed ratings in testing. Over a PPTP VPN server connection, it managed to pull just under 30 Mbps download speed. Upload speed topped out at 1.35 Mbps. This was only 10 Mbps under our base download speed, so there was little to complain about in this regard.
The usual slowdown associated with VPN was there, of course, but it was not at all a nuisance and very minor in its effects. This product gets good marks for being stable in terms of its connection.
StrongVPN Pricing Plans
StrongVPN offers many special rates on pricing. There are several tiered packages available, as well.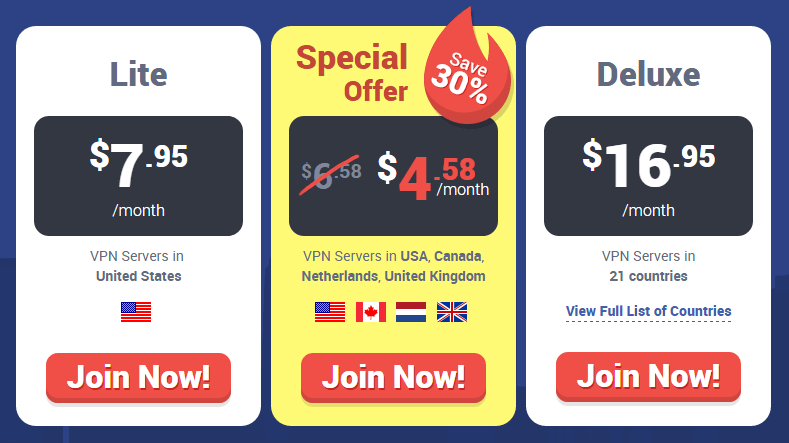 Lite PPTP3 : $7 per month or $75 per year, servers in New York, Miami and San Francisco
Lite Open: $10 per month or $60 per year, 99 servers 1 country
Standard Open: $15 per month or $155 per year, 110 servers 1 country
Deluxe Open: $20 per month or $210 per year, 164 servers 12 countries
4 City Special, Open or PPTP: $85 per year
4 City Special, PPTP Only: $50 per year
Euro America Special, Open or PPTP: $85 per year
Euro American Special: PPTP Only: $55 per year
There is a 7 day money back guarantee available with all StrongVPN products.
StrongVPN Setup/How to Use StrongVPN
There is no software that needs to be downloaded or installed to use StrongVPN. The service supports PPDP, L2TP/IPsec and Open VPN. Installation is really just a matter of configuring your network connections to use StrongVPN as one of its options.
There are step-by-step tutorials included on the StrongVPN site. For Widows 7, the instructions for any version are basically.
Go to Control Panel then Networking and Sharing Center
Choose to Setup a New Connection or Network
Choose "Connect to a Workspace"
Choose "Use My Internet Connection (VPN)"
There will be a server name in your greeting file. Enter this in the appropriate field.
You leave the domain name empty, but fill out the username and password fields with the provided information.
StrongVPN makes installation easy by providing very good video materials of the procedure on their site.
StrongVPN Server Locations
StrongVPN has servers located throughout the world, including ones located in England, France, Canada, the United States, and several European Union countries. In total, there are over 70 nations where there are services available and there are over 250 locations within the total network.
Countries Supported

Canada

Czech Republic

Germany

Hong Kong

Israel
Italy

Japan

Latvia

Luxembourg

Malaysia

Mexico

Netherlands

Norway

Romania

Russian Federation

Singapore

Sweden

Switzerland

Turkey

United Kingdom

United States
StrongVPN vs. The Competition
StrongVPN has a lot to offer in the way of flexible pricing. The offering also performs well as far as speed tests go, making it suitable for most users. The network is large and, the seven-day money back guarantee makes it particularly low risk.
StrongVPN Errors
A few of the things you'll want to watch out for when you're using StrongVPN are firewall errors, router errors and errors when you create the server but StrongVPN has an active and helpful forum along with online chat / help service which can help you get sorted out quick.
StrongVPN Conclusion
The name recognition that StrongVPN boasts is one of its most attractive features. The worldwide network and number of long-term customers also make it a compelling choice for a VPN network.
Share This Webpage