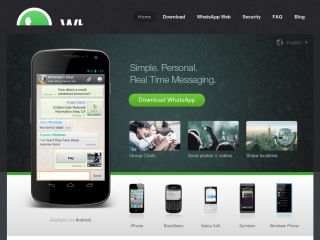 If you're among the more than one billion people who use WhatsApp, April was a very good month. WhatsApp debuted end-to-end encryption for any and all communications made over the app.
WhatsApp is owned by Facebook, a company that is usually anathema to anyone worried about privacy. While Apple was battling it out with the FBI, however, and while law enforcement agencies railed against the dangers of encryption, WhatsApp's developers decided to give their users more privacy.
The way that WhatsApp added 256-bit encryption to their services means that, should the FBI come around asking them to blow a hole in their own security and reveal user communications, the company wouldn't have any way of complying.
In the US, the debate still rages on over how and when law enforcement agencies should be able to access encrypted data, and whether or not device and service developers should provide a "back door" to let the government in when it wants.
In other nations, however, the debate is even more intense.
The Indian government, for instance, has very different policies regarding encryption and doesn't provide the same level of privacy rights that citizens in the US enjoy. Head to China, Saudi Arabia or other nations and the situation is far different still; citizens may have no right to privacy at all.
Most of WhatsApp's users are located outside of the US. Not all of them are located in repressive nations, but many are. While the company has impressive penetration in Italy, Span and Argentina, it also has significant mobile market share in Malaysia, Singapore, the UAE and other nations where privacy isn't something one should expect if law enforcement agencies decide they need to pry.
It is worth keeping in mind that law enforcement is not dissembling when they say that criminals and terrorists have used encryption to hide their activities. The Paris attacks, in part, were planned using WhatsApp and other encrypted communications tools. While the FBI might have led the public astray about not being able to access an iPhone associated with the San Bernardino shooters,  the shooters certainly did use encryption to secure the data on that phone.
Of course, the San Bernardino shooters didn't use their iPhones to shoot anyone, and the FBI hasn't made demands to inspect every gun-owner's possessions to make sure they're not planning anything criminal.
The law enforcement issues can get abstract. On the ground level, however, WhatsApp does make encryption very easy. In fact, if you're using the app, the encryption is on, all the time.
How it Works
When you fire up WhatsApp and contact someone, the communication is automatically encrypted. You don't have to turn anything on or check any settings. This eliminates one of the main weaknesses in consumer encryption products; many people stop using them or simply forget to turn them on at all.
The encryption applies to every type of communication engaged in over the app. Users enjoy encrypted calling, texting and their text messages aren't stored on the company's servers.
With the encryption in place, the company wouldn't be able to read those messages, anyway, even if they were presented with a warrant.
If you're not comfortable with Facebook's corporate history regarding privacy, you can take encrypted messaging into your own hands and work with companies that have better track records. Kudos to WhatsApp for taking a bold step toward making the world a safer place for everyday Internet users, but here are some other options.
Use a VPN
You can encrypt any and all communications from your computer using a VPN. On mobile devices, the calls you make over your regular cellular network won't be encrypted by a VPN, but any Internet activity will. That means, of course, you can use a non-encrypted voice chat or messaging program with the VPN on and still speak privately.
The one caveat is that the person or people you're talking to should also be using their own VPN to provide security.
Use an Encrypted Messenger
We're partial to Cyphr from Golden Frog, the company behind VyprVPN, around here. It's free and works with Android and iOS. Just make an account and you can start using the program. Of course, just as is the case with WhatsApp, the other party or parties you're talking to have to be using Cyphr, as well, but it's free so it's  not likely to be a hard sell to get people to use it.
Part of the reason we prefer this option is because of Golden Frog's long history as a company that's very committed to Internet privacy issues, even if those issues don't directly involve their own business.
As one more benefit, Golden Frog located all of its Cyphr servers in Switzerland, so whatever information you send over the service is not only deleted right after it's sent, it only passes through servers located in one of the most privacy-friendly jurisdictions on the planet.
Whatever You Do, Do It
Whether you decide to go with Cyphr, WhatsApp or something else, you should be using encrypted messaging. For business or personal use, encrypted messaging offers the privacy you deserve and significantly lowers your risk of being a victim of identity theft or other cyber crimes.
There's never been a better time than the present to start using these products, and it's likely that there's never been a better time for so many good companies to come out and offer them.